---
Mercedes-Benz 370 S Sport Cabriolet – 1931
---
Marca : Mercedes-Benz
Modello : 370 S (W10)
Versione : Sport Cabriolet
Anno : 1931
Telaio N. : U87058
Motore N. : 87058
Esemplari prodotti : 183
Motore : 6 cilindri in linea
Cilindrata : 3.689 cc
Distribuzione : SV
Valvole Cilindro : 2
Alimentazione : 2 carb.
Potenza : 75 CV
Top speed Km/h : 115
---
Auction Result
2017 – Arizona – RM Sotheby's – $330,000

---
In 1986, Mercedes-Benz honored its 100th anniversary with exhibits and celebrations worldwide. Among these was a six-month Centennial Exhibition at the Natural History Museum of Los Angeles County, utilizing models from throughout the company's rich history, gathered together from numerous West Coast collectors. Special classes saluted the Star and the Laurel at the Pebble Beach Concours d'Elegance. A book was even published, The First Century, with artwork by Ken Dallison, to commemorate the occasion.
verywhere you looked, Jules Barsotti's 370 S Mannheim Sport Cabriolet was there. It may well have been invited on its own merits, which were abundant, but in a way that special cars and special people often combine, its ownership made it poignant. Not only was this an excellent example of the first touring model built by a combined Daimler and Benz, but it was owned by the man who built the small European Motors into today's Mercedes-Benz of San Francisco. In a bustling Northern California market that is today filled with SLs and E-Classes, Jules Barsotti was first, and for the rest of his life he remained a landmark of the area's motoring culture. His 370 S was a part of that life, and thus a part of that culture.
The provenance of the Barsotti 370 S is documented by a copy of its factory commission sheet, noting its delivery with engine and chassis both numbered 87058 and "Sport Cabr./2" coachwork, thus confirming its delivery in the desirable configuration in which it is presented today. It was ordered by the Mercedes-Benz agent in Vienna, Austria, for Count Ferdinand, of the noble Austrian Arco-Zinneberg family, for delivery to his home in St. Martin im Innkreis. A subsequent owner, noted in the original Austrian registration book, was likewise of noble birth, a "Freiherr" by the name of Rudolf von Hudolin, in Salzburg. Von Hudolin sold the car on 25 February 1960, to Koos Blakestein.
Mr. Blakestein subsequently relocated with the car to the Netherlands, and advertised it to American buyers, using the same photo as in its Austrian registration booklet, in the September 1960 issue of Sports Cars Illustrated. The car was then purchased by longtime Mercedes-Benz Club of North America member Allen Bishop of Deerfield, Illinois, in suburban Chicago, and thus arrived in the United States.
In an article he wrote for The First Century, Mr. Barsotti noted that he acquired the car in Chicago, presumably from Mr. Bishop, in 1966, paying $6,000 for it, with noted San Francisco enthusiast Martin Swig (then the European Motors sales manager) arranging the transaction. With the assistance of his father, himself a skilled inventor and fabricator who had built the world's first amphibious automobile in 1914, Mr. Barsotti completed a brief cosmetic and mechanical restoration, and put the car in his showroom. It left the dealership to attend the Pebble Beach Concours d'Elegance in 1972 and 1973, winning 3rd in Class the latter year.
Longtime Concours co-chair Jules Heumann, appreciating the car with his connoisseur's eye, suggested to Mr. Barsotti that he do a proper restoration, as the 370 S "was really worth it." The owner listened, and after a rather adventurous four-year restoration effort—including the purloining of the car by a former employee, and its subsequent retrieval—the Sport Cabriolet did, indeed, win Best in Class at Pebble Beach in 1977.
Many more exhibits followed, including more years on display in the San Francisco showroom of European Motors, and appearances at Pebble Beach and in the Natural History Museum in 1986, for which the car received a new California blue license plate, "100 YEARS," replacing its longstanding "BENZ 28" (honoring what was thought, at the time, to be its model year). Eventually, as its owner aged, it was put into storage in the City by the Bay, alongside other significant cars that Mr. Barsotti had acquired over the years, and until recently, there it has remained.
While the restoration has aged somewhat, the car remains very solid, complete, and highly presentable, having not been driven in some years; it would require thorough mechanical service, having been in storage for several years.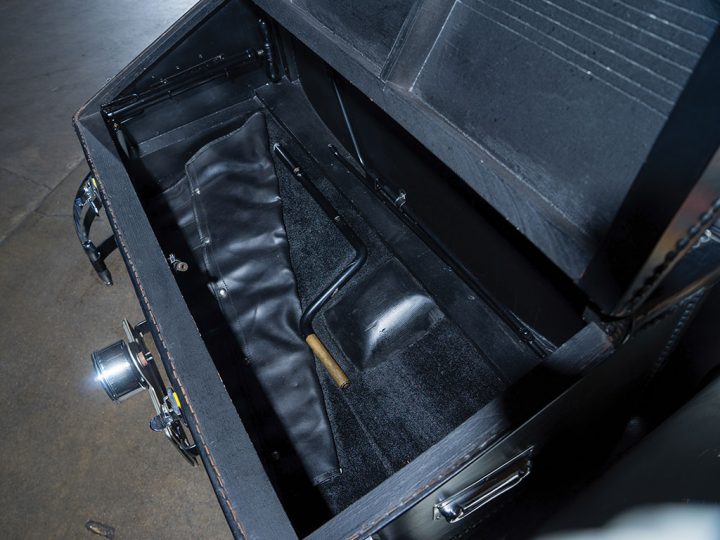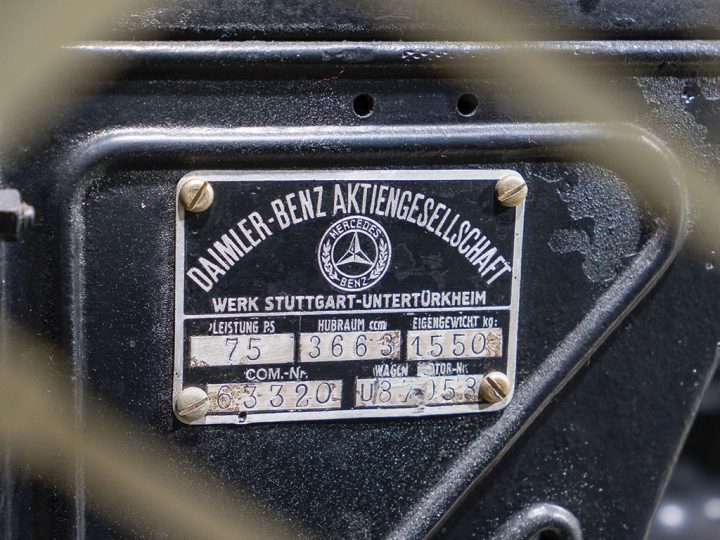 ---
4073 Total Views
1 Views Today