---
Mercedes Benz 540 K Special Roadster – 1939
---
Marca : Mercedes Benz
Modello : 540 K
Versione : Special Roadster
Anno : 1939
Telaio N. : 408383
Motore N. : 408383
Carrozzeria : sindelfingen
Progettista : max sailer
Motore : 8 cilindri in linea
Cilindrata : 5.401 cc
Distribuzione : OHV
Valvole Cilindro : 2
Alimentazione : 2 carburatori più compressore
Potenza : 180 CV
Top speed Km/h : 170
---
Auction Result
2017 – Arizona – RM Sotheby's – $6,600,000
---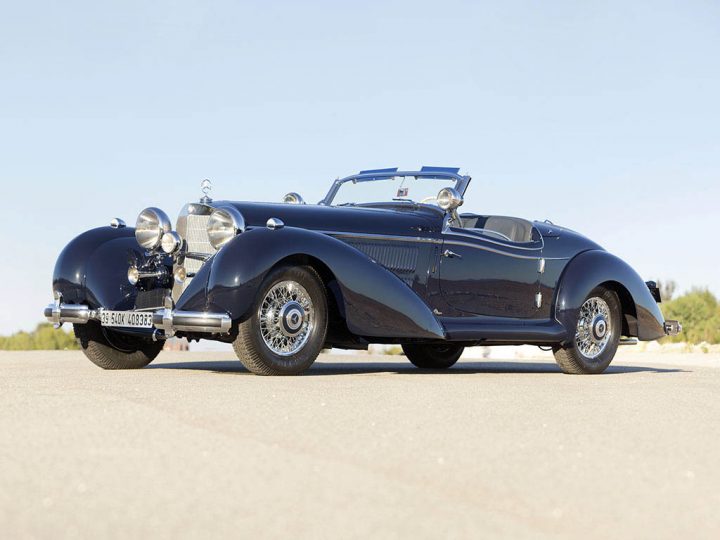 Chassis number 408383 was completed for Rolf Horn of Gebrüder Horn in Berlin, in August of 1939. Rolf, along with his brother, were proprietors of one of the city's most exclusive art and interior décor boutiques. As a late 540 K, it was equipped with the five-speed transmission with fifth gear overdrive that was introduced that year, and it is, in fact, the latest known surviving Special Roadster, perhaps even the last one built.
It is believed that Horn had a major influence in the conception and design of the car, which was not surprising, as he was a man who regularly dealt in beautiful art and consequently had an advanced understanding of aesthetics. While retaining the traditional chassis layout and basic body lines of the last style of Special Roadster produced by Sindelfingen, it further possesses some of the more typical roadster styling cues, including the set-back radiator, which emphasizes the powerful appearance of the front end; mother-of-pearl dash; a long hood; and a fully disappearing top. The similarities, however, end there.
Separating it from other Special Roadsters are features likely directed by Horn himself, namely the cut-down doors, a cue seen on the very first series of roadsters introduced; the two rows of louvers on the hood side panels—later cars typically had two rows of screens; and the fully skirted French-influenced fenders, which are almost teardrop-shaped and are unique to this car.
Additionally, the sweeping running boards, characteristic of all other Special Roadsters, were eliminated in favor of sculpted frame covers. The low doors have roll-up windows and rise abruptly past the hinges to a hard boot cover over the folded top, which gives the rear deck a smooth, aerodynamic surface and taper. While the windshield is a single piece, it is sharply raked to fall in line with the cowl, and it can be opened for ventilation. Most notably, a slim chrome beltline traces the hood break and then sweeps downward, paralleling the door tops before tapering to a fine point at the rear fenders.
The coachwork is liveried in rich dark blue with matching leather upholstery; the chassis beneath is essentially hidden below the body and fenders. Even the 540 K's signature outside exhaust pipes subtly drop through the right front fender, almost out of sight, and they emerge as a dual exhaust below the rear bumper. Bright chrome spoke wheels with body color hubcap detailing and Mercedes-Benz's signature wheel-balancing weights are accented by the blackwall tires. Accessories are few: a combination spotlight and rearview mirror for the driver and a Telefunken radio, with German city bands marked on its dial.
Not long after Mr. Horn took delivery of his bespoke creation, luxuries such as automobiles with high fuel consumption became impossible. At this point the car was put into storage and vanished from sight.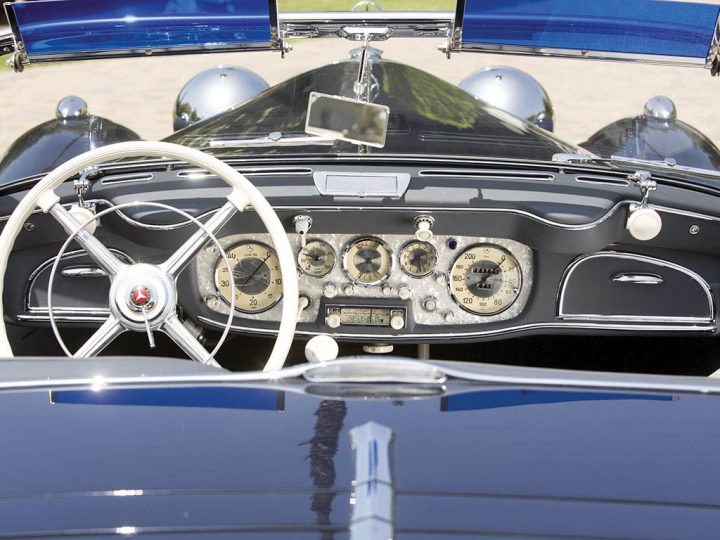 ---
6103 Total Views
1 Views Today