---
Rolls Royce Silver Wraith convertible – 1947
---
Marca : Rolls Royce
Modello : Silver Wraith
Versione : Convertible
Anno : 1947
Telaio N. : WYA26
Motore N. : W191A
Esemplari prodotti : one-off
Carrozzeria : j.s. inskip
Motore : 6 cilindri in linea
Cilindrata : 4.257 cc
Distribuzione : F-Head
Valvole Cilindro : 2
Alimentazione : 1 Carb. Stromberg
Potenza : 126 CV a 3.750 cc
Top speed Km/h : 135
---
Auction Result
2016 – Pebble Beach – Gooding & co. – unsold

---
The Silver Wraith presented here is an extraordinary Rolls-Royce, and it should come as no surprise that its first owner was no ordinary man. Born in 1894, Thomas Franklyn Manville Jr., known to all as Tommy, was the heir to the Johns-Manville industrial fortune and a much-publicized New York socialite.
In 1925, the 31-year-old Tommy Manville inherited a fortune of approximately $10 million. The following year, he began construction on a 28-room mansion on the Long Island Sound, between New Rochelle and Mamaroneck. The property, known as Bon Repos, featured a radio and record player in every room, a telephone switchboard in the master bedroom, a movie theater, and watchtowers staffed by armed guards.
During his lifetime, Mr. Manville was married 13 times to 11 different women, most of them recruited from Broadway chorus lines. The longest marriage lasted seven years, while the shortest was annulled in less than eight hours. Newspapers began referring to him as "the marrying Manville." Beyond his penchant for matrimony, Mr. Manville's off-color remarks, drinking habits, and extraordinary wealth made him something of a celebrity in his day. He was even mentioned in an Irving Berlin song and a Jackie Curtis musical.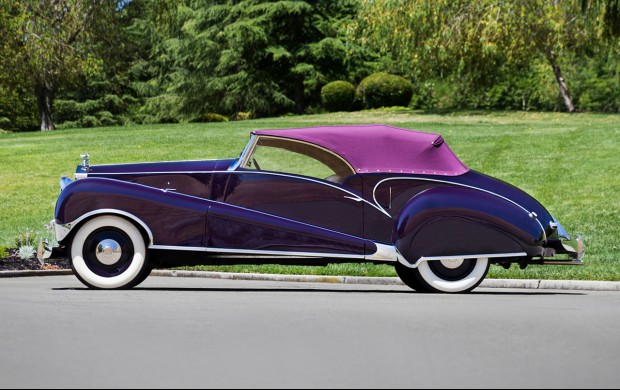 Unsurprisingly, Tommy Manville was one of Rolls-Royce of America's most valued customers. His many purchases included a Phantom I York Roadster and Newmarket Convertible Sedan, a Phantom II Henley Roadster and Croydon Victoria, and an Inskip-bodied Phantom III. These Rolls-Royce were all custom-built for Manville at great expense, retained for a brief period, then traded in for the latest model.
Manville's Silver Wraith, chassis WYA26, has a rich and fascinating history tracing back to August 1947, when the chassis was completed at Crewe, England. Specified for US delivery, the chassis was equipped with double filament headlamp bulbs, a separate switch on the instrument board for a central driving light, a "Made in England" nameplate, and the heaviest type springs.
Shipped from London to New York aboard the Cunard's SS Fort Musquarro, WYA26 was collected on September 18, 1947, by J.S. Inskip Inc., the Manhattan Rolls-Royce distributor. As documented by Rolls-Royce Owners' Club records, Inskip constructed a special four-seat convertible body for Manville's Silver Wraith, which was to be completed in time for the 1949 New York International Motor Show.
The coachwork, executed by Inskip's team of craftsmen (comprised of many former brewster employees), was one of the most spectacular bodies ever fashioned for a Silver Wraith chassis. With dramatic flowing lines, brilliant chrome trim, and a sporting cut-down windscreen, Inskip's Convertible followed in the American tradition of offering the most exciting custom coachwork for Rolls-Royce.
Originally finished in black lacquer, the Silver Wraith Convertible did in fact debut at the New York International Motor Show, held at the 69th Regiment Armory in February 1949. The car was delivered to Mr. Manville that April and registered in New York State as "9 TM," and he was later pictured alongside the Rolls-Royce at Bon Repos.
Although WYA26 borrowed design themes from several Inskip Phantom IIIs and another Silver Wraith Convertible built for department store mogul Lawrence Donaldson, Tommy Manville was pleased with the new Rolls-Royce, for which he paid a reported $22,500 – a staggering sum in the late 1940s.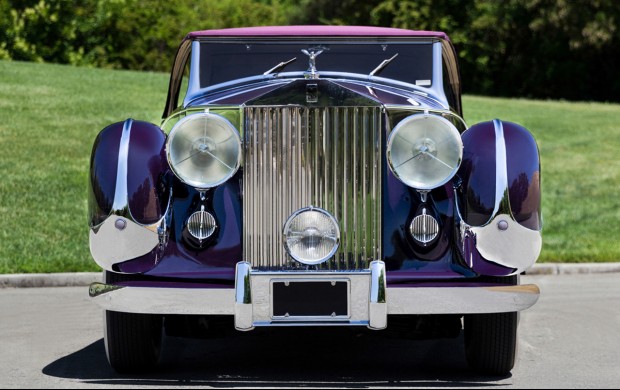 By 1952, Mr. Manville decided it was time for a new car and put the Silver Wraith up for sale. That year it was advertised in the New York Times, described as the "most expensive Rolls-Royce convertible ever sold in U.S.A. Superb low-slung custom body finished in black with red leather. Extremely low mileage. One-year guarantee. $12,500." The Silver Wraith was also exhibited at Herb Shriner's first International Motor Sports Show, held at Grand Central Palace in Manhattan in March and April 1952.
On January 20, 1953, Mr. Manville sold the Inskip Convertible to Elroy Wilson, an undertaker living in Baltimore, Maryland. Mr. Manville and Mr. Wilson reportedly met in the Atlantic City harbor after nearly running their boats into one another. They soon struck up a friendship and arranged to trade cars, with Mr. Manville getting Mr. Wilson's Bentley Continental in exchange for the Silver Wraith.
When collector Judge John North acquired WYA26 from Mr. Wilson in the early 1960s, the car had been painted white and customized by a Baltimore body shop to incorporate Buick chrome wire wheels, Cadillac rear fenders, and a four-foot air horn on each door. Fortunately, the shop kept all the Rolls-Royce's components, fenders, and trim; Judge North then restored the car, returning it to the original Inskip configuration.
The Silver Wraith remained a fixture in the North collection until the 1980s, when it was sold to New Jersey collector Noel Thompson. While in Mr. Thompson's care, the Rolls-Royce was displayed at some of the most prestigious concours d'elegance and often received major awards. During the consignor's ownership, the Silver Wraith has received additional restoration work, and it continues to show beautifully, finished in a splendid violet color with tan leather interior.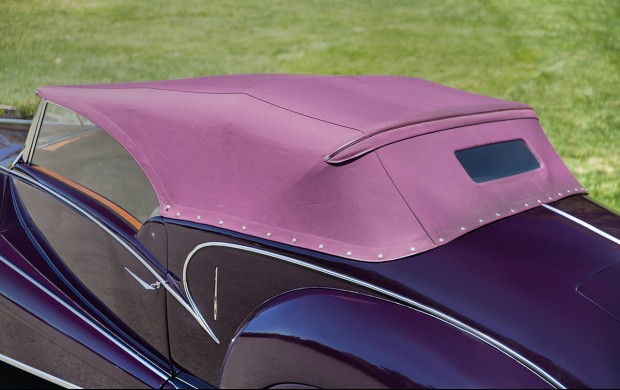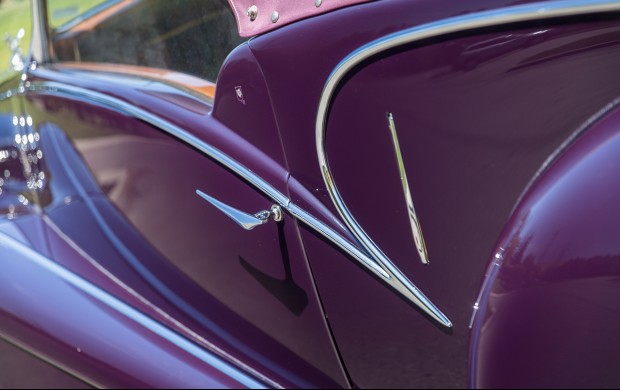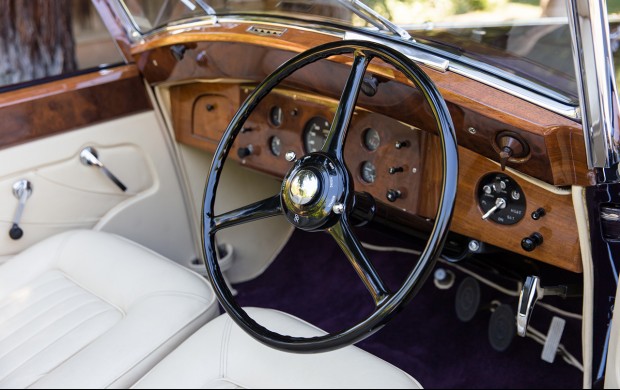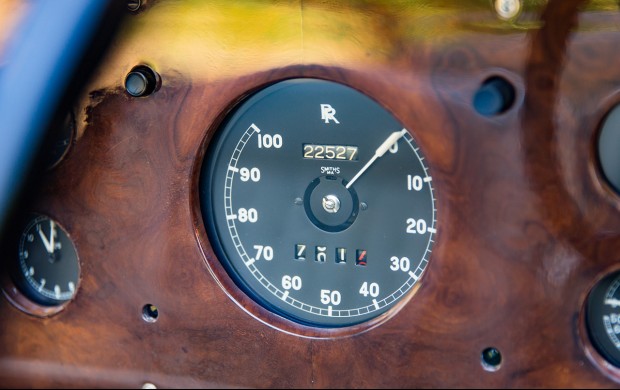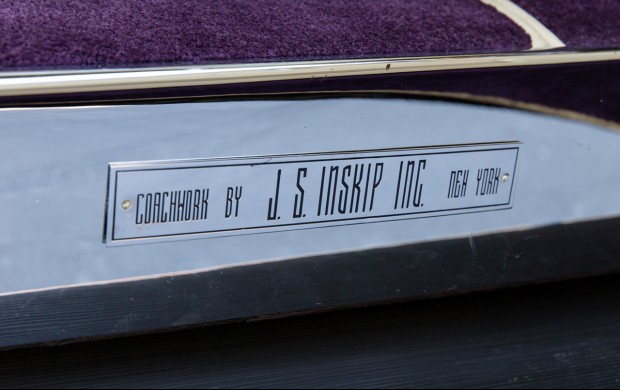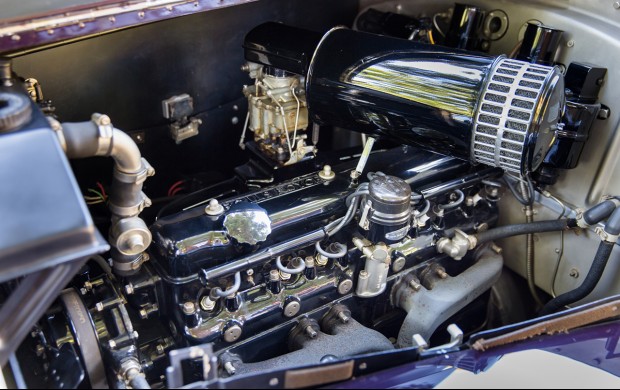 ---
4829 Total Views
1 Views Today