---
Squire Roadster – 1933
---
Marca : Squire Car
Modello : Roadster
Anno : 1933
Telaio N. : 1501
Motore N. : 1074
Esemplari prodotti :
Carrozzeria : Ranalah
Motore : 4 Cilindri in linea
Distribuzione : DOHC
Valvole Cilindro : 2
Aspirazione : Compressore
Cilindrata : 1.496 cc
Potenza : 110 CV a 5.000 giri/min
Top speed Km/h : 161
---
Auction Results
2017 – Scottsdale – Gooding & co. – Unsold
2019 – Goodwood – RM Sotheby's – Unsold
---
The years between WWI and WWII were a golden age for English sports cars. During this period, British motoring enthusiasts supported manufacturers that specialized in high-quality, high-performance automobiles. Companies including AC, Aston Martin, Bentley, Fraser Nash, Invicta, Lagonda, and Riley all made excellent sports cars – but the most intriguing and special are the precious few designed and built by Adrian Squire.
In 1924, Adrian Morgan Squire, at 14 years old, began planning an automotive masterpiece. In a six-page illustrated catalogue, he set out the specifications of an ideal sports car. It was to be a lightweight open two-seater with a 1 1/2-litre four-cylinder engine.
In 1929, he briefly apprenticed with Bentley Motors, which introduced him to the great engineer W.O. Bentley and English coachbuilder Vanden Plas. Squire then went to work for MG, and, after just two years in Abingdon, set off on his own.
At age 21, Squire received financial backing from a friend, Gage Spicer, heir to a paper-manufacturing fortune. Squire and Spicer were soon joined by two other investors, 20-year-old Jock Manby-Colegrave and 26-year-old Reginald Slay.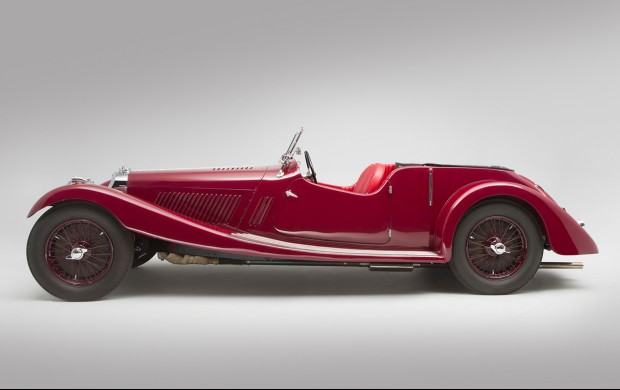 The Squire Car Manufacturing Company was established in 1931 in a Remenham Hill garage. Squire carefully developed his design over the next three years, with the goal of creating the finest English sports car ever produced. He carried out the project with an uncompromising approach, resulting in a technical triumph, although ultimately not a commercial success.
In August 1934, Squire debuted its first complete car. It was state of the art in all respects, setting new standards for acceleration, handling, and braking. The car was powered by a twin-cam inline four, designed and built by British Anzani Engineering Company. As equipped, the engine featured a revised valve train and a David Brown Roots-type supercharger. These changes created a highly efficient engine, producing 110 bhp from just 1 1/2 litres.
The supercharged engine was coupled to an advanced Wilson ENV pre- selector gearbox and placed in a ladder-frame chassis, with X-braced cross members for increased rigidity. The chassis had to be strong enough to withstand the stress imposed by the brakes, the car's most extraordinary feature. In an era when most cars were overpowered and under- braked, the Squire was a notable exception. Each corner had a massive 15 1/2″ diameter magnesium drum, with cooling fins and Lockheed hydraulic operation.
Weighing just 2,300 pounds, the Squire offered superb performance, recording 0–60 sprints in 10 seconds and a top speed of 105 mph. Testing the car in August 1935, Motor Sport discovered that "fast corners can be taken at 75 mph as steadily as if the chassis were held by some invisible radius rod."
A new Squire cost £1,220. Included in the lofty price was a guarantee that the car had exceeded 100 mph at Brooklands, as well as complimentary visits from factory mechanics to ensure that it remained in top condition.
In 1936, after finding buyers for just seven cars – five short chassis and two long – Adrian Squire sold the remains of his company and joined Lagonda. He died in 1940, during a German bombing raid on the Bristol Aeroplane Company, where he worked as an engineer. He was just 30 years old.
The Squire presented here, chassis 1501, was built for Val Zethrin, a wealthy automobile enthusiast from Kent. Zethrin had first seen a Squire in 1935, parked near the Regents Palace Hotel in London. He immediately placed an order for the first long-chassis Squire, then commissioned Ranalah Coachworks Ltd. to build a four-seat touring body, painted maroon and trimmed in dark red leather. Zethrin received the Squire in January 1936 and registered it "CLO 5" with London County Council.
Zethrin, who later bought the remnants of the Squire Car Manufacturing Company and built two additional cars from spares, was a true devotee of the marque. He entered CLO 5 in the 1936 RAC Rally and raced the car in Junior Car Club events at Brooklands in 1936 and 1937, winning a one-lap handicap race at 87.5 mph.
During his ownership, Zethrin modified the original radiator with a more modern cowl made by Serck. After an accident, Vanden Plas repaired the coachwork, altering the fenders slightly from the original design.
In 1937, Zethrin sold CLO 5 to his good friend, Thomas Gibson, chief engineer at the Sydenham Gas Works in London. Over the next 18 years, Mr. Gibson and his wife, Doreen, toured with the Squire, often on journeys to France and Norway. In a 1989 interview, Mrs. Gibson recalled that her husband "loved every throb and note of her engine and appreciated all that had gone into her design."
The Gibsons sold CLO 5 around 1955. The car then passed through the English motor trade for several years before being exported to the US. In October 1959, William Comer of Lake Park, Florida, purchased the Squire and retained it in his small collection of European sports cars until his death in 1974. The Squire was then sold from the Comer estate to Walter B. Weimer of Washington, Pennsylvania. By the early 1980s, it had passed into the hands of noted collector Henry Petronis.
In February 2011, the unrestored Squire was offered for sale at Retromobile, where it caught the eye of the current owner, a discerning collector. The consignor recalls being struck by the Squire's "fantastic composition with a rakish body and that most beautiful radiator grille. Here before me was the first of just two long-wheelbase cars made and its elongated proportions suited the car perfectly."
Recognizing the project's potential, the consignor bought the Squire and entrusted its restoration to his own firm, world-renowned experts Classic Motor Cars (CMC) of Bridgnorth. Widely regarded for their exacting work, CMC won the International Historic Motoring Restoration of the Year in 2011 for its efforts on the Lindner Lightweight E-Type.
According to the consignor, the guiding principle of the Squire's restoration "was to retain as much of the original fabric of the car as possible, a goal which we achieved."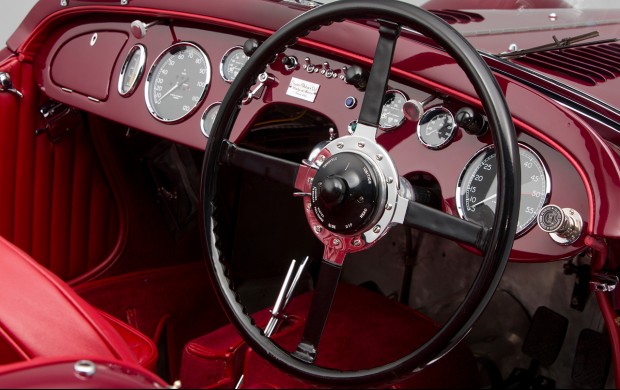 ---
3052 Total Views
1 Views Today