---
Packard Super Eight Hunting Car – 1934
---
Marca : Packard
Modello : Super Eight
Versione : Hunting Car
Anno : 1934
Veicle N. : 1105-15
Motore N. : 753112
Esemplari prodotti : A unique conversion of a lebaron Town Car
Motore : 8 cilindri in linea
Cilindrata : 384.8 cu. – 6.310 cm³
Distribuzione : L-Head
Valvole Cilindro : 2
Alimentazione : 1 carburatore
Potenza : 145 CV a 3.200 giri/min
Top speed Km/h :
---
Auction Results
2016 – Hersey – RM Sotheby's – $ 55.000
---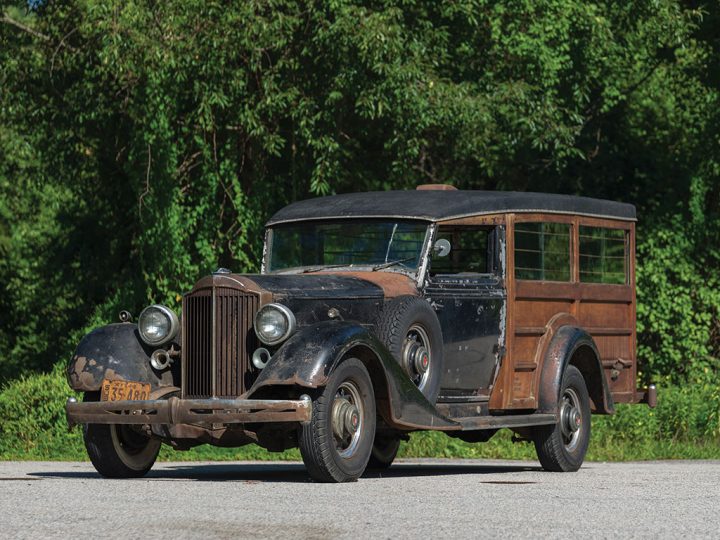 If necessity is the mother of invention, certainly ingenuity is its midwife. From the 1920s, American tradespeople and service providers, faced with a lack of the specialized light- and medium-duty utility vehicles, did not hesitate to build their own. As the Depression loomed, then deepened, it was common to see vans and service cars, even wreckers, on such chassis as Pierce-Arrow, Cadillac, and Packard. Indeed, the Packard Super Eight chassis was an ideal frame on which to build such a vehicle. In addition to being robust and reliable, it could cruise at highway speeds achievable by few commercial trucks of the day. Demand was such that some vehicle craftsmen found a ready market for sturdy and powerful luxury cars converted to vans, haulers, or, like this car, a hunter's vehicle.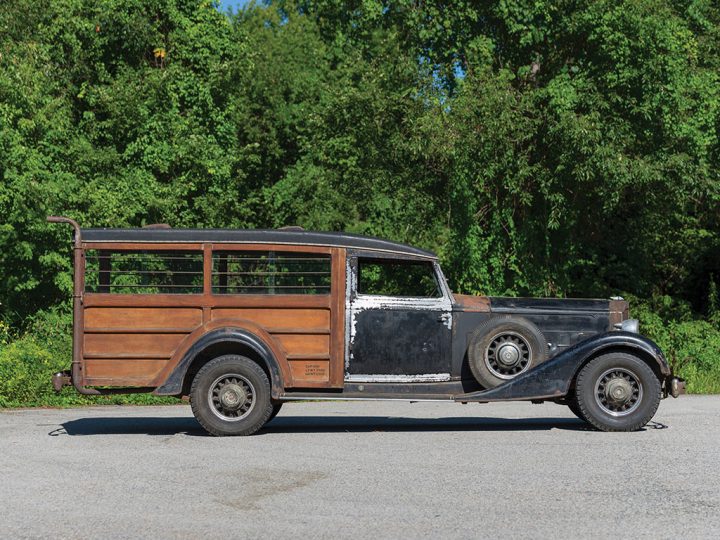 It began life as a Packard Super Eight LeBaron All Weather Town Car, delivered from the factory Park Avenue dealership in New York City on Christmas Eve 1933. Its ownership history is largely unknown, but circumstantial clues suggest it began its career on a Westchester County estate. At some point, one of its owners took it to Peter McAvoy & Son, a commercial auto body builder in New Rochelle, New York, about 20 miles north of Manhattan.
McAvoy knew his trade. Born in Ireland in about 1860, he immigrated to the United States in 1881. By 1910, the census listed him as the proprietor of a wagon factory, and indeed the City of New Rochelle enlisted him to repair carts for the Street Department. His occupation was upgraded to "carriage builder" by the 1920 census, but the 1918 city directory had already listed him under "Auto Bodies," so he was prescient in his trade. His son James joined him in the business and became the president of Peter McAvoy & Son after his father's death in 1929. The company survived until at least 1955, by which time James' son John had become vice president.
Cutting the LeBaron body off just aft of the division partition, the McAvoys constructed a high-quality wood body in its place. Seeking maximum utility, they extended it a full five feet beyond the rear axle of the already-lengthy 147-inch wheelbase. As completed, it is equipped with two fuel tanks, greatly extending its range between fill-ups.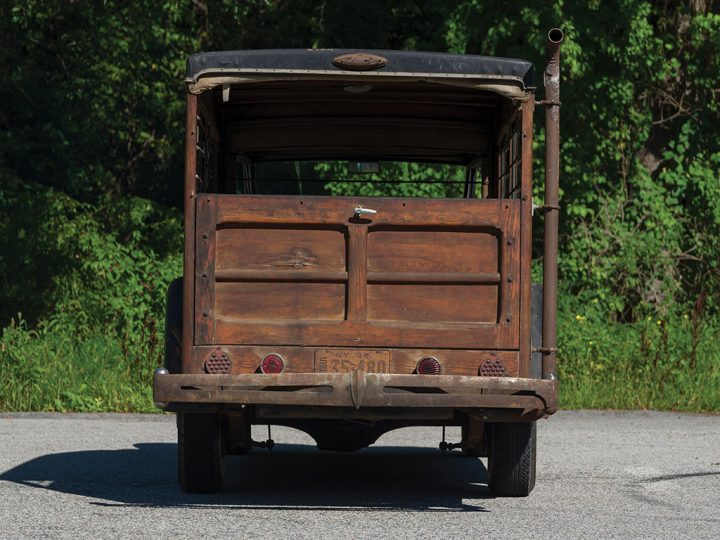 It is not known for whom the McAvoys converted this Packard, but whoever owned it kept it on the road until 1948. That year it was apparently put in storage, substantiated by the New York Suburban license plates still on the car. In 1984, it was advertised for sale in Cars & Parts magazine, the sole contact given as an apartment address in Bronxville, New York, a suburban village neighboring New Rochelle. It passed through at least two further owners before acquisition by the consignor in 2012, but it had obviously been untouched, except for some disassembly of the engine.
It is tempting to call it a shooting brake, but bars on the sliding glass rear windows, large roof vents, tether rings around the body, and a lack of any seating or racks for firearms all suggest it was built for the transport of hunting dogs. Furthermore, the exhaust also exits over the roof, presumably for the safety of one's hounds. It is presented here nearly as found, having been gently cleaned, sympathetically refurbished, and put in running order. This involved a replacement cylinder head and new valves; the cylinders were found to be in good condition, having been bored 20 thousandths oversize and fitted with new pistons. It steers and brakes well, but it could use some attention to the electrical system. As was the case with many 1930s cars kept in service after the war, it has been converted to sealed-beam headlights, unobtrusively fitted behind the vee-contour original lenses. And for safe travels, there is a Saint Christopher medal on the dashboard.
Of the two automobiles known to have been converted to wood bodies by Peter McAvoy & Son, this is the only one believed to survive. The other is a 1939 Studebaker pictured in Donald J. Narus' Crestline book, Great American Woodies and Wagons, published in 1977.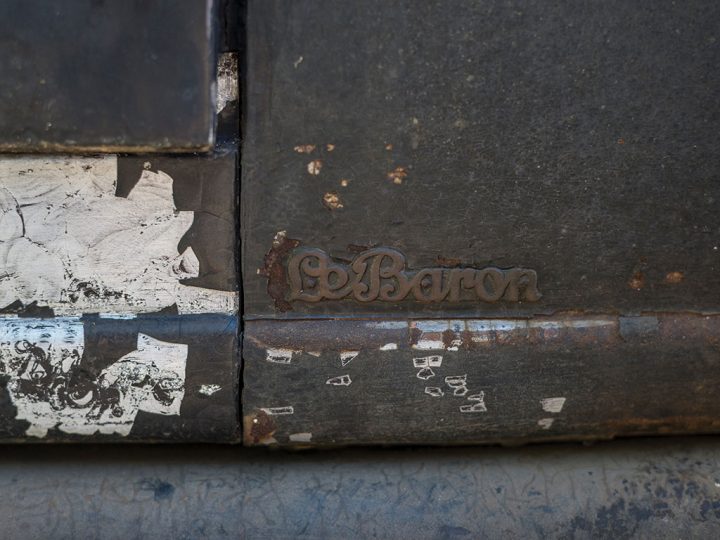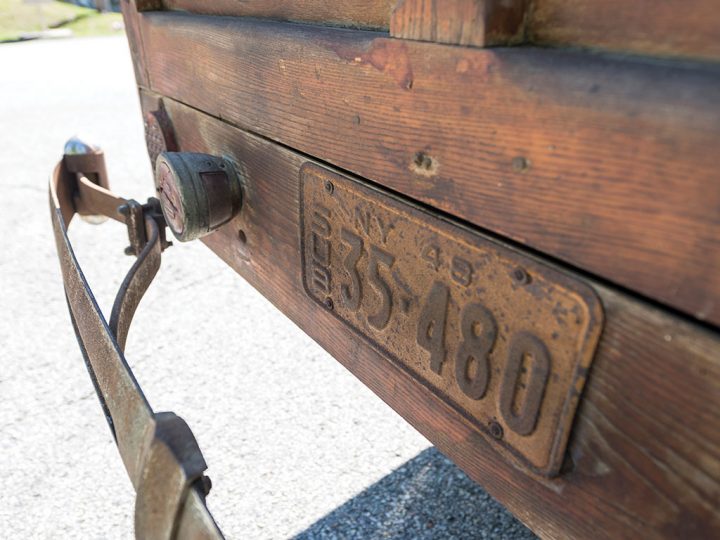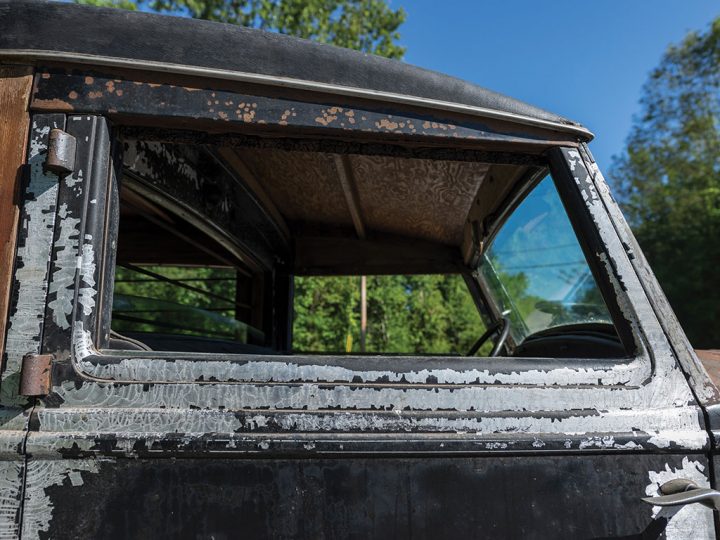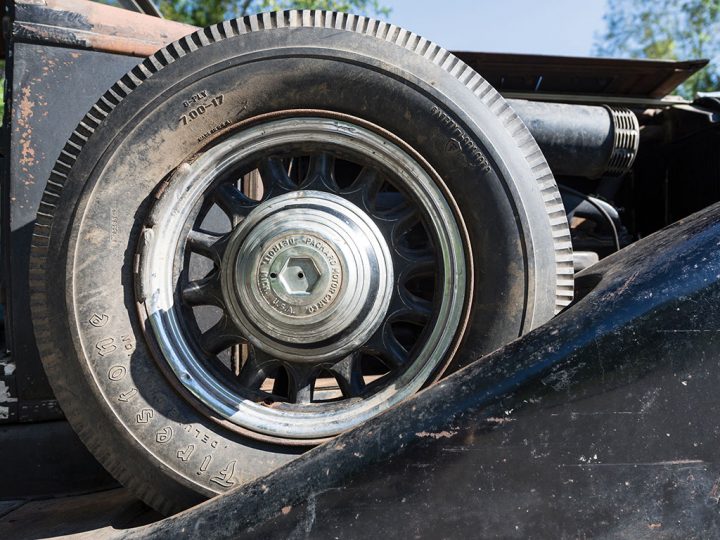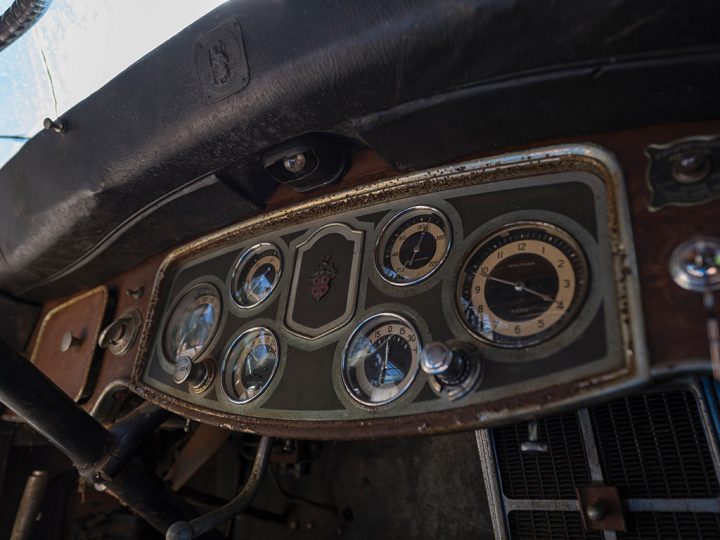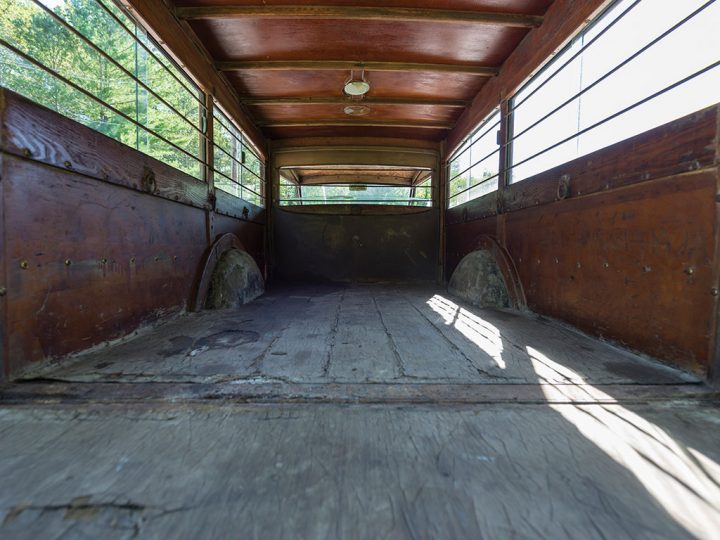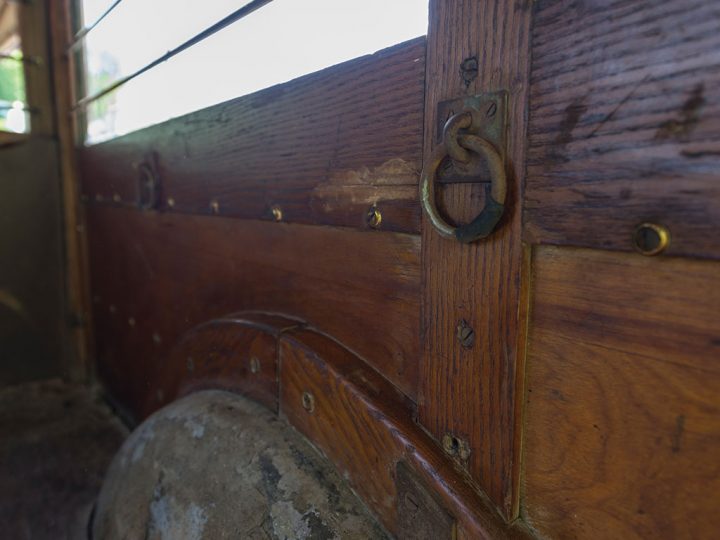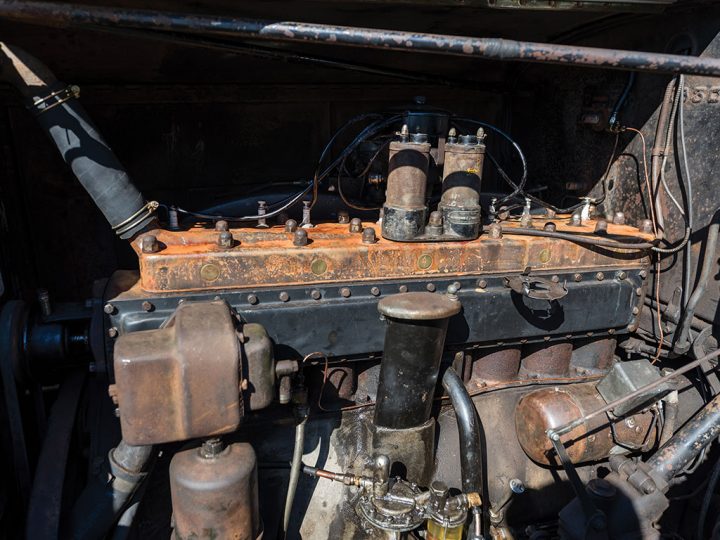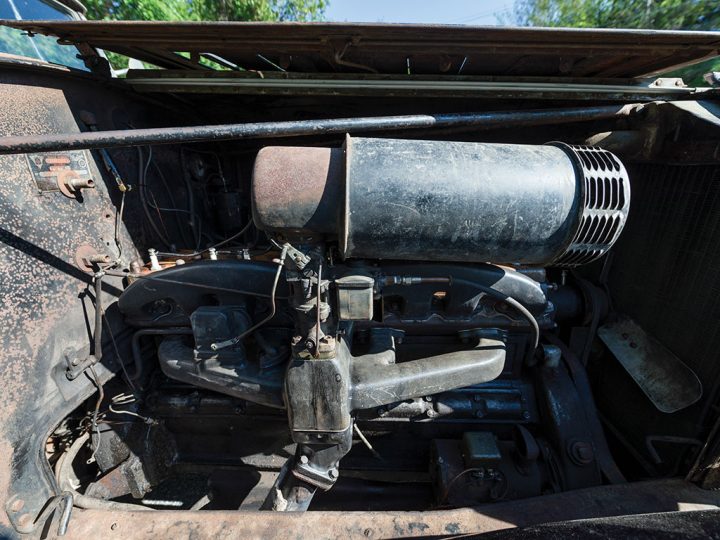 ---
4791 Total Views
1 Views Today