---
Mercedes-Benz 680 S Torpedo-Sport Avant-Garde – 1928
---
Marca : Mercedes Benz
Modello : 680 s
Versione : Torpedo-Sport
Anno : 1928
Telaio N. : 35949
Motore N. : 72151
Carrozzeria : Saoutchik
Motore : 6 cilindri in linea
Cilindrata : 6.789 cc
Distribuzione : SOHC
Valvole Cilindro : 2
Alimentazione : Compressore volumetrico Roots
Potenza : 180 CV a 3.000 giri/min
Top speed Km/h : 176
---
Auction Result
2017 – Villa Erba – RM Sotheby's – Unsold

---
Chassis 35949 was delivered to Carrosserie J. Saoutchik in August 1928. Although the original commission papers note the client as Mr Charles Levine, it has always been said that it was his wife who actually placed the order. Ordered in Dove Grey, it sported a dark red lizard skin interior, a disappearing top, and striking German Silver trim on the fenders of its Torpedo-Sport body, which was described in period advertisements as 'Avant-Garde', a descriptor that certainly no one could argue with.
Mrs Levine was the wife of Charles A. Levine, who had made his fortune recycling World War I surplus brass and was, by 1927, a millionaire. Levine formed the Columbia Aircraft Company with Giuseppe Mario Bellanca and hired several pilots to attempt various publicity records to promote the company. The Orteig Prize was one, awarded to the first person to fly nonstop from New York to Paris. Levine, wanting to be a part of this historic flight, displaced the co-pilot in favour of himself. The co-pilot in turn sued Levine to have his spot reinstated. Levine was successful in keeping his spot on the plane, but the decision was made hours after Charles Lindbergh, in the Spirit of St Louis, had departed Roosevelt Field for his successful flight to Paris.
Levine then announced his intention to fly from America to Germany and carry a passenger. The pilot, Clarence Chamberlain, and Levine set off on 4 June 1927, on their flight to Berlin. They landed just 100 miles shy of their goal in a field at Eisieben, Germany. Levine continued various record attempts for years, until, after a series of bad investments, the federal government sued him for half a million dollars in back taxes.
Any one of these factors could have been the reason for the couple not taking delivery of their custom-built Mercedes at the showroom in New York City. Mercedes-Benz New York suddenly had a very expensive custom-ordered car in its showroom. They took the opportunity to use the car as a part of their display at the 1929 New York Auto Salon. It was also featured in their advertisement in the 1929 Auto Salon edition of Motor magazine.
Knowing that the Bedford family had previously purchased a Mercedes, the Sales department contacted the young Standard Oil director, Frederick Henry Bedford Jr., regarding the special car they had available. They made him an attractive offer, and so began a course that would bring him to the acquaintance of his future wife, Margaret Stewart.
According to her granddaughter, Muffie Murray, Margaret was dating an old family friend whom she found extremely boring. Margaret and the gentleman were attending a party in Ligonier, Pennsylvania, when she was introduced to Frederick Bedford. She told her granddaughter that she thought he was a lot of fun and a good dancer. When leaving the party, she spotted his car and 'that was it.' He offered to give her a ride back to Pittsburgh; 'quite a racy proposition for a lady back then', she would later tell Muffie. She accepted the ride, and although her old friend tried to keep up, he was no match for the 'speed demon' in the supercharged Mercedes-Benz. She recalled that they could see him fading behind in the distance. 'After that', she told her granddaughter, 'there was no one else for me.'
Mr Bedford was a director of the Standard Oil Company for 25 years, and he was also president of the Atlas Supply Company, which sold tires, batteries, and other accessories. In 1947, as president of Atlas, he and other company executives made a business tour of 11 Central and South American countries in a DC-4 christened the Atlas Sky Merchant. It was specially fitted to display automotive and aviation accessories. In 1948, the group made a world flight, covering 50,000 miles in 100 days and visiting 26 countries, a tour which was recognized by the National Aeronautic Association as the first global merchandising flight.
Mr Bedford, who had made his home with Margaret in Greens Farms, Connecticut, suffered an untimely death while on a business trip in 1952, at the age of 61. Mrs Bedford was so heartbroken by her husband's passing that she parked the 680 S in the garage and did not use it again.
In 1980, for her grandmother's birthday, Muffie baked a cake in the shape of the car and also wrote a poem about it. Having grown up with the courtship story surrounding the Mercedes, she had always been fond of it. Mrs Bedford loved the Mercedes-shaped cake so much that she refused to cut it. She later surprised her granddaughter with the news that she was going to have the car restored for her, and a friend of the family was tasked with managing the restoration. Several shops were contacted to offer bids; one of these was Paul Russell's Gullwing Service Company. When Russell inspected the car in Greens Farms, it still had its original lizard skin interior and license plates, which had been renewed for 1953 before Mr Bedford passed. Photographs taken during his inspection in 1980 would later provide valuable information to the current restoration team. During the restoration, which was awarded to Gus Reuter, the original lizard skin was changed to red leather and the wheel discs were omitted.
The car was exhibited at an AACA event in 1982, where it won a National First Prize. Mercedes-Benz then selected the car to be featured during its centennial celebrations in 1986. It was at these events that James S. Rockefeller, founding chairman of the Owls Head Transportation Museum in Maine, spotted the car. He was intrigued by the connection the car had to his family, the founders of Standard Oil. He asked for the loan of the car to the Owls Head Museum, and it would remain there as a prized exhibit for the next two decades.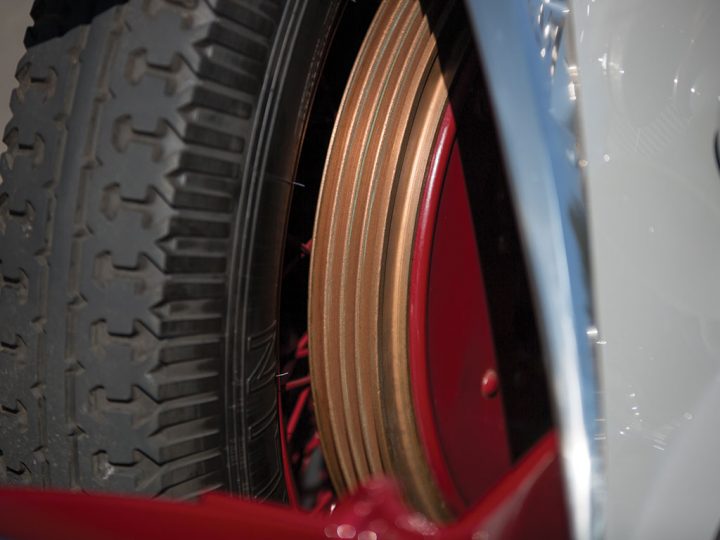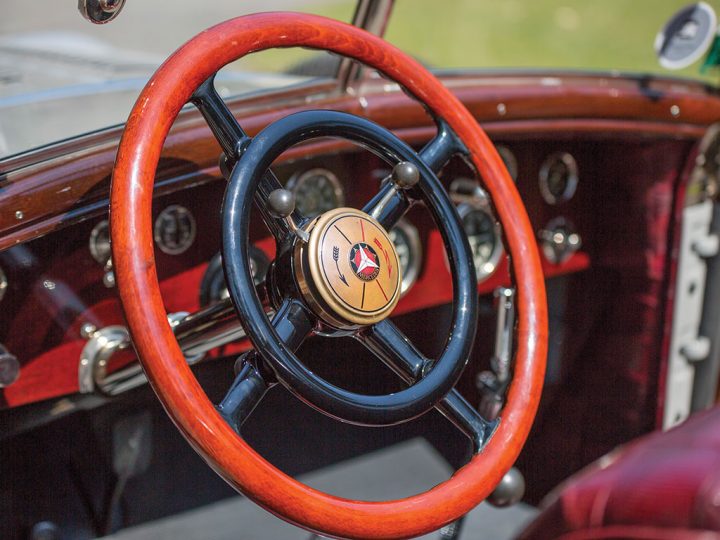 ---
3411 Total Views
3 Views Today