---
Mercedes 300 SE Coupe – 1965
---
Marca : Mercedes-Benz
Modello : 300 SE
Versione : Coupe
Anno : 1965
Telaio N. : 112.021.10.009107
Motore N. : 189.987.10.000534
Esemplari prodotti : 2.419
Designer : Paul Bracq
Progettista : Fritz Nallinger
Motore : 6 cilindri in linea
Cilindrata : 2.996 cc
Distribuzione : SOHC
Valvole Cilindro : 2
Alimentazione : Mechanical fuel injection
Potenza : 170 CV a 5.400 giri/min
Top speed Km/h : 195
---
Auction Result
2016 – Motor City – RM Sotheby's – $ 63.250

---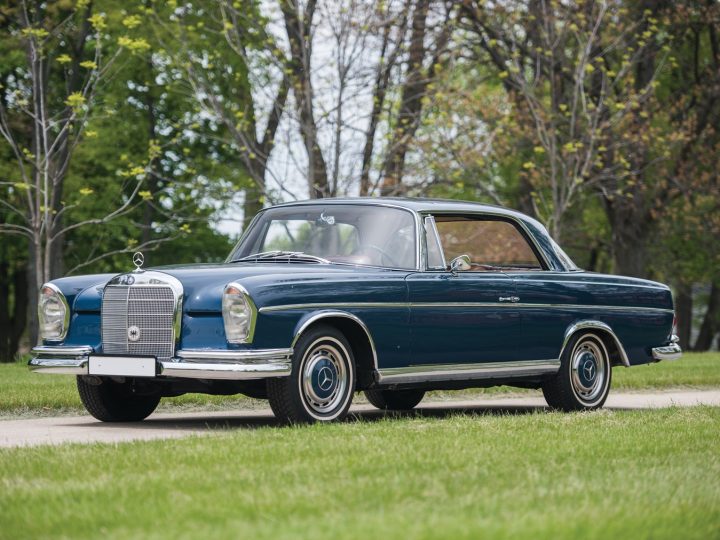 With the introduction of the unibody chassis by Mercedes-Benz in 1960, the company pursued a policy of building all of its automobiles on the same basic W110/111 chassis, and initially all used the same 2.2-liter engine. The product planners distinguished the various price levels with different interior and exterior trim, and styling by Paul Bracq with a smoothed-off rear fender on the two-door coupes and cabriolets distinguished them from the finback sedans.
In 1962 the company introduced the top-of-the-line 300 SE, with the new M189 engine producing a powerful (for the period) 185-horsepower engine. For the true luxury market, the 300 SE was even available with self-leveling, smooth-riding air suspension, a variation important enough to get its own chassis number, W112.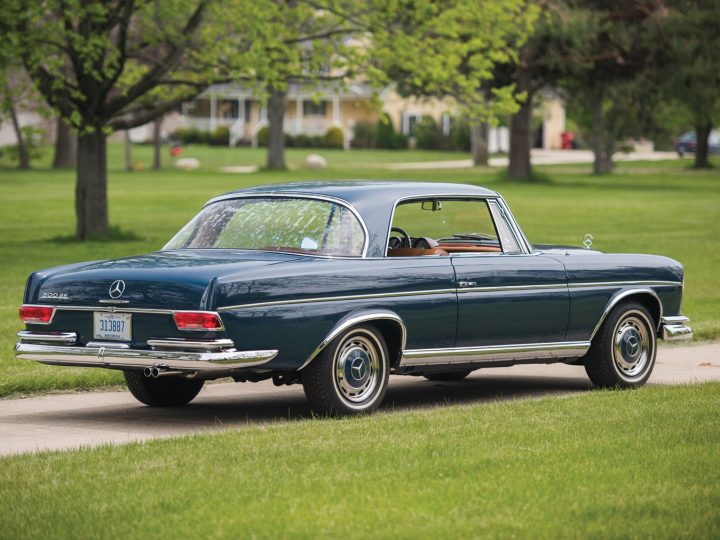 This ultra-desirable model was produced in long-wheelbase limousine configuration, and for the successful executive or celebrity who enjoyed driving, two-door coupe and cabriolet versions were also available in very small numbers. Sharing their lines, interior trim, and power train with the long-appreciated W112 cabriolets, the coupes are only starting to gather attention in the collector-car market.
Presented here is an example of the W112 300 SE Coupe from the very last year of production before the company introduced a new engine range and restyled the front grille in a lower and less impressive form. In original rich-looking Medium Blue paint with cognac leather interior, with European-specification headlamps flanking the impressive grille, this coupe presents a distinguished appearance. The body and distinctive 300 SE chrome trim of this coupe are in exceptional condition, as is the attractive coupe/cabriolet wood fascia and instrument cluster with its pleasing grain pattern and complementing leather upholstery.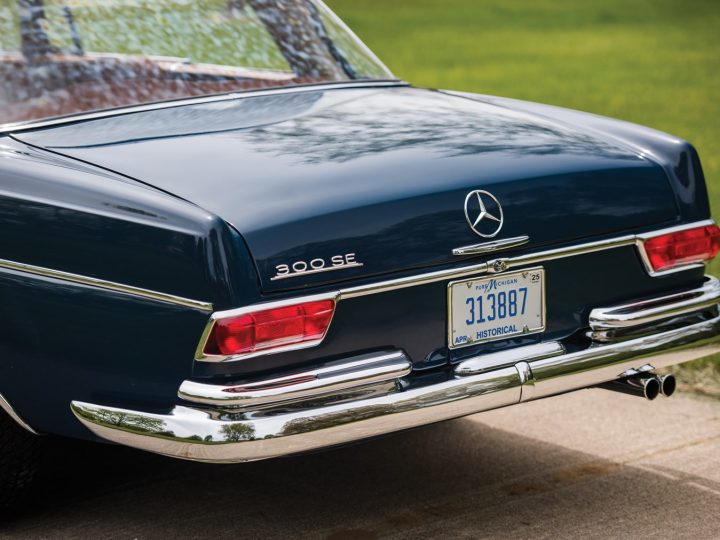 The car was purchased by the consignor from a Mercedes-Benz dealer technician who had driven it sparingly and maintained it carefully since 1978. The car currently shows 21,030 kilometers on the odometer but is known to have turned over; as such, the car has been driven approximately 75,200 original miles. With desirable four-speed manual transmission and air suspension in excellent operating condition, it is reported to be a pleasure to drive.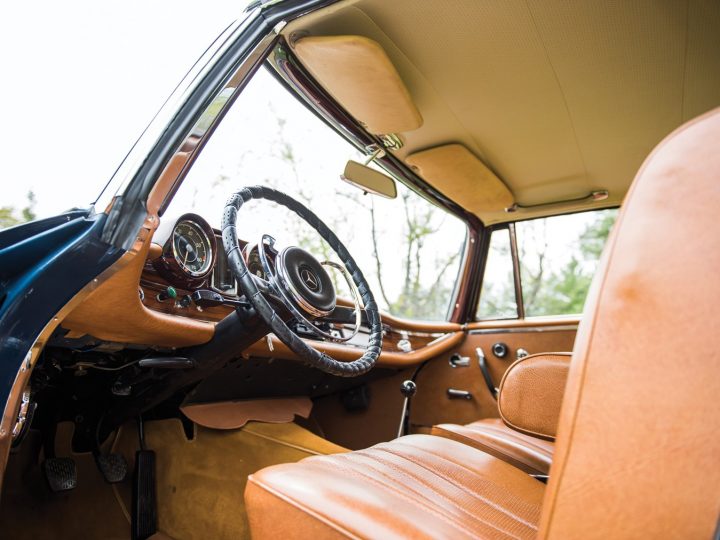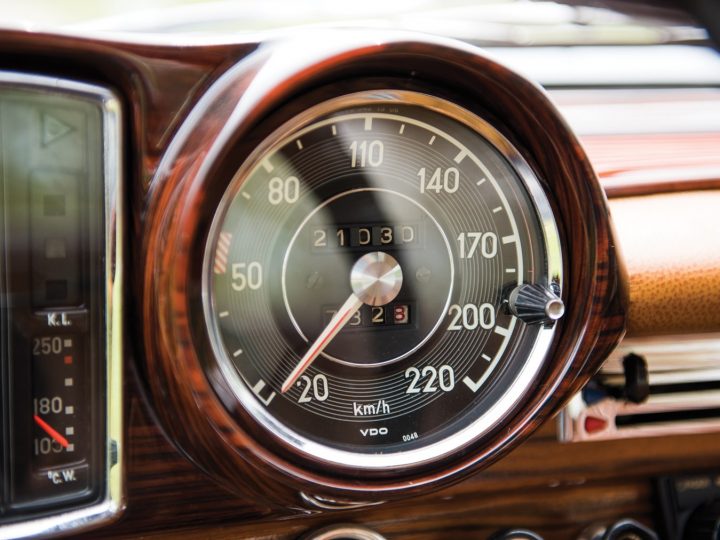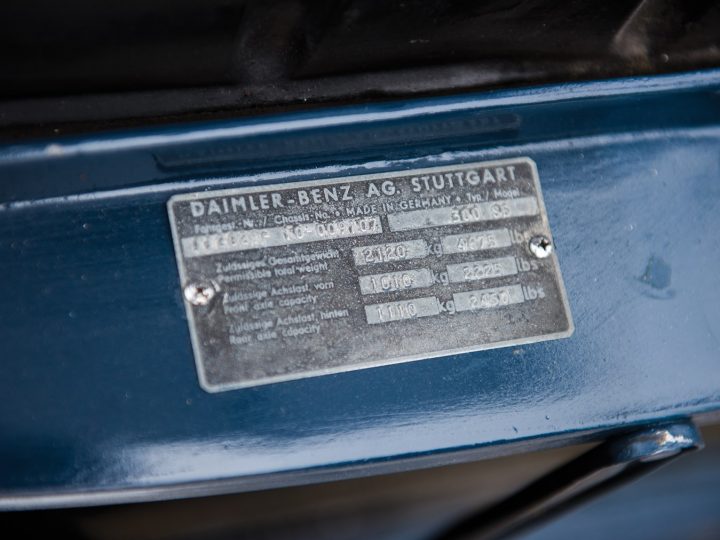 ---
5060 Total Views
2 Views Today