---
Lamborghini Countach LP 400S – 1981
---
Marca : Lamborghini
Modello : Countach
Versione : LP 400S
Anno : 1981
Telaio N. : 1121252
Motore N. : 1121252
Esemplari prodotti : 105
Designer : marcello gandini
Carrozzeria : bertone
Progettista : paolo stanzani
Motore : 12 cilindri a V di 60°
Cilindrata : 3.929 cc
Distribuzione : DOHC
Valvole Cilindro : 2
Alimentazione : 6 carb. Weber 45 DCOE
Potenza : 375 CV a 7.500 giri/min
Top speed Km/h : 292
---
Auction Result
2017 – Arizona – RM Sotheby's – Uncoming
---
Quite possibly the most recognizable automotive design on the planet, the Lamborghini Countach has stood the test of time as the quintessential supercar. Debuting at the 1971 Geneva Motor Show, the Countach struck an instant chord—fitting, as the name "Countach" is a Piedmontese expression meaning "stupendous," magnificent, or splendid (politely translated). Marcello Gandini was again put in charge of penning the company's new flagship. The design was a drastic departure from the Miura's gentle curves and elegant proportions. Instead, an aggressive wedge shape formed the basis of the silhouette and sharp lines constitute the remaining styling cues. This design also marked the debut of Lamborghini's most iconic feature, the scissor doors. Like nothing else on the road, the Countach was a quantum leap forward in automotive language.
Lamborghini's developments did not end with the styling, however. The Countach utilized a tubular space frame chassis and aircraft grade aluminum body. As a result, the vehicle was incredibly strong and light despite its size. Initially premiered with a 5.0-liter V-12 engine in the prototypes and show cars, the production LP400 models came with the 4.0-liter from the Miura. Power was rated at 370 horsepower and 266 foot-pounds of torque.
The first update came to the Countach after Canadian F1 team owner Walter Wolf sought to increase the performance of his own personal car. He enlisted the help of chief Lamborghini engineer gianpaolo dallara to modify the car by installing a 5.0-liter engine and much larger Pirelli P7 tires. In order to fit the massive tires, the bodywork and suspension geometry had to be extensively altered. Wolf eventually convinced Lamborghini to commercialize his modifications, and so the LP400 S was born.
However, not all of the Wolf upgrades made it onto the series production cars. Official S models received the fender flares, chin spoiler, wider tires, and revised suspension, but not the larger engine. Later on, the popular V-shaped wing was added to the options list after demand grew. Lamborghini would continue to develop and upgrade the Countach throughout the 1980s. In 1982, the LP500 S was released with a 4,754-cubic centimeter engine. The 5000 Quattrovalvole was put on sale in 1985 with continued engine evolutions. The final rendition of the Countach arrived in 1988 with the celebration of the company's 25th anniversary. These models received extensive body restyling thanks to horacio pagani.
The series II Countach LP400 S presented here is a rare car, one of 105 'Low Body' models.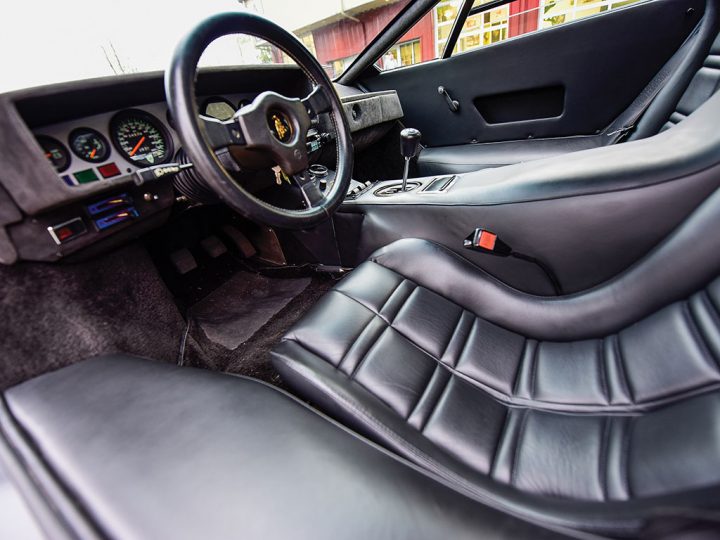 ---
5265 Total Views
1 Views Today