---
Flajole Forerunner – 1955
---
Marca : Flajole
Modello : Forerunner
Anno : 1955
Telaio N. : S673772
Motore N. : W7884-8S
Esemplari prodotti : one-off
Designer : bill flajole
Motore : 6 cilindri in linea Jaguar
Cilindrata : 3.442 cc
Distribuzione : DOHC
Valvole Cilindro : 2
Aspirazione : 2 carb. doppio corpo SU H6
Potenza : 160 CV
Top speed Km/h : 
---
Auction Results
2009 – Quail Lodge – Bonhams – $ 188,500

---
Bill Flajole was an independent designer who began his career right out of high school at Chrysler in 1933, later moved to General Motors, Murray Corporation and Ford where he worked with Bob Gregorie on the design of Edsel Ford's original Continental.
Flajole (a French name which he pronounced "Flay-joel") established his own design-build shop in 1939 with John Kehrig, a skilled fabricator who had worked with Frank Spring at Hudson. The Flajole-Kehrig Company undertook subcontract design-build projects for Chrysler, Ford, GM, Nash and Murray. The Nash NXI prototype, a two-seat sportster based on a Fiat 500 Topolino, was built there. The NXI concept eventually led to the Nash Metropolitan, a Flajole design which shared several design cues with the Forerunner.
After World War II Bill Flajole established an independent design consultancy. It was the era of great industrial design from raymond loewy, Albert Kahn, Walter Dorwin Teague and Norman Belle Geddes. Like them, Bill Flajole was a generalist designing all sorts of functional objects in streamlined forms now described as "machine design" including toys, packaging, boats, appliances and even homes. At the same time he and Kehrig kept their hand in with automobiles.
Their automobile design culminated in the tiny but important Nash Metropolitan. Its concept and positioning derived from the prewar NXI but, influenced by the desire of Charles Nash and George Mason to create a small, personal car, took a new direction.
Before creating the Metropolitan design Flajole created a special re-designed Nash-Healey for a Johnson's Wax promotion in 1951. It was given to Boston Red Sox slugger Ted Williams with the winner of the naming contest getting an expense-paid trip to the World Series for six.
Like many designers of the late Forties Bill Flajole was captivated by the Jaguar XK 120 and its combination of aggressive stance, advanced dual overhead camshaft six-cylinder engine and competent suspension. He bought one in 1951 and began to experiment with new designs on the Jag's 102 inch wheelbase chassis.
In 1953 he bought his second XK 120, an M with performance cams and dual exhausts. He tested its 180hp 3.4 liter engine in the hands of Duncan McRay at the SAC road races at Chanute AFB in Urbana, Illinois and was satisfied with its performance when McRay brought it home first in class. It was Bill Flajole's XK 120M's first and last race. He'd decided to use it as the basis for his own futuristic two-seat sports car.
Bill Flajole wasn't the only American designer who recognized the XK 120's appeal. Over at Chevrolet harley earl and Bill mitchell also were applying XK 120 principles to their own nascent sports car. It debuted at the 1953 GM Motorama with the name Corvette.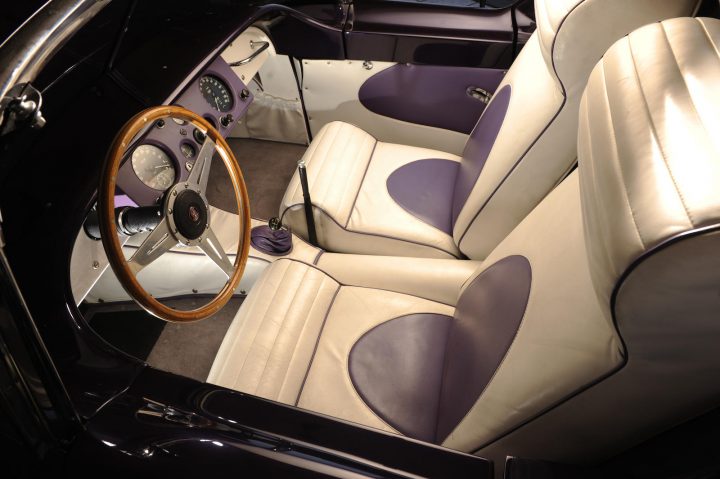 Flajole and Kehrig plunged down the same road as GM, experimenting with the new, adaptable material Fiberglas. Flajole's staff in their spare time created a full size clay embodying his concepts, the tall fenders, dropped hood, wide grille integrated with bumpers and an innovative retractable roof that slid down to hide under a dramatically sloping fastback rear deck. Working progressively while still learning to deal with the new composite body material Flajole and Kehrig slowly worked their way through the problems.
The Flajole Forerunner debuted in 1955. In addition to the dramatic dropped hood profile it had a sharp translucent Plexiglas roof panel and dramatic recessed cove panels behind the wheels. Painted light beige to contrast with the Forerunner's original dark green paint (probably Spruce Green, which Bill Flajole later identified as his favorite color), the Forerunner marked the first appearance of coves, before Chevrolet applied them to 1956 and subsequent Corvettes.
It received widespread publicity in publications of the day including Motor Trend, Road & Track and Sports Cars Illustrated. In addition to the innovative coves and retracting roof panel Flajole installed supportive aircraft-type seats with head restraints years before other designers appreciated the value of supportive seats in minimizing accident injuries.
Bill Flajole used it for personal transportation until the early 70s, attracting constant attention on his weekend drives in the car. The current show quality restoration in its dramatic metallic purple with white coves. matching white/purple leather upholstery and chrome wire wheels was probably done by Jeff Tamayo before he and his wife Sara donated it to the Blackhawk Automotive Museum. It was acquired from Blackhawk by Sidney Craig in 1998.
---
3278 Total Views
1 Views Today