---
Delahaye 148 L – 1949
---
Marca : Delahaye
Modello : 148 L
Anno : 1949
Telaio N. : 801278
Esemplari prodotti : 1
Carrozzeria : Van Antem
Motore : 6 cilindri in linea (135 M)
Cilindrata : 3.558 cc
Distribuzione : OHV
Valvole Cilindro : 2
Alimentazione : 3 carb. Solex
Potenza : 115 CV a 3.800 giri/min
Top speed Km/h : 160
---
Auction Result
2016 – Le Mans – Artcurial – 250.320 €

---
This car has a very special history. It started as a Delahaye 135 Competition, then was fitted with an Antem body which was subsequently transferred onto a Delahaye 148 L chassis.
Originally, it was a 1935 Delahaye 135 Competition with chassis number 46094. It was registered new on December 19th 1935, on behalf of Joseph Paul, founder of the team Francia, which began the 1936 season participating in the Monte Carlo Rally, before running in Miramas, Montlhéry and Reims. In 1936, he entered several events on track and at rallies He received the title of "French independent drivers Champion".
From 1945 to 1949 Delahaye No. 46094 took part in the early post-war races, probably with a new body. On April 12th 1949, it was registered in the Seine Department and then on June 19th 1950, on behalf of the Grand Garage Mozart managed by R. Bonnet.
In 1949 the car received an Antem body, as requested by R. Bonnet. Around 1985, Ms. Bonnet confirmed to historian A. Dollfus that the Delahaye had indeed been re-bodied by Antem. In 1986, a photo was shown to Mrs. Molinié, daughter of the coachbuilder, who attested that the car did come out of her father's workshop on rue Victor Hugo, in Courbevoie.
With this bodywork, the car took part in the Autumn Cups in 1952, at Montlhéry, where it finished second in the hands of a "Tenno": could this pseudonym be an anagram of Bonnet?
In 1953, Delahaye # 46094 was sold to the garage Le Marois, very close to Avenue Mozart, in Paris' 16th arrondissement. It stayed there for a while before Henri Soyer acquired it. It was from him that Gino Terzulli, a collector of French cars, bought this car, in 1966. While using it as it was, with its Antem body, he noticed features on the chassis matching that of a Delahaye 135 competition model's. He called on French specialists François Jolly, M. Varet et R. Deplace, whose findings were published in the Delahaye Club newsletter in September 1979, confirming the authenticity of the competition chassis. Gino Terzulli decided to give this chassis a body matching its original pedigree. This was done between 1979 and 1986. He then sold the car to Jean-Philippe Peugeot.
In 1979, the Antem body, installed in 1949, was 'separated' from the chassis and sold to Henry Martin. It is worth noting that the Club Delahaye, aware of the interest in this unique body, has always wanted a chassis to be fitted to this body in order to preserve it.
In fact, the body corresponds to a rare style in a French coachbuilder's works. Along with his sons Jean and Jacques, Antem clothed the biggest brands, Delahaye, Delage and Talbot primarily, whilst also making sportier bodies for DB and Vernet-Pairard. This gave Antem the reputation of a "fashion designer for sports cars". This body matches the post-war "pontoon" style. However, this body was worked with a rare elegance and fluidity. The interior is arranged with great care. It has comfortable seats, a leather-wrapped steering wheel as well as a complete and sporty dashboard.
The Club Delahaye's wishes were fulfilled in 1988, when Henri Martin sold the body and upholstery to a collector who had also bought a Delahaye 148 L, No. 801278, equipped with a Letourneur et Marchand sedan body, in a very good state. He dismantled the body and arranged for the chassis of the 148 to be fitted with the Antem body. Three years of work were needed to overcome this complicated operation, which involved modifications of the chassis' sides. The engine which is fitted onto chassis 801278 is the original one: a Type 135 M 3.5-liter with three carburetors, in good condition, it will only require a simple service. The car received new carburetors and, for the rest, brake drums were specially redone. The body was stripped to bare metal, treated and repainted. The chromes were redone and the interior was refurbished: the original leather upholstery was re-pigmented in its burgundy color, the carpets were redone and it all looks as if the car was freshly out of the Antem workshop in 1949. Subsequently, the owner used the car at "Bugatti à Montlhery" in March 2001. That same year, the car was offered at auction by Poulain-Le Fur and was bought by the current owner, who was most attracted by its unusual shape and history.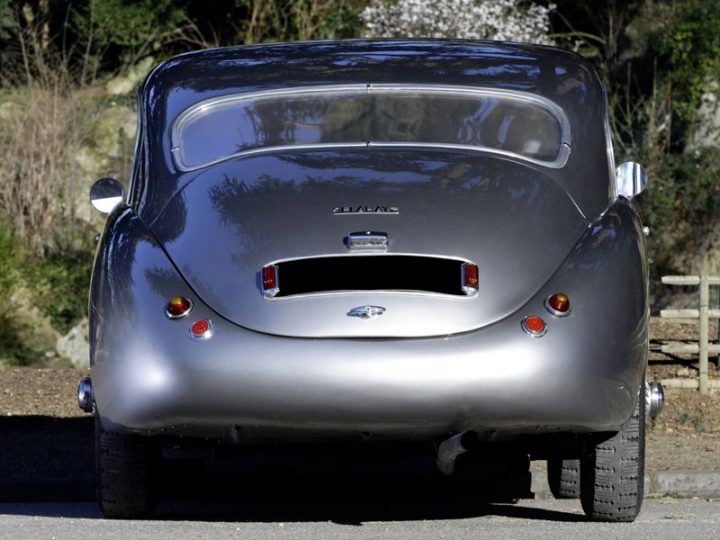 ---
2617 Total Views
1 Views Today