---
Alfa Romeo Giulia TZ – 1965
---
Marca : Alfa Romeo
Modello : Giulia
Versione : TZ
Anno : 1965
Telaio N. : AR 10511 750039
Motore N. : —
Esemplari prodotti : 112
Progettista : Orazio Satta Puliga e giuseppe busso
Carrozzeria : zagato
Assemblaggio : autodelta
Motore : 4 cilindri in linea
Cilindrata : 1.570 cc
Distribuzione : DOHC
Valvole Cilindro : 2
Alimentazione : 2 carburatori Weber 40 DCOE
Potenza : 160 CV a 6.500 giri/min
Top speed Km/h : 220
---
See history of this car at www.zagato-cars.com
---
Auction Result
2016 – Monaco – RM Sotheby's – Unsold
---
This striking Tubolare Zagato is approximately the 39th example built, and it claims both successful competition history and a more recent period of long-term care by a dedicated collector. According to the records of the Zagato Register, chassis number 750039 completed construction on 28 April 1965, equipped with dual ignition and 15-inch wheels.
Finished in blue paint over a black interior, the TZ was distributed to the official Alfa Romeo dealer of Rome before being acquired in May 1965 by its first owner, local resident Angelo Pelatelli. Mr Pelatalli embarked on a successful racing campaign starting with a 1st-in-class finish at the Valvisciolo-Bassiano on 27 June. The Giulia took 2nd-in-class at the Criterium dell'Ora Vallelunga in October and managed an impressive 6th-overall finish at the Trofeo 5 Conchiglie Vallelunga on 4 November. Twelve days later, 750039 again finished 2nd-in-class, this time at the Viterbo-Poggio Nibbio.
On 1 July 1966, the Giulia was sold to Ippolito d'Ippolito, a dealer in Catanzaro, and around this time, it was repainted in silver. In June 1968, the TZ was purchased by Pier Luigi Vasile of Salerno, a member of the Squadra Piloti Senesi racing team, and he campaigned the car extensively while making gradual modifications to the bodywork, starting with the addition of cooling vents to the hood. Regularly competing at venues such as the Coppa Sila, the Volte di Popoli, the Coppa Primavera Amalfi-Agerola, and the Trofeo Lodovico Scarfiotti, 750039 soon received a fresh coat of orange paint, widened rear wheel arches, and cutout door handles. In February 1972, Mr Vasile sold the TZ to Palmina Pisano of Nocera Inferiore, and it then passed to Ernesto Sant'Elia of Napoli in July 1974.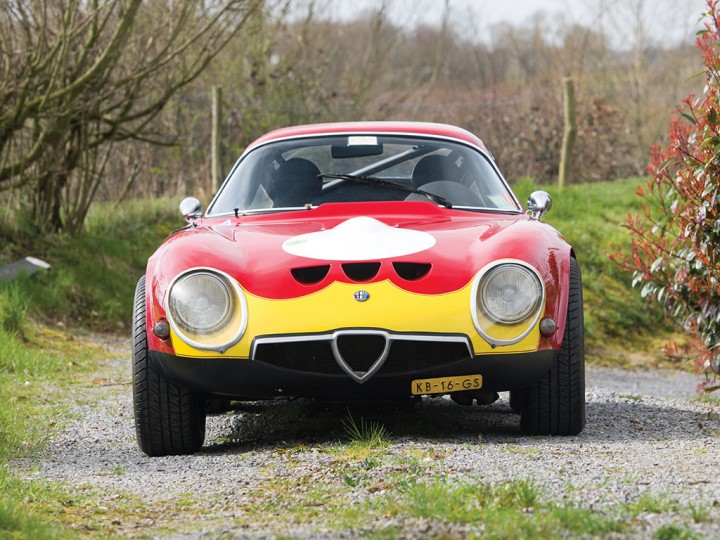 During the mid-1970s, the rare TZ was imported to the United States and later owned by Wes Gilpin of Dallas, Texas, who is believed to have acquired the Alfa from an American serviceman who brought the car from Italy. The car was then acquired in early 1978 by its next caretaker, Rocky Chisholm of Yorba Linda, California. Reportedly wearing a blue finish with a non-vented hood, the Alfa was soon restored, repainted red, and prepared for racing use, including significant attention to the suspension. Interestingly, during the restoration, Mr Chisholm found several olive pits in the bowels of the bodywork; it would seem as though someone was having lunch when the car was being built. He decided to leave a few of the pits in the car for good luck.
In early 1983, 750039 was sold to its current owner, a Dutch collector of fine sports-racing cars, and it was re-imported to Europe. The TZ was treated to some restoration work and dialled in for further competitive use, after which it successfully ran numerous vintage rallies throughout Europe, including the Coppa d'Italia as well as the Targa Florio.
Currently fitted with a vented competition hood, this Tubolare Zagato has enjoyed only modest use during the last 10 years, and it is believed to have never been presented at any concours d'elegance. It would make a fantastic acquisition for re-entry to the vintage racing ranks, or it might serve as the basis for an important restoration to show-winning standards. In either regard, chassis number 750039 figures to receive a warm welcome by the collectible Alfa Romeo niche after its seclusion in 33 years of dedicated single ownership.
---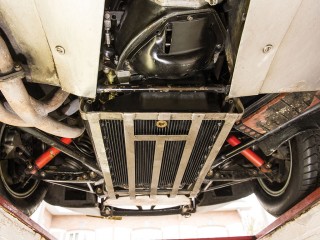 ---
4667 Total Views
1 Views Today