---
Vauxhall-Zimmerli 18-6 Roadster – 1948
---
Marca : Vauxhall
Modello : Zimmerli 18-6
Versione : Roadster
Anno : 1948
Telaio N. : LIP 1454
Motore N. : LP 2622
Esemplari prodotti : One-Off
Motore : 6 cilindri in linea
Cilindrata : 2.275 cc
Distribuzione : OHV
Valvole Cilindro : 2
Alimentazione : 1 carb.
Potenza : 54 bhp
Top speed Km/h : —
---
Auction Result
2017 – Amelia Island – RM Sotheby's – $71,500

---
The aftermath of World War II provided an opportunity for industries and craftspeople recently released from defense work. The expanding consumer economy, particularly the demand for new cars, portended potential profits in automobiles, which many erstwhile aviation machinery people sought to capitalize upon. American examples are the Kurtis/Muntz Jet, secondary vehicles like the Keller and Towne Shopper and, lest we forget, the amazing Tucker. Things were less rosy in Europe, but in some places optimism reined, especially Switzerland, which had escaped widespread destruction.
Werner and Fritz Zimmerli held Chevrolet and Vauxhall franchises in Reiden, Switzerland. New cars, however, were in short supply, particularly since the country had no native auto industry. It was Fritz's son, Fritz Jr., an apprentice with the family firm Gebrüder Zimmerli (Zimmerli Brothers), who suggested the creation of a two-seat sports car based on Vauxhall mechanics.
Basis for the car was the drivetrain from a Vauxhall Velox, a six-cylinder car that debuted in August 1948. Power came from a 2,275-cubic centimeter overhead valve engine that developed 54 brake horsepower. The transmission was a three-speed, column-shifted Vauxhall item. A live rear axle with high-speed gears was used. The Zimmerlis manufactured their own chassis frame, constructed of steel tubes, and adapted the Vauxhall independent front suspension, a Dubonnet-style affair that used torsion bars in addition to the usual Dubonnet oil-filled shock absorbers. The body, emulating the emerging streamline sports car idiom, was built of aluminum by the Zimmerlis' panel beater Enrico Basetti. Steel was used on the doors for greater rigidity. Reminiscent of Allard and OSCA, the grille blends with the free-flowing body lines.
The car was completed some time in 1950, and until 1968 it remained in the Zimmerlis' Reiden showroom. From there it went to Swiss collector Zavier Heller before moving to the United States around 2000. When acquired by the current owner in 2008, it was original, except for a repaint, but quite tired. A hands-on collector, he undertook much of the work himself, enlisting outside help for body, paint, and upholstery. The body was removed, stripped, and all its contours carefully conformed. The car had been repainted in black; careful examination unearthed a chip of the original maroon, to which the paint was matched. The tan upholstery was done by an experienced craftswoman who essentially brought her shop to the car, working in the owner's garage until it was finished. A matching canvas top is fitted; its shape is a bit unusual, but it folds down behind the seats on an ingenious scissor mechanism that dispenses with the awkward need to remove and stow many sports car tops. Accompanied by a complete tool kit, the car is titled as a 1949 Vauxhall, but its chassis number establishes that the car began life in the autumn of 1948. Since restoration, it has taken class and special awards at Keels and Wheels in Houston, Meadow Brook Hall, Boca Raton, Lake Mirror, Winter Park, Ault Park, Keenland, and Hilton Head. It was also a winner at the Amelia Island Concours d'Elegance.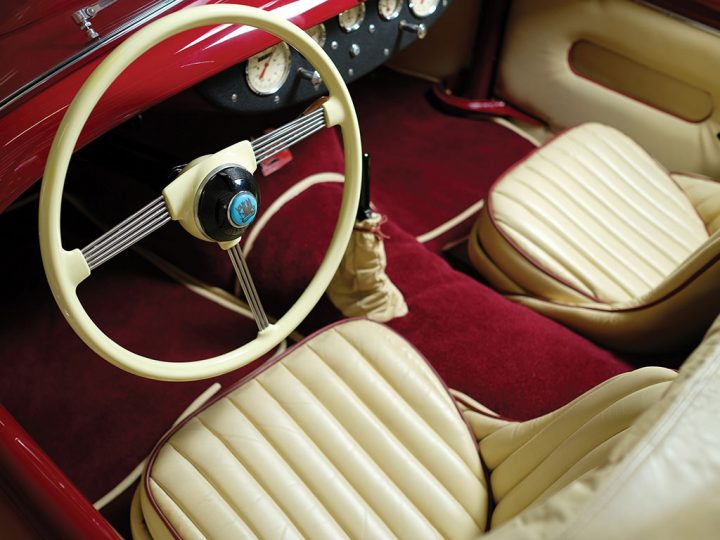 ---
2524 Total Views
3 Views Today