---
Porsche 959 Komfort – 1987
---
Marca : Porsche
Modello : 959
Anno : 1987
Telaio N. : WP0ZZZ95ZHS900104
Esemplari prodotti : 288
Motore : 6 cilindri Boxer
Cilindrata : 2.849 cc
Distribuzione : DOHC
Valvole Cilindro : 4
Alimentazione : Bi-turbo iniezione elettronica
Potenza : 450 CV
Top speed Km/h : 317
---
Auction Result
2017 – Arizona – RM Sotheby's – $935,000

---
Porsche stunned the automotive world when it unveiled its new "Gruppe B" at the 1983 Frankfurt Auto Show. Identified internally as the Type 961, this twin-turbocharged, all-wheel-drive design, with its innovative composite-over-steel body and chassis platform, powerful rear-mounted 2.8-liter turbocharged engine, and multitude of electronic engine and suspension management systems was quickly judged to be one of the most advanced ultra–high-performance automobiles ever created. Yet it was unmistakably a member of the 911 family. This new machine was to be the German automaker's entry into the cutting-edge FIA Group B international rally championship arena, where the only rule was that there were no rules—practically any technology was permissible.
Group B's no-limits policy encouraged a long list of automakers to create incredibly powerful and extremely fast vehicles, all of which required production of at least 200 street-legal examples on which these rally specials could be based. As surely as night follows day, a rash of serious accidents forced a re-examination of the series. The FIA abruptly cancelled Group B, leaving manufacturers like Porsche on the hook. With production of the homologated road cars already underway, Porsche found itself in a dire financial situation. To recover its huge investment in tooling and research, the company's board of directors had no choice but to press ahead in hopes it could convince a fairly limited number of wealthy customers that a 200 mph road car was a sound investment. Company management need not have worried; eager buyers lined up to place deposits on the Type 959.
The 959's chassis, on the same 89.4-inch wheelbase as the 911 Carrera, was based on the 911's stamped steel floorpan. In fact, the cabin's center section, including its interior, was nearly identical to the 911. The front trunk lid and doors were aluminum; the extended nose section with its almost flush headlamps was molded of polyurethane, and the remainder of the shell from fiberglass-reinforced Kevlar. Aerodynamic stability was a primary consideration in the 959's design, and after extensive wind tunnel studies, Porsche's designers achieved a package with near-zero body lift and an amazingly low drag coefficient of 0.31, still an impressive figure today. There was extensive ducting and venting in the nose to cool the front brakes and oil radiator. The body's rear section was greatly extended and widened, and it too was generously ventilated and topped with a full-width rear wing.
The true brilliance of the 959 lay beneath its svelte body shell. Its tremendously powerful engine, rear-mounted, was Porsche's race-proven "boxer" six, with air-cooled cylinders and four-valve, water-cooled cylinder heads. This engine, displacing 2.85 liters, was similar to those used in the brilliant "Moby Dick" IMSA GT coupe and Porsche's Indy open-wheel project. Featuring a pair of asymmetrical turbochargers, each of them intercooled, this engine delivered power in an almost seamless fashion, with a small turbocharger spinning up almost from idle to establish low-end boost, while the second exhaust-driven turbine came into play at 4,500 rpm. At full throttle and maximum boost, this relatively small engine produced a very impressive 450 horsepower at 6,500 rpm. Power was fed through a specially designed Borg-Warner six-speed transmission, which included an extremely low first gear for use in the off-road situations the Type 961 rally car might encounter. Otherwise, it could be ignored.
Porsche's Porsche-Steur-Kupplung (PSK) system allowed the driver to vary the 370 foot-pounds of torque between the rear and front axles, allowing up to 80 percent to the rear under hard acceleration, all managed electronically. The 959's highly advanced suspension was also race-derived, with double-wishbones at each corner, coil springs, and double shocks that could be adjusted by the turn of a knob from the driver's seat. Both the ride height and shock damping were electronically adjustable, and a full array of instruments kept the driver in touch with everything going on behind and beneath. Special 17-inch lightweight magnesium alloy wheels and model-specific run-flat tires were created for the 959, and the wheels included one of the first automatic pressure-monitoring systems. Large power-assisted, ventilated disc brakes with ABS handled stopping chores.
Most 959s were delivered as "Komfort" models, with a broad array of cockpit amenities, including full leather trim and air conditioning. With its ability to put power to the pavement so effectively, the 959 was an amazing performer. It could see 60 miles an hour in less than four seconds from a standstill, cover the standing quarter mile in about 12 seconds, and touch 200 mph on a clear road. Without question, the Porsche 959 set the standard for high-performance road cars that was unchallenged until ferrari unveiled its slightly faster but much less sophisticated F40 a few years later.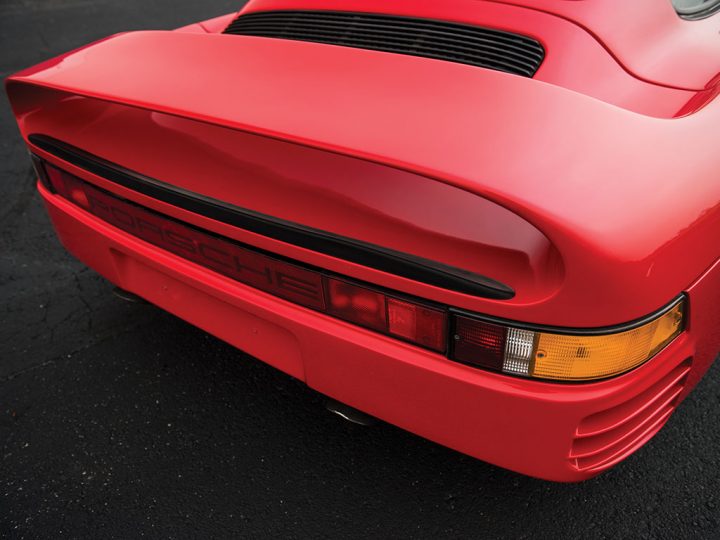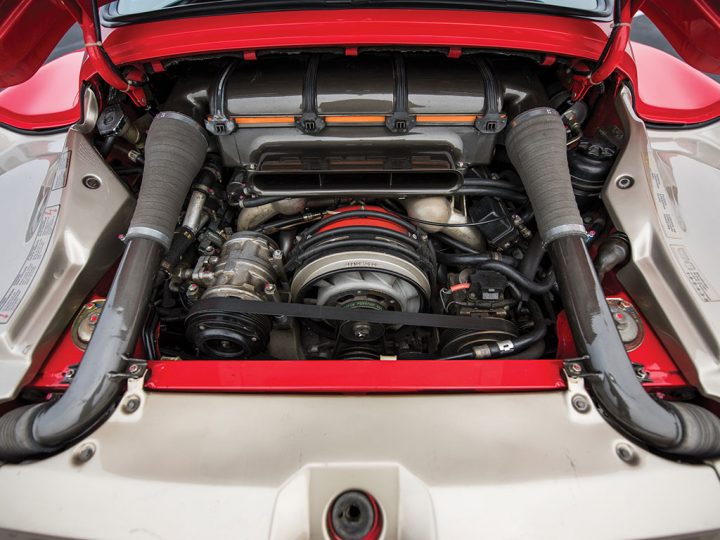 ---
3459 Total Views
2 Views Today