---
Porsche 911 SC/RS – 1984
---
Marca : Porsche
Modello : 911
Versione : SC/RS
Anno : 1984
Telaio N. : WP0ZZZ91ZES110008
Esemplari prodotti : 20
Motore : 6 cilindri Boxer
Cilindrata : 2.994 cc
Distribuzione : SOHC
Valvole Cilindro : 2
Alimentazione : Bosch Mechanical Fuel Injection
Potenza : 280 BHP at 7,000 RPM
Top speed Km/h : —
---
Auction Result
2016 – Pebble Beach – Gooding & co.  – unsold

---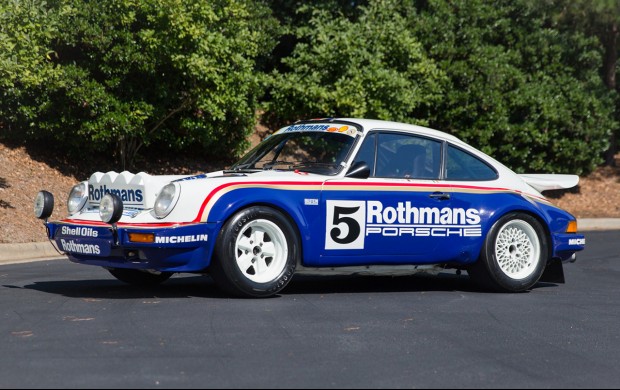 While the Porsche 911's exploits on the world's racing circuits are well known and documented, the model is somewhat less celebrated for its abilities as a rally car. This is unfortunate, as the 911's rear-engined layout provides it with a serious advantage against other two-wheel-drive machinery on loose surfaces.
Following the successes of the Rothmans Porsche 956 Group C endurance racing machines in 1982 and 1983, Rothmans was keen to partner with Porsche to gain greater exposure in the global rally scene. At Rothmans' request, Porsche created a pure homologation special that would comply with FIA Group B specifications for rally machines based on two-seat production sports cars. As an evolution of Porsche's production 911 SC, the regulations required that 20 examples of the rally car be built, thus the 911 SC/RS, known internally as the 953, was born.
The new model used proven technology and somewhat mirrored the specification of the legendary 3.0 Carrera RS of 1974, a model still then competitive in certain forms of rally competition. The basis of the SC/RS was a stiffened production 930 shell lightened by the use of aluminum for the doors, fenders, and deck and trunk lids. The bumpers were made of fiberglass and specific to the SC/RS, as was the rear wing. Suspension was still by torsion bars, with coil helper springs being allowed by the FIA by 1985. The SC/RS engine was based on the 3.0 liter 911 SC unit with compression raised to 10.3:1 and utilizing venerable Bosch mechanical fuel injection. The results were 250 bhp in road specification and 280 bhp in race trim.
Eventually, six of the 20 911 SC/RS examples built by Porsche were shipped to David Richards Autosports in the UK. The fledgling firm, which was to later become one of the world's most successful rally and sports car racing teams, known as Prodrive, was selected and funded by Rothmans and worked in collaboration with Porsche's motorsport department in Weissach to prepare and support the cars for use in international rally events starting in 1984. Changes from factory SC/RS specification were made in the form of steel fenders, fiberglass doors and lids, and unique dashboards and door panels, among other details, to improve the 911's durability. Success was initially mixed. When things went well, however, the SC/RS was a potent weapon, and numerous rallies were won in their inaugural year, including victory in the FIA Middle East Rally Championship for driver Saeed Al Hajri.
As chronicled by the two binders of fascinating factory documentation and correspondence that accompany the sale, the 911 SC/RS offered here, chassis 110 008, competed in 13 international events for the Rothmans Porsche team, winning five of those rallies outright. Driven by legends such as Henri Toivonen, Juha Kankkunen, and Saeed Al Hajri, this amazing factory 911 has done battle in some of the world's toughest locations.
No. 110 008 would spend 1984-86 predominantly driven in European competition, winning both the 1984 Ypres 24 Hours and Madeira rally before being utilized by Al Hajri for both the Qatar and Kuwait rallies along the way. In September 1987, 110 008, along with three other Rothmans SC/RS team cars, was sold by David Richards Autosport to highly regarded Porsche collector Prescott Kelly. Mr. Kelly would eventually sell the SC/RS to Peter Kitchak in March 1990, as documented by an accompanying bill of sale. The stalwart 911 would remain in Kitchak's care for approximately 25 years before being sold to the consignor.
Recently serviced and appropriate for a number of events around the globe, 911 SC/RS 110 008 offers Porsche enthusiasts an incredibly rare opportunity to acquire not only a factory Porsche racing 911 but also one of the most intriguing Porsche experiences available at any price. Retaining an original Rothmans SC/RS engine, numbered 63E09004 and used by 110 008 in its victory at the Ypres 24 Hour Rally in 1984, this SC/RS is regarded among the most original of these exceptionally rare machines.
---
6551 Total Views
4 Views Today