---
Detroit Electric Brougham – 1920
---
Marca : Detroit Electric
Modello : Model 82
Versione : Brougham
Anno : 1920
Telaio N. : 12578
Esemplari prodotti : 95
Motore : 84-volt DC motor
Potenza : 4.3 hp
Top speed Km/h : xxx
---
Auction Result
2016 – Motorcity – RM Sotheby's – $ 66.000

---
Over the course of its 30-year lifespan, the Anderson Electric Car Company, builders of the Detroit Electric, produced more electric automobiles than any other American passenger car manufacturer. Somewhat in vain, they tried to keep up with modern fashions and by 1920 had updated their charmingly upright bodies with a dummy front hood and a false radiator, resembling that of a Franklin or Fiat. The bodies were built by H&M Body Corporation of Racine, Wisconsin.
This particular car is one of the few of these later Detroit Electrics known to survive, and it is perhaps the only one with a known ownership history since new. Originally built as serial number 12678, it was reassigned its current number, 12578, shortly before being shipped to the Gray-Dort Motor Company, a short distance over the Detroit River in the southwestern Ontario railroad and agricultural town of Chatham, Ontario.
More specifically, the car was for Margaret Gray, matriarch of the wealthy Gray Family in Chatham; her husband, Robert Gray, was a successful manufacturer, first of carriages and subsequently of the Gray-Dort, a Canadian-licensed variant of the Flint, Michigan-based Dort automobile, manufactured in Chatham between 1915 and 1925. Much like Clara Ford, Mrs. Gray preferred the silent and easy-to-operate electric cars to her husband's products. Oral history in Chatham indicates that hers was the first electric car in town. It remained well maintained in the family's ownership until 1952, when, still in "perfect shape" thanks to years of good care, it was sold to Joe Gest, its original owner having given up driving at 90 years of age.
The car subsequently passed in 1967 to Louis J.M. Gravel, a renowned early enthusiast from Montréal. It was sold with the balance of Mr. Gravel's collection in 1994 to the well-known Indiana collector John Gambs, known for his eye for excellent original and well-documented automobiles. Mr. Gambs eventually sold the Detroit Electric to James Cousens, the Michigan collector whose Cedar Crossing Collection was one of the finest assemblages of early electric automobiles. While in Mr. Cousens's ownership, the Detroit Electric underwent a painstaking, concours-quality nut-and-bolt restoration to the highest of standards.
Following a short tenure of several years in a Southwestern collection, the car was purchased by its current owner, who resides in the restored Gray home in Chatham, where the Detroit Electric was stabled for over three decades—thus bringing the "Chatham electric" home. In his ownership the restored car, finished in beige with an elegantly upholstered interior, has continued to be well maintained in running order while also being displayed at select local events and car shows.
One of a believed 95 Detroit Electric Model 82s made, and very few that remain extant, this car boasts a fascinating and well-known ownership history that is second to none, as well as a high-quality restoration for one of the foremost electric car collectors. Known among connoisseurs of the marque, it is deserving of another excellent home to continue its rich heritage.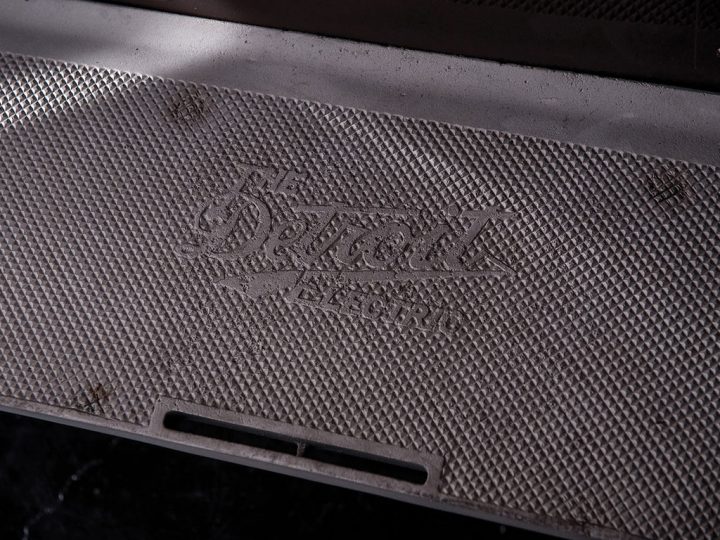 ---
6831 Total Views
3 Views Today