---
---
Marca : Bugatti
Modello : Type 57
Versione : Cabriolet
Anno : 1939
Telaio N. : 57587
Motore N. : 458
Carrozzeria : Letourneur et Marchand
Esemplari prodotti : —
Motore : 8 cilindri in linea
Cilindrata : 3.257 cc
Distribuzione : DOHC
Valvole Cilindro : 2
Alimentazione : 1 Carburatore
Potenza : 135 CV
Top speed Km/h : —
---
Auction Result
2017 – Arizona – RM Sotheby's – $1,017,500
---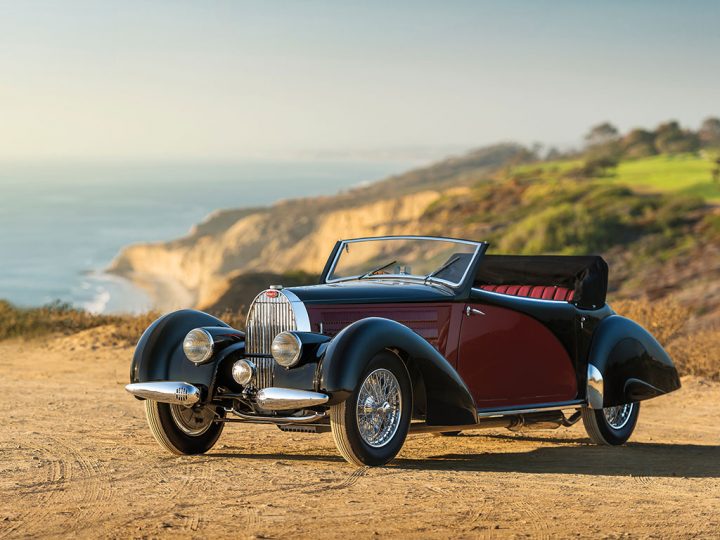 In mid-1956, American enthusiast Russ Sceli journeyed to Europe, camera and notation pad in hand, and went hunting. What he pursued was, in his own words, the "cherished game of an ardent cult"—Bugatti.
"The more I talked to people, especially the enthusiasts, the more convinced I became that if one is fortunate enough to own a Bugatti, or is able to secure one, they should keep and treasure it forever, like a rare jewel, or an amenable wife who will put up with 'Bugattiti's idiosyncracies," he wrote in "Bug Hunting Abroad," published in the January 1957 issue of Road & Track.
It was in that article that American eyes first fell upon one of those treasured cars, a rare Type 57 cabriolet bodied by Letourneur et Marchand—one of the few custom coachbuilders whose work matched jean bugatti's own designs for grace and beauty. Elaine Bond, wife of Road & Track's indomitable publisher, was captured peering into the window of chassis number 57587, noted as "offered at $750. Quite a bargain, and what's more, it would actually run."
That it would. By the time that Sceli's article was published, one of the members of that ardent cult had brought the cabriolet to the United States. Here it has, with only a few brief overseas sojourns, remained since—a treasured trophy of the passionate hunters.
According to exhaustive research on this particular car by noted Bugatti historian Pierre-Yves Laugier, eight of the beautiful Letourneur et Marchand cabriolets were built on the Type 57 chassis to their design number 5877, with chassis 57587 having been the first, as noted in the coachbuilder's archives.
Further, the complete files from the Bugatti agency in Paris also survive, detailing the build process, all the way from the original order, placed by Baron Georges de Cocq, in March of 1939, to July 1939. Numerous fascinating letters, copies of which are included in the file, record the car's early life, including its having been repainted to the present colors, black and ruby, as noted by World Champion driver Robert Benoist, then manager of the Parisian Bugatti salesroom.
Typical of a fine coachbuilt French automobile, numerous details were incorporated to suit the Baron's needs. The steering column was extended by five millimeters, to better suit his build and preferred driving position. Letourneur et Marchand, at the Paris agency's request, crafted unique rear bumpers to the Baron's design, and even fitted a special holder above them for his fishing rod! After these modifications, the car was exhibited in the Paris showroom from October 1938 to March 1939, at which point the Baron was finally able to use his new car, registered as 1357 RM 4.
The Bugatti accompanied the Baron and his family to the South of France and was registered by de Cocq in Pau, in the Pyrenees, as 599 NM 4 in 1941, and then as 869 N 64 in the early 1950s. It remained in Southwest France until 1956, when, according to the family, it was sold by his widow Emilienne to Jean Laurent in Paris, and registered there as 6890 FG 75. It was while in Paris and awaiting its sale to Monsieur Laurent that the car was photographed by the "Bug Hunting" Russ Sceli for the article in Road & Track.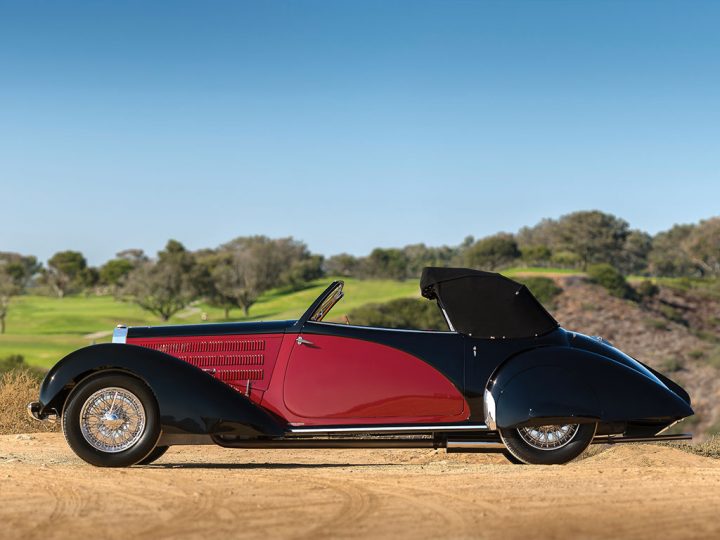 In 1957, chassis 57587 was sold by Parisian Bugatti dealer Armand Beressi to Dr. Milton Roth of Long Beach, California. Dr. Roth was one of the most prominent early American "Bugattistes," whose wonderful cars now reside in some of the finest collections worldwide; he was also a family friend of Beressi, giving him access to the latest "finds" in Europe. While owned by Dr. Roth, the car was recorded in Hugh Conway's famous 1962 Bugatti Register and Data Book.
The car was subsequently sold to longtime American Bugatti Club member and past president Dr. Richard Riddell, and next to Ed Scott, whose ownership is recorded in the 1979 American Bugatti Register. It then passed to Jerry Symons of Pacific Palisades, by which time the original engine, number 458, had been exchanged for number 395.
After Robert Owens of Haverford, Pennsylvania, acquired the cabriolet, he elected to give it a long-deserved concours restoration, at the hands of Mike Wilson. As part of this effort, Mr. Owens diligently sought out the original engine, and in 2003 he was finally able to acquire it and reunite it with the car. The engine was then rebuilt by Jim Stranberg, including a new crankshaft, as is commonly required for these cars. With this engine and the correct Cotal gearbox, the Type 57 was restored back to its original condition, including the painstakingly recreated original colors in which it was finally presented to Baron de Cocq in 1939—and, of course, the Baron's fishing rod holder in the back. According to Mr. Owens, at the time of the car's sale in 2005, the work began from a very solid original car, and thus required very little rust and inner woodwork repair.
The restored car was exhibited at the 2004 Pebble Beach Concours d'Elegance, in what is believed to have been its very first modern show appearance, and there won 2nd in Class, finishing just behind the eventual Best of Show winner. Subsequently it was part of a Dutch collection, for which the Cotal gearbox was rebuilt by Klopper Engineering. It was then acquired by its current owner, a renowned collector of sports cars and vintage motorcycles, who has maintained it conscientiously to a high concours standard.
The Bugatti was returned to Pebble Beach, by invitation, this past August, for its second display on that storied green. It was thoroughly prepared for Pebble by the renowned Alan Taylor Company, with comprehensive invoices on file, including adjustments to the bodywork, repairs to the structural woodwork, beautiful new leather upholstery in a lovely plum shade, and repairs to the exhaust manifold.
Photographs and invoices on file document this work, and also reveal fascinating original features uncovered in the course of performing it. For instance, the original serial number was found stamped into the wood on the main door seal on the driver's side, and the Letourneur et Marchand body number was revealed, in penciled script on the inner door wood. Inspection of the engine number stamping shows it to be original, as is the internal frame number, so often obliterated in the course of less precise restorations.
Also accompanying the car today is Monsieur Laugier's exhaustive report, which in well over 100 pages incorporates copies of Letourneur et Marchand and Bugatti records relating to this car, including design sketches; a detailed biography of the Baron de Cocq and his family; and, of course, the complete history, since new, of this fabulous Type 57.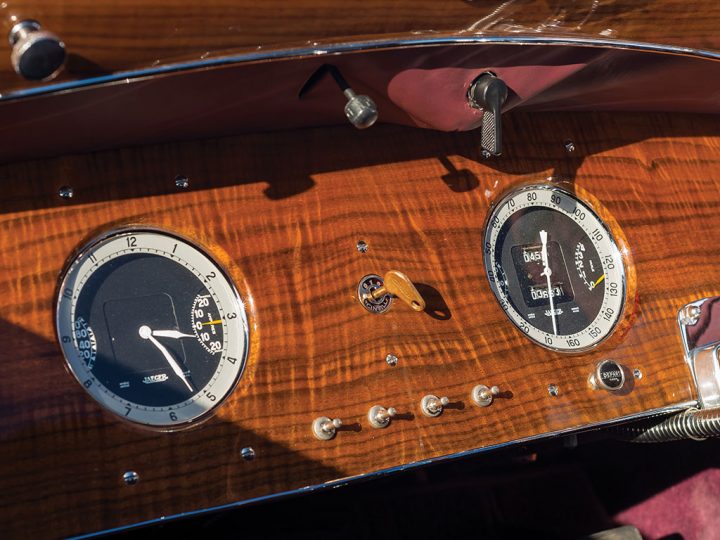 ---
5052 Total Views
1 Views Today