---
Bugatti Type 57 Atalante – 1935
---
Marca : Bugatti
Modello : Type 57
Versione : Atalante
Anno : 1935
Telaio N. : 57254
Motore N. : 202
Esemplari prodotti : 12
Carrozzeria : Bugatti
Progettista : jean bugatti
Motore : 8 cilindri in linea
Cilindrata : 3.257 cc
Distribuzione : DOHC
Valvole Cilindro : 2
Alimentazione : Compressore Roots
Potenza : 160 CV
Top speed Km/h :
---
Auction Result
2017 – Villa Erba – RM Sotheby's – € 3.024.000
---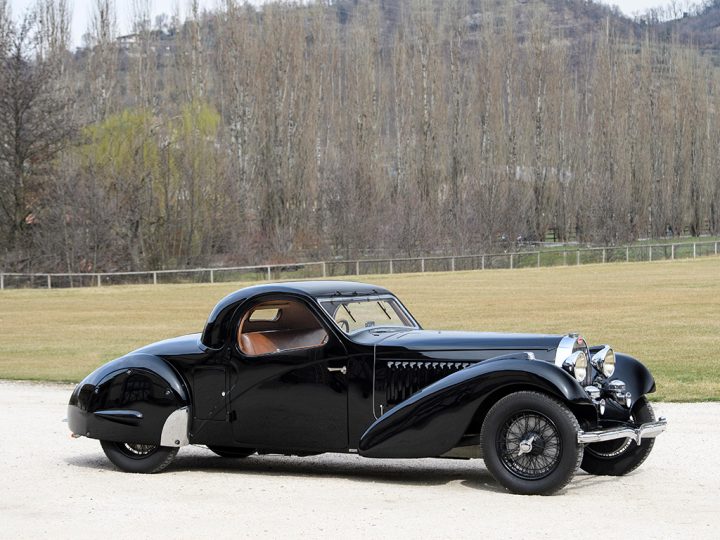 Of all the factory-penned body styles built on Bugatti's Type 57 chassis, perhaps none is as significant as the Atalante. With only 34 examples produced from 1936 to 1938, the T57 Atalante is much rarer than the Stelvio, Ventoux, or Galibier, and the design's purposeful lines and proportions (credited to Jean Bugatti but perfected by in-house stylist Joseph Walter), provided sportier packaging for the 57's advanced dual-overhead cam engine and independently sprung chassis. Exceeded in cachet today only by the Type 57SC Atlantic, the Atalante is overwhelmingly regarded as the most sporting iteration of the celebrated Type 57.
Chassis number 57254 is one of the earliest Atalante examples built, being one of four prototypes of the rare body style. The model was originally designated by the manufacturer as the 'faux-cabriolet', and this is how 57254's body style is described in factory production records. Technically the third Atalante built, though bearing the second-lowest chassis number of the four, 57254 was assembled in the spring of 1935, ultimately one of just 10 examples built that year. Only three are still known to exist, of which this car is undoubtedly the most original.
While many forthcoming Atalantes were bodied by the nearby gangloff, this example was clothed by Carrosserie Bugatti at the Molsheim factory, as clarified by an unusual nameplate. Such badges are extremely rare, generally only found on the Type 49 drophead coupés and a few Type 55 roadsters, as well as Jean Bugatti's personal Type 41 Royale Coupé. While 57254 shares most details of the later Atalante coachwork, it features a unique low roof, a bonnet with longer single-column louvers, forward-leaning rear wheel spats, and semi-closed front fender edges.
Completing assembly on 16 May 1935, the Atalante was delivered nine days later to its first owner, the factory's legendary co-director and former racing manager and driver, two-time Targa Florio champion Meo Costantini. After just two months, the Type 57 was returned to Molsheim for engine upgrades, as reflected by a factory repair note dated 17th July. The original motor was disassembled and re-fitted with upgraded pistons and a special intake manifold, while the valve guides and camshaft were adjusted.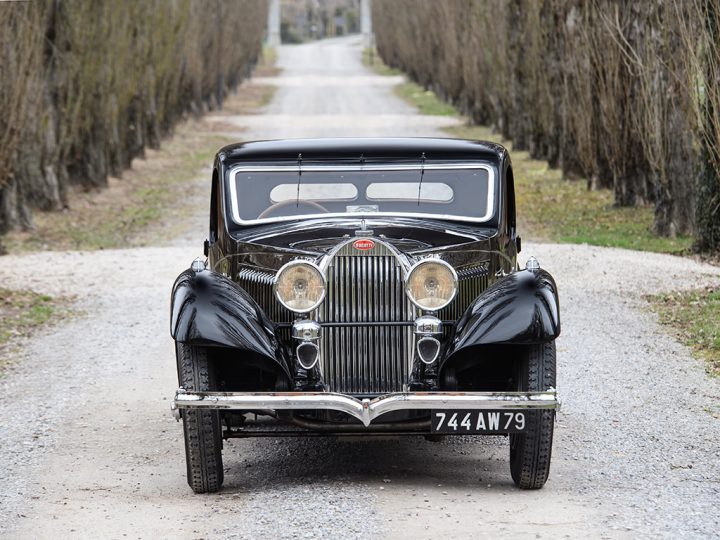 By March 1936 the Bugatti passed to a Mr Rigaud of the Seine Dept., and he sold the car the following month to Louis Dubreuil, a livestock merchant from Mauze sur le Mignon. The Atalante was registered in November under his name with the Niort registration number 4743 XL 2. Two years later, Mr Dubreuil attempted to trade 57254 back to the manufacturer for a Type 57S, as demonstrated by correspondence with the Paris showroom (including letters to the famed director and racing driver Robert Benoist, who would soon fight with the French Resistance). Unable to come to terms with the factory, Dubreuil kept the Atalante as a daily driver until the outbreak of World War II, at which point the car was domiciled.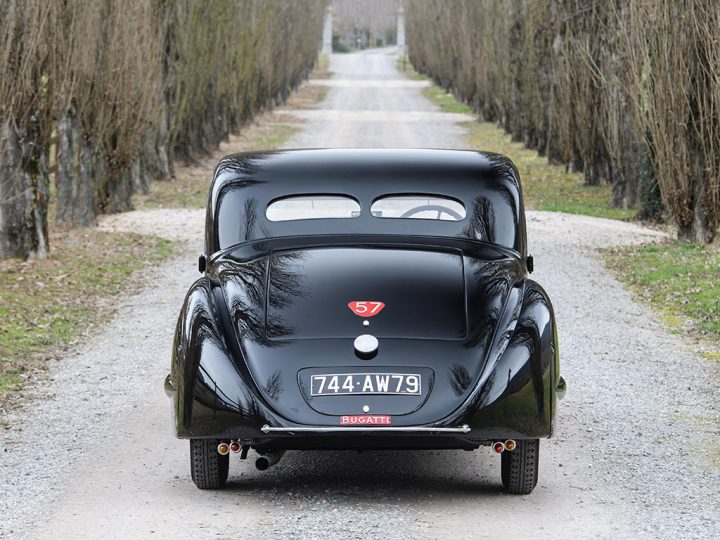 In January 1955, a new registration system was instituted in France, and the Bugatti received a new registration plate in Mr Dubreuil's name, 744 AW 79, which the car wears to this day. After the owner passed in 1957, the Atalante was inherited by his niece and essentially remained in storage for the following 41 years. In December 1998, after 62 years in the Dubreuil family's ownership, chassis 57254 was purchased by a French collector who briefly sold it to a private owner before re-acquiring it.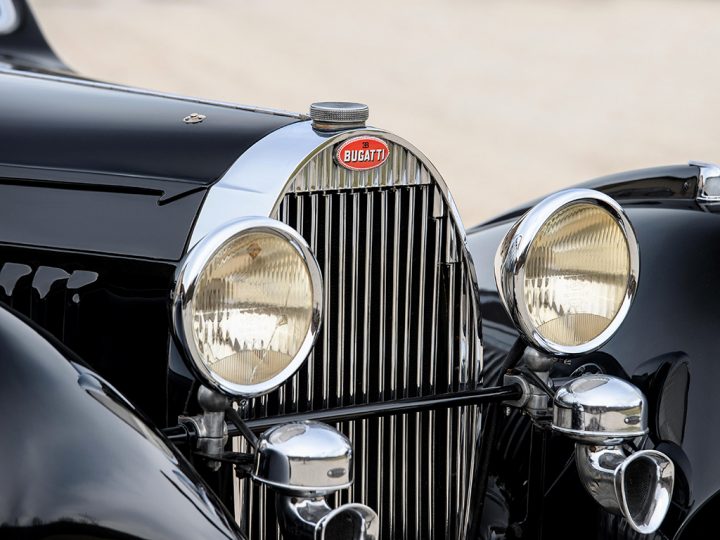 Currently displaying just 25,733 kilometres of actual use, this rare Bugatti has never left France, and accrued only 700 of those over the last 60 years. After a colour change to two-tone black and red during Mr Dubreuil's tenure, the car has now been repainted in its original monochromatic finish. Other than this alteration, the T57 is almost entirely original, including the original body panels stamped with the number 3 (representing the third Atalante produced). Also retaining the original matching-numbers engine and unmodified cable-actuated brakes, 57254 features its original door panels, seat back, and proper leather seat bottom in the original tan colour, original gauges, and the extremely rare original factory-issued tool kit.
This distinctive early Atalante is documented with factory paperwork, former owners' correspondence, period articles and photographs, and a history with inspection notes by marque expert Pierre-Yves Laugier. Originally owned by the legendary Meo Costantini and ideally preserved by a single French family for 62 years, this extremely rare factory-bodied Atalante has been optimally prepared for future touring use or presentation at finer concours d'elegance the world over.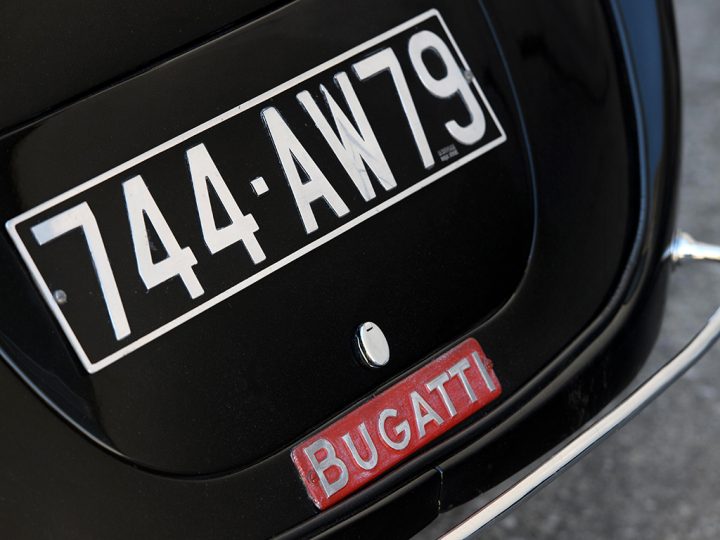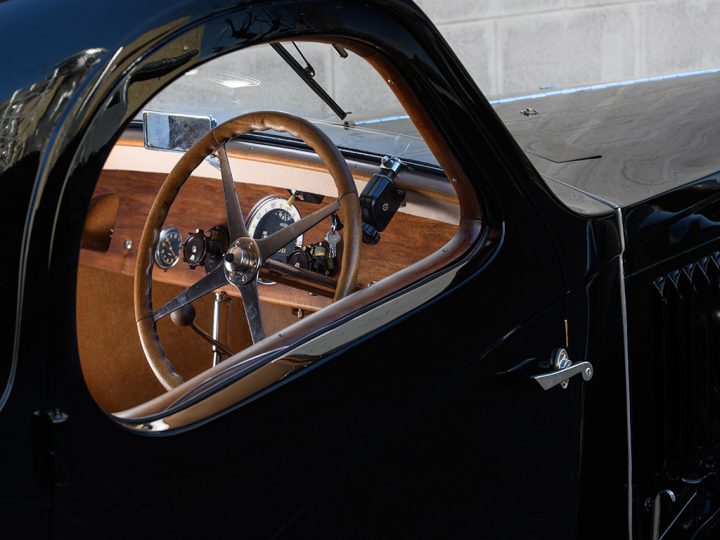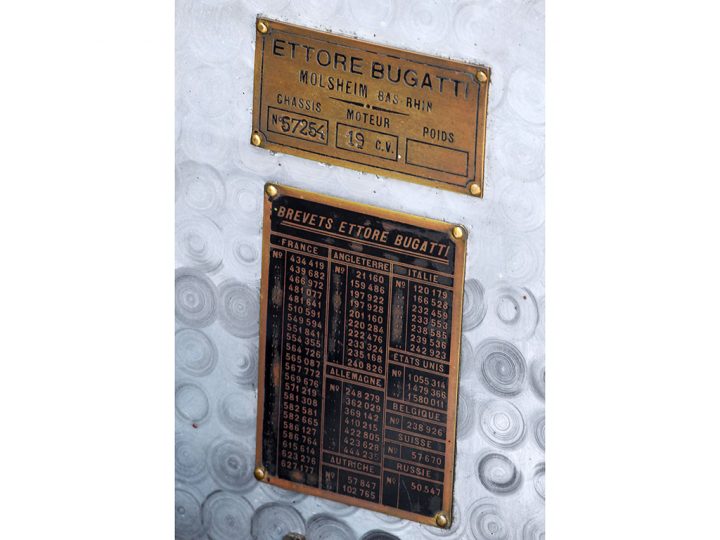 ---
6131 Total Views
1 Views Today