---
Lancia Astura Tipo Bocca Cabriolet – 1936
---
Marca : Lancia
Modello : Astura
Versione : Cabriolet Series III
Anno : 1936
Telaio N. : 33-3277
Motore N. : —
Esemplari prodotti : 328 nelle varie versioni
Designer : Mario Revelli di Beaumont
Carrozzeria : pininfarina
Motore : 8 cilindri a V di 19°
Cilindrata : 2.972 cc
Distribuzione : OHV
Valvole Cilindro : 2
Alimentazione : Carburatore
Potenza : 82 CV a 4.000 giri/min
Top speed Km/h : 140
---
Images Courtesy of Hyman ltd
---
The fascinating story of this very special Astura Cabriolet picks up again in 1962 when 20 year old Michael Scott, already owner of an Astura short chassis special, was directed by his friend and fellow Lancia enthusiast Ronald "Steady" barker to a neglected, derelict and hedge-bound Astura that may be suitable for spare parts. When Scott and Barker visited the car, they immediately saw through the rust and filth to recognize it as something quite special; a rare and breathtaking Pinin Farina cabriolet. A deal was made to purchase the whole car for a scant 15 Pounds Sterling (!!) and Scott dragged the car home behind a Land Rover and it sat dormant in his parent's garage for several months while he figured out his next move.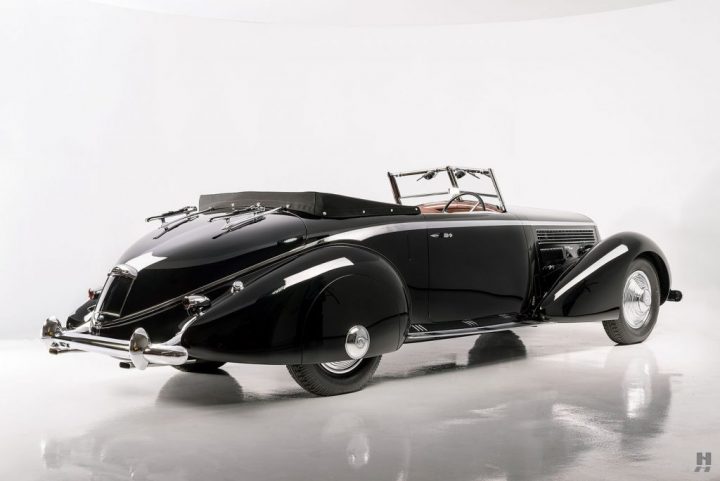 Fortunately for Michael Scott and his newly acquired Lancia, his mate Steady Barker happened not only to be mad for old Lancias but also a highly respected journalist for The Autocar Magazine, and as such was quite well connected in the industry. At the Turin Auto Show, Steady showed photos of his friend's Lancia to Battista "Pinin" Farina – the man who's own hand drew the stunning Lancia in the earliest days of his firm Carrozzeria Pinin Farina, which he formed in 1930 after breaking from his elder brother's shop, stabilimenti farina. Upon seeing the photos, Signore Farina made a proposition: If Steady's friend could get the Astura mechanically sound; Pinin Farina would rebuild the body free of charge. This astounding gesture showed not only how proud Farina was of his design but also his deep, heartfelt fondness for the Lancia marque, a canvas where he created some of his finest work.
Michael Scott lived up to his end of the bargain and spent considerable sums for the day rebuilding the 2.9 liter narrow angle V8 and restoring the chassis. More than a year later, the Astura had a fresh MOT and 1000 flawless test miles under its belt. Steady eloquently described the car as "sound in wind and limb but shabby as a tramp" as Scott and a friend set off for Italy. Despite initial protests by the manager of Pinin Farina's warranty shop, work commenced and the Astura was gradually restored to its former glory, by many of the hands who originally built it, all of whom were overseen by the master himself; the man with the beautiful mind that dreamed up this beautiful machine. Bucks were made and missing and damaged panels hand crafted to return them to original. Wheel discs were spun by the same man who spun the originals. Restoration of the hydraulically operated roof proved difficult, but finally after more than a year, the car was completed and returned to original specification. Period photos show Battista "Pinin" Farina proudly posing with the restored Lancia in front of his workshops.
The newly restored Lancia was resplendent and Michael Scott was determined to keep the car forever, using it regularly to promote his growing business and entertain clients. However, life changes meant he was forced to sell his beloved Astura. He initially offered it back to Pininfarina, though they were unable to purchase the car at that time. So in 1976, the car was sold for 10,800 Pounds Sterling to one Eric Clapton who, despite his partiality to Ferraris, declared the Lancia "the most fun I've had, off stage or out of bed!" Mr. Clapton held on to the Lancia into the 1980s when it was eventually reacquired by Pininfarina and displayed proudly in their collection for decades.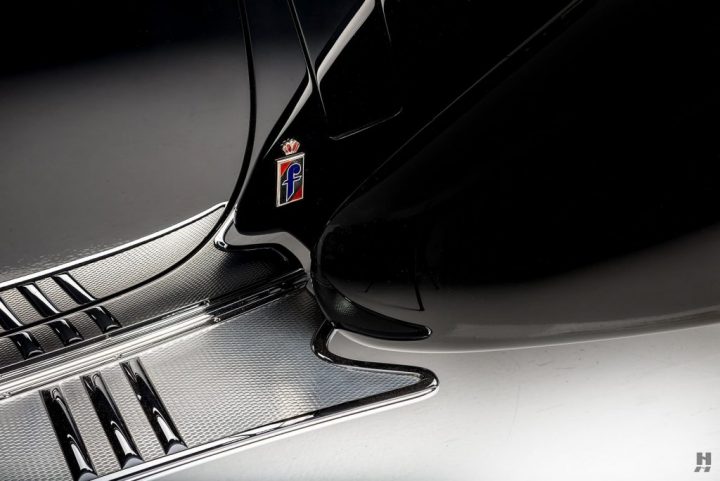 Approximately seven years ago, this fabulous Tipo Bocca Cabriolet was acquired by Hyman Ltd. and passed on to its current owner who in turn commissioned a world-class, nut and bolt restoration to the highest of standards. The car was systematically disassembled and every single component restored to as-original quality. Incredibly, when Pinin Farina restored the car, they left behind bits of original metal and upholstery which confirmed the car was originally black over rich, cognac leather. Using a scant scrap of leather as a sample, new hides were produced in Italy to the exact original color and spec. The distinct basketweave pattern, known as Intrecciato was a signature leatherworking technique of the region. A piece of the original floor mat was taken to Italy where a new die was produced and mats recast by the original manufacturer. Jaeger instruments are restored to as-new specification – an unusual mixture of Imperial calibration and French lettering. For the body, original wooden bucks that support the panels were carefully preserved and only those sections deemed beyond repair were replaced using ash as original.
The magnificent V8 engine was removed and a full rebuild to factory specification was performed by England-based Jim Stokes Workshops, the highly respected engine builders and experts in pre-war Italian machinery. JSW is no ordinary restoration shop, as their ability to reverse engineer and manufacture complex components to exacting original specification, including a foundry and full machining facility, sets a standard few can match. The jewel-like narrow-angle V8 engine was meticulously rebuilt, with fresh internals and any questionable components reproduced to factory-correct standards. Following the build, the engine was fully dyno-tested to ensure reliable performance. JSW's team of experts also restored the transmission, hydraulic shocks and the complex hydraulic folding hood mechanism to perfect working order. The complex 3-position windscreen proved quite difficult to restore to operating condition, and the original, unusual curved side windows were painstakingly polished to restore their original clarity – that task alone consuming over 100 hours, per window! One of the greatest challenges was finding a craftsperson capable of restoring the intricate engraved body side mouldings. This stunning detail is one of the Lancia's signatures and it took the owner five years to find someone capable of properly recreating the original pattern. The restoration on this magnificent Astura, overseen by a small team of Portland-based craftsmen, was recognized with three awards at the 2016 Pebble Beach Concours d'Elegance: Best in Class, the Gwenn Graham Most Elegant convertible Award and the coveted, incomparable Best in Show trophy.
The prestige of a Pebble Beach overall win is just reward for such a beautiful automobile, its remarkable story and truly astounding restoration. As one would expect, it still presents in impeccable order and functions as if factory fresh. The black paintwork is simply exquisite, complemented by a gorgeous cabin trimmed in cognac leather in the unusual, factory-correct intrecciato pattern. Included in the sale is comprehensive documentation of the history and restoration, samples of original materials taken from the car and exceedingly rare items such as an original and complete tool kit and owner's manual.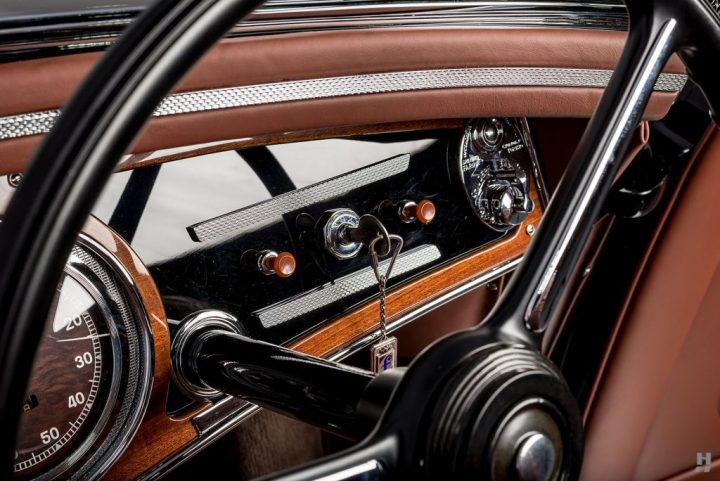 ---
5178 Total Views
1 Views Today