---
Ford Mustang Boss 302 – 1970
---
Marca : Ford
Modello : Mustang
Versione : Boss 302
Anno : 1970
Telaio N. : 0F02G145673
Esemplari prodotti : 7.013
Designer : Larry Shinoda
Motore : 8 cilindri a V di 90°
Cilindrata : 302 cu. in.
Distribuzione : OHV
Valvole Cilindro : 2
Potenza : 290 CV
Top speed Km/h :
---
Auction Result
2017 – Arizona – RM Sotheby's – $48,400
---
Nineteen sixty-nine was a pivotal year for Ford's Mustang. A larger body permitted a full range of engines up to 370 horsepower, and new styling added quad headlights. Bodies had new contours, and roof outlines were revised. The hardtop coupe gained a new greenhouse, and the previous fastback coupe was restyled and designated "Sports Roof." The convertible continued in production, and two new coupe body variations, Grande and Mach 1, were added. Available for all but Grande, Mach 1, six-cylinder cars, and entry-level V-8s was the GT equipment group, which included body stripes, hood scoop, hood locks, and a pop-open GT fuel cap.
Mustang performance had lagged behind archrival Chevrolet Camaro. In response, Ford came up with a 428 Cobra Jet V-8 for the Mustang in mid-1968. For 1969, a small-block high-performance engine debuted in the form of the Boss 302. The Boss 302 package included handling and aerodynamic enhancements and was aimed at homologation for the Sports Car Club of America Trans Am racing series, which had a five-liter (302-cubic inch) displacement limit.
Designer Larry Shinoda penned the Boss 302's distinctive exterior: a reflective C-stripe adorned the side, the fake air scoop on regular 1969 Mustangs was eliminated, and an optional horizontal black rear window shade and blackout hood were optional. A front spoiler and rear deck wing were added as well. For 1970, the Boss 302 got hockey-stick side stripes, and the regular 1970 grille that replaced outer headlights with horizontal vents. Disc front brakes were standard, along with heavier sway bars, spindles, and shock towers. A four-speed manual transmission was also standard. The solid-lifter engine was rated at 290 horsepower, although later dyno tests suggest that was rather pessimistic. Acceleration was measured at 6.9 seconds to 60 mph and 14.6 seconds to 98 mph in the quarter mile.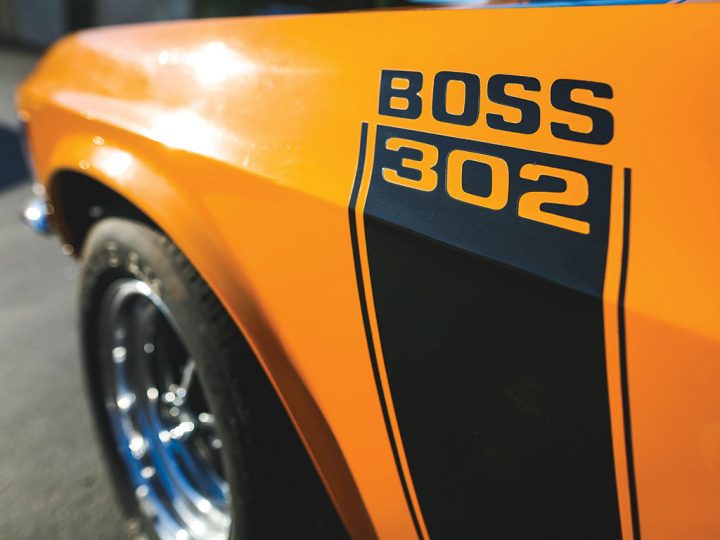 ---
1097 Total Views
1 Views Today