---
Dino Berlinetta Speciale – 1965
---
Marca : Dino
Modello : Berlinetta Speciale
Anno : 1965
Telaio N. : 0840
Motore N. : 222 /N1/0834
Esemplari prodotti : 1
Designer : aldo brovarone
Carrozzeria : pininfarina
Motore : 6 cilindri a V di 65°
Cilindrata : 1.987 cc
Distribuzione : DOHC
Valvole Cilindro : 2
Alimentazione : Lucas Fuel Injection
Potenza : 217 php at 9.000 rpm
Top speed Km/h : —
---
Auction Result
2017 – Parigi – Artcurial – 4.390.400 €

---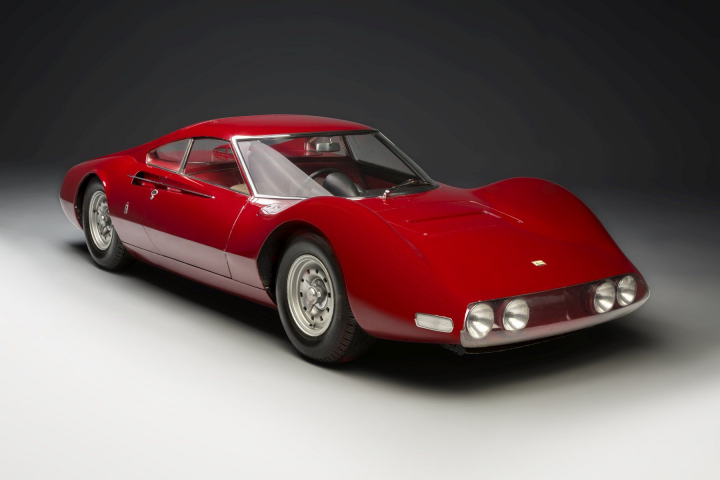 The Dino Berlinetta Speciale Pininfarina prototype with competition chassis 0840, is an important and significant car possessing all the most desirable qualities. It is a unique example, completely genuine and its stunningly beautiful appearance represents a benchmark in the history of design. Its provenance is also remarkable. The day after the death of Jean-Baptiste Farina (Pinin), the Automobile Club de l'Ouest (ACO) decided to pay homage to the man by giving his name to the square in front of the museum in the village at Le Mans 24 Hours. In this context, Sergio Pininfarina replied in French on 19 April 1967 to the suggestion made by the friend of his father, Count Bernard de Lassée, President of FIVA and curator of the collection, that the museum should have " an object that could provide a memory of my father " by offering " to donate the first Dino prototype that had been exhibited at the Paris Motor Show in 1965 […] a car that was particularly dear to my father ". In the same letter he said that " the body of this car is the property of our company while the chassis and mechanical elements belong to ferrari ", and that " Mr Ferrari has very kindly agreed to our proposal ".
Added in the margin, in his hand : " Perhaps it would be a good idea for you to write a letter to Mr Ferrari directly " The car was transported by rail, on a reserved carriage, and the official inauguration of the Place Jean-Baptiste Pininfarina took place on Saturday 10 June 1967 at 10.30am.
Being sold by the ACO, organiser of the most legendary race in the world, the Le Mans 24 Hours, this Dino Berlinetta Speciale is presented with Pininfarina's cooperation.
To ensure its sustainability, a museum must promote and focus on its strengths. The Automobile du Mans Museum aims to reinforce its original vocation by assembling the machines that have written the story of the 24 Hour Race, along with vehicles designed by the Sarthe constructors headed by Léon Bollée et Jean Rondeau. The public come to the museum in order to dream about the past glories of these cars and the drivers who brought them to life.
The President and directors of the ACO consider the Dino prototype to be a breathtakingly beautiful machine, but without a link to the new theme of the museum focused on the mythical Le Mans 24 Hours. The proceeds from its sale will be used to restore, embellish and enrich the collections of the museum to ensure that it remains dynamic, ambitious and continues to evolve.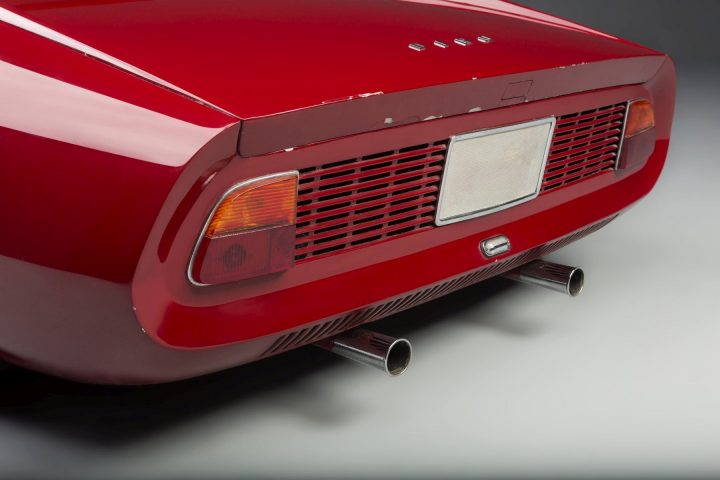 ---
4679 Total Views
1 Views Today