---
Toyota 2000GT Targa – 1967
---
Marca : Toyota
Modello : 2000GT
Anno : 1967
Telaio N. : MF10-1012
Motore N. : —
Esemplari prodotti : one-off
Designer : albrecht von goertz
Motore : 6 cilindri in linea
Cilindrata : 1.988 cc
Distribuzione : DOHC
Valvole Cilindro : 2
Aspirazione : 3 carburatori Solex
Potenza : 150 CV a 6.600 giri/min
Top speed Km/h : 206
---
Auction Result
2009 – Londra – RM Sotheby's – £179,200
---
This unique Toyota 2000GT Targa has lived two lives, very much in keeping with its origin as a one-off design presented to producer A.R. Broccoli for his 1967 James Bond thriller You Only Live Twice.
Toyota introduced the rakish two-seat 2000GT coupé at the 1965 Tokyo Auto Show, although it was a further two years before the design reached production. No more than 351 regular production examples were built by hand by Yamaha between 1967-1970.
The style of the 2000GT broke all conceptions of Japanese design when it was first seen, with a simplicity of form previously unknown in Toyota home market styling. When John Pride, Toyota's then-Managing Director in the UK, drove a 2000GT in England, it immediately evoked comparisons with the Jaguar E-type, an automobile that clearly influenced both the layout and the styling of the 2000GT.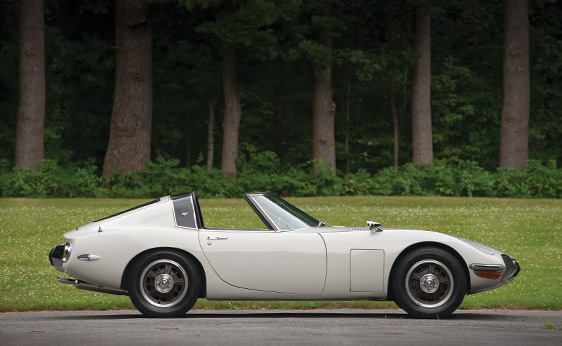 Like other revolutionary designs, proper credit for the 2000GT's styling has been difficult to assign. Albrecht Goertz, associated with both the BMW 507 and the Datsun Z car, has often been credited with the styling. But the manufacturer gives credit to Satoru Nozaki, a young designer working in-house at Toyota.
The 2000GT was designed around Toyota's 2.0-litre, straight-six M engine introduced in 1965. This engine became the basis for Toyota's most prestigious family of engines for 30 years. The 3M engine in the 2000GT utilised the cast-iron block, replacing the single overhead camshaft head with a new dohc design created by Yamaha. With three Solex side-draft carburettors, the revised unit was good for 7,000 rpm and 150 hp in the 2000GT and drove the car to over 135 mph.
James Crowe, writing in Road & Track, described the 2000GT as "highly refined in handling and driving and one of the most exciting cars we have driven." Luxury touches to the interior included a rosewood-veneer dashboard and signal seeking radio and were described as, "up to par for a luxurious GT – an impressive car in which to sit or ride, or simply admire."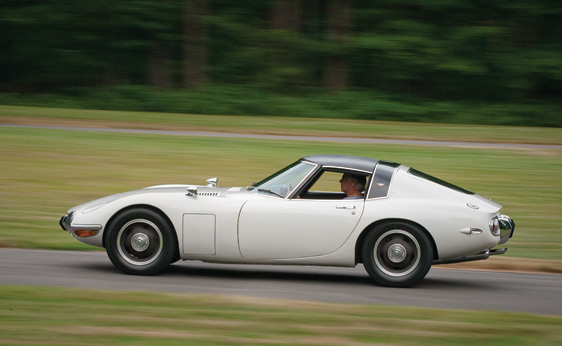 It should come as little surprise then that Broccoli, planning production of You Only Live Twice in Japan, contacted Toyota to provide two 2000GTs for the film. With no more than a month before production began, Toyota reportedly hesitated for nearly two weeks before embracing the potential value of placing James Bond in their newest supercar. Even then, it was determined that the limited head room in the coupé was a tight fit for the 6'2″ Sean Connery playing Bond and would also make in-car filming difficult.
Toyota engineers created sketches of the automobile seen on these pages, a modified Targa design that would allow Connery easier access to the GT and improve filming. With only two weeks remaining, there was no time to construct the special Bond 2000GT Targa, however. Two stock 2000GT coupés were quickly cut down to cabriolets for movie production. Coincidentally, You Only Live Twice became the first Bond film in which 007 did not drive an automobile. Bond appears in the movie only as a passenger in the 2000GT cabriolet.
The Targa design remained un-built until 1984, when enthusiast Ed Pessin of Culver City, California commissioned Richard Billings of Los Angeles to create a one-of-a-kind example of the car utilising the original Toyota sketch.
A 2000GT coupé, one of 62 originally imported to the U.S., was acquired from marque specialists Maine Line Exotics of Biddeford, Maine. This automobile was sold new by Memphis Toyota of Memphis, Tennessee to William Henry Gidden, before passing to Jim Martin of Wylie, Texas from whom Maine Line acquired the 2000GT.
The conversion was expertly completed in 1984 at Weatherby Motor Car of Carson, California to the highest standards. The original roof feature – with its hint of zagato's famous "double bubble" – was retained as a removable Targa panel covered in black vinyl material. The panel stows in the rear hatch area, readily accessible in case of rain. Additional modifications to both 'a-pillars' and 'b-pillars' and removal of the rear quarter windows resulted in a car that performs flawlessly and without any hint of cowl shake.
A painted black Targa band reaches from the upper door moulding area across the roof, creating a dramatic contrast with the original Pegasus White factory colour of the body. The Toyota 2000GT emblems that are placed on the front fenders of production 2000GTs are relocated to the Targa band providing a distinctive finishing touch.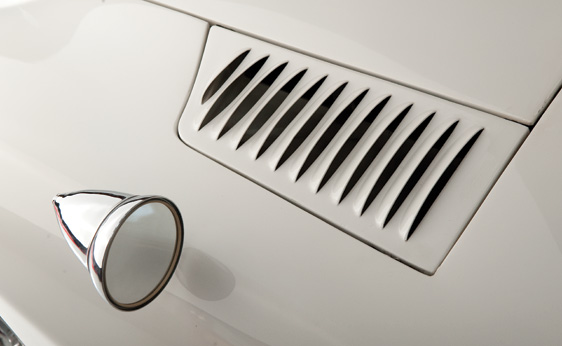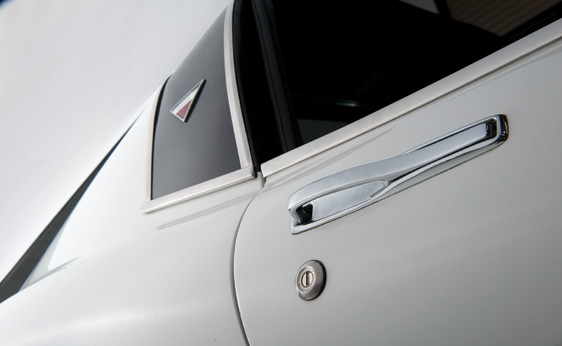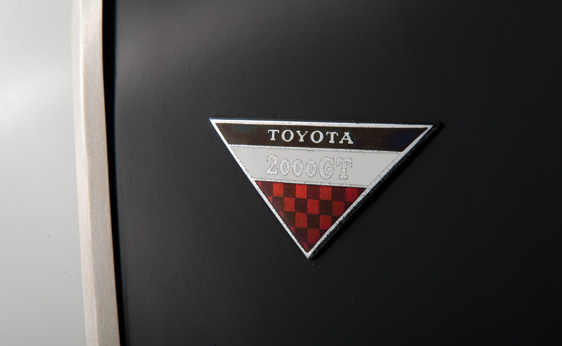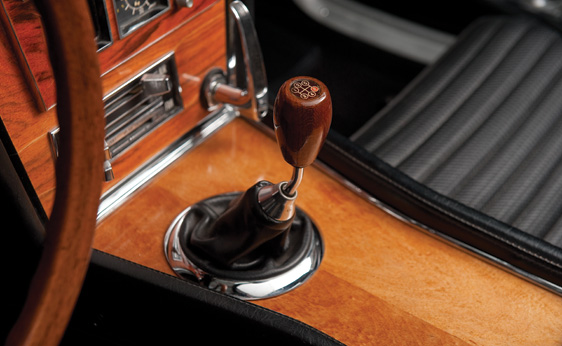 ---
3460 Total Views
2 Views Today