---
Rolls-Royce Silver Cloud I Drophead Coupe – 1958
---
Marca : Rolls-Royce
Modello : Silver Cloud I
Versione : Drophead Coupe
Anno : 1958
Esemplari prodotti : 2
Carrozzeria : Freestone & Webb
Progettista :
Motore : 6 Cilindri in linea
Distribuzione : Valvole laterali
Valvole Cilindro : 2
Aspirazione : Carburatore
Cilindrata : 4.877 cc
Potenza : 178 CV
Top speed Km/h :
---
Auction Results
2017 – Amelia Island – RM Sotheby's – $1,347,500
---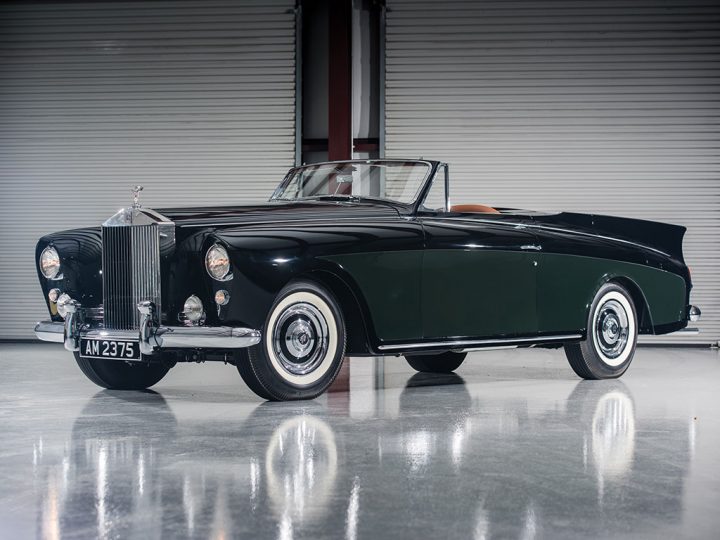 For over three decades, Freestone & Webb of Willesden had survived as one of England's premiere coachbuilders, especially noted for the superb quality of their work on Rolls-Royce and Bentley chassis. By the late 1950s, the company had become part of London dealer Fritz Swain's company, and was, like many of the few surviving post-war bodymakers, suffering in business. Swain noted that survival, if possible at all, meant trying something new and audacious, and the company's 1957 Earls Court Motor Show car was exactly that.
Built on the Rolls-Royce Silver Cloud I chassis, the show car featured modern styling the likes of which had never been seen on a conservative British luxury automobile. Long fenders began at the front of the car, where they formed "hoods" over headlamps set into teardrop-shaped nacelles, and descended in a curve to the rear fenders, where they drew into flared and subtly curvaceous tailfins. Below the door handle on each side, the bodywork swept gently inward, forming a "cove" reminiscent of (dare we say it) the American Corvette. All of this sheetmetal wrapped around an interior sized to comfortably cosset two full-sized adults, in thickly upholstered overstuffed armchairs. Aft of the concealed, power-operated soft top was a massive trunk, all the better to accommodate a week's luggage for a happy pair.
The car was the smash hit of the show, drawing more attention than virtually anything else on exhibit; reportedly Princess Margaret requested it delivered to her residence for a test drive, and the press flocked to it for photography. They dubbed it the "Honeymoon Express," a nickname that stuck hard and fast, and that certainly rolled off the tongue better than Freestone & Webb's "2-Seater Sports Concealed Hood Coupe."
Unfortunately, all that attention did not translate to additional sales for Freestone & Webb. Fritz Swain eventually dealt the show car to a friend, who bought it as a favor. Only two additional examples of the design were built, another Silver Cloud I, offered here, and a single Bentley S1, both with styling nearly identical to the original "Honeymoon Express." All three cars survive, with the remaining two (the Bentley version and the other Rolls-Royce) ensconced together in the long-term ownership of one of America's premiere collections, as a striking testament to the end of the custom coachwork era.
The second of the two Silver Cloud Is built to the "Honeymoon Express" design, chassis number SGE270 was ordered by London dealers H.R. Owen for Arnold Moreton, a British businessman and high-ranking Mason, to whom it was delivered in June 1958. Actually the final Rolls-Royce built with Freestone & Webb coachwork, the car can easily be distinguished from the earlier "Honeymoon Express" by a black steering wheel, its only notable cosmetic alteration. It bore all the other trademarks of the original design, including the tachometer, power windows and radio aerial, "automatic hood," and "cubbies" for cocktail accouterments.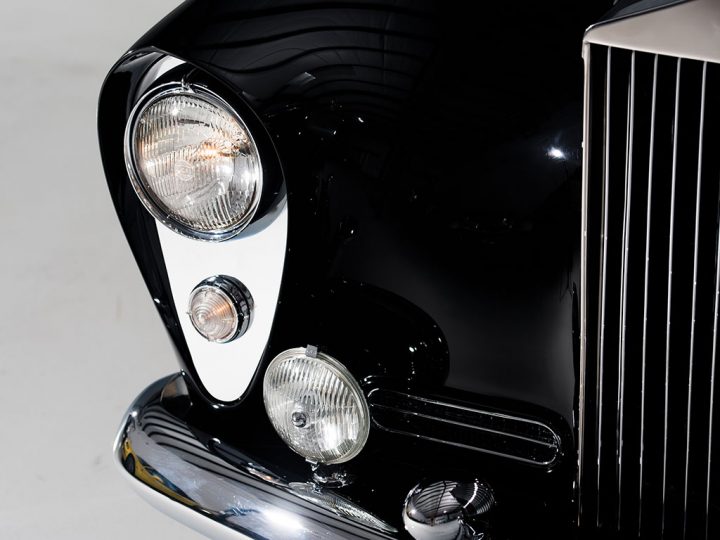 Registered in the United Kingdom as "AM 2375," the coachbuilt Silver Cloud was a frequent sight on the streets of London until 1975, when Mr. Moreton sold it to Charles Altman of New York. Imported stateside by Mr. Altman, the car remained in his ownership until his passing in 1995, and was only sold by his family, to well-known Rolls-Royce dealer Michael Schudroff, in early 2012. Subsequently it was acquired by Orin Smith, who became the third registered owner from new.
---
2544 Total Views
1 Views Today