---
Rolls-Royce Phantom I – 1926
---
Marca : Rolls Royce
Modello : Phantom I
Anno : 1926
Telaio N. : 76TC
Esemplari prodotti : —
Carrozzeria : Charles Clark & Son Ltd
Motore : 6 cilindri in linea
Cilindrata : 468 cu. in.
Distribuzione : OHV
Valvole Cilindro : 2
Alimentazione : 1 carburatore
Potenza : 40/50 CV
---
Auction Result
2016 – London – Bonhams – £561,500
---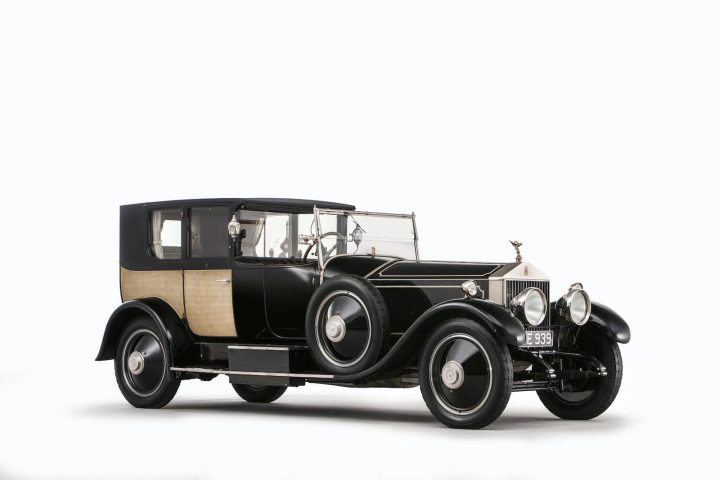 The unique Rolls-Royce Phantom motor presented here represents the absolute zenith of the coachbuilder's craft in the 1920s, boasting an audacious rococo interior that is nothing less than magnificently palatial. It dates from a period when almost all manufacturers of quality cars supplied only the rolling chassis, leaving the client to commission coachwork of his or her choice from one of the many specialist coachbuilding companies. In this case, Rolls-Royce's customer was Clarence Warren Gasque, an American businessman of French ancestry living in London, who chose the esteemed British motor manufacturer's latest top-of-the-range model, the New Phantom, which had been introduced in 1925 as replacement for the 40/50hp Silver Ghost.
'After seven years of experiment and test, in the course of which no promising device had remained untried, the 45/50hp Phantom chassis emerged, and is offered to the public as the most suitable type possible for a mechanically propelled carriage under present-day conditions,' announced Rolls-Royce. Retrospectively known as the Phantom I, the newcomer boasted an entirely new push-rod, overhead-valve, 7,688cc, six-cylinder engine with detachable cylinder head, a unit considerably more powerful than that of its Edwardian predecessor. The New Phantom, like the contemporary 20hp Rolls-Royce, adopted a disc-type clutch and adjustable radiator shutters; its chassis though, remained essentially the same as that of the later four-wheel-braked 'Ghost and would continue fundamentally unchanged until the arrival of the Phantom II in 1929 brought with it an entirely new frame. A total of 2,212 Phantom I chassis had left Rolls-Royce's UK factory by the time production ceased.
Clarence Gasque was Financial Director of the UK division of the American F W Woolworth retail company, which had been one of the original pioneers of the 'five and dime' store. The firm's UK offshoot had contracted the construction and supply of several motor bodies from the long-established Wolverhampton-based coachbuilder, Charles Clark & Son Ltd, and it was to Clark's proprietor, Mr J H Barnett, formerly with Austin, that Clarence Gasque turned to when he required a body for his new Rolls-Royce. In actual fact, Gasque did not want the car for himself but for his wife Maude, a Woolworth heiress; he also wanted it to surpass the Rolls-Royce Silver Ghosts bodied by Clark for his fellow American and Woolworth's colleague, Surefire Snow, a dynamic New Yorker who had been instrumental in setting up Woolworth's UK operation. A connoisseur of antique French furniture, Gasque commissioned the coachbuilder to construct a miniature salon in appropriate style inside the brougham body.
As J H Barnett later recalled: 'As I believe is often the case with Americans, this gentleman wanted a car for his wife which must be different to anything else, and also better. He would not stipulate what he wanted except that the design must be French, and left everything to me including price.'
Seeking inspiration for this loosely specified commission, Barnett visited London's Victoria and Albert Museum, the world's largest museum devoted to art and design. There he saw 'a very delightful little Sedan Chair which had once belonged to Marie Antoinette, and which had a painted ceiling'. Barnett recalled: 'I only had a very small staff, but a good working foreman, and I made what sketches and plans he required… All the interior woodwork was made here (in Wolverhampton), but some of the carving was done in London. The panels and cabinets we made entirely, but the painting was done by a Frenchman in London, of whom I have lost trace.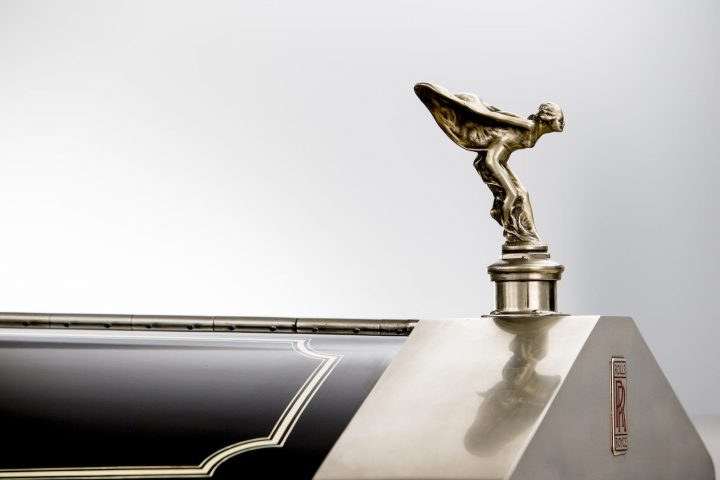 'The interior metal fittings were made by Elkingtons to our design… The tapestry was made in Aubusson, and I well remember that it was a very hazardous job to make patterns for this before the job was really started, but as it took over nine months to make, we had to get it in hand at an early date. This tapestry cost me over £500.' In 1926, £500 would have bought you the average UK house…
Looking more like the throne room at Versailles than the interior of an automobile, Barnett's design featured highly polished, satinwood veneer panelling, with painted decoration and oval medallions. Designed as a sofa, the rear seat only served to enhance this effect, being upholstered in fine tapestries sourced from Aubusson in central France, which depicted scenes executed in the flamboyant and romantic style of the late Rococo period.
Befitting a car that would come to be known as 'The Phantom of Love', naked cherubs featured prominently in the exotic interior, appearing in painted scenes on the ceiling and as lighting supports at the rear corners. Additional lighting was concealed behind the ceiling's carved and gilded cornice. A bow-fronted drinks cabinet, reminiscent of an antique commode or chiffonier, was mounted on the internal division, concealing fold-down, inward-facing occasional seats – also tapestry upholstered – in cupboards at either side. Surmounting this elaborate division was a small French ormulu clock and two French porcelain vases containing gilded metal and enamel flowers. In honour of the Gasque family's French origins, Barnett devised a faux coat of arms at his client's request, which was applied to the rear doors.
Clark's body on chassis number '76TC' was completed in April 1927, the commission's ten-month turnaround time being around three times that for quality bodies of similar size. Gasque was presented with a bill for some £4,500, making 'The Phantom of Love' by far the most expensive Rolls-Royce of its day. Sadly, the Gasques' enjoyment of their costly love token would be cut short after only 18 months when Clarence died in October 1928 at the relatively young age of 54. His widow then spent the rest of her life promoting the causes of vegetarianism and animal welfare, eventually becoming President of the International Vegetarian Union and Vice-president of the Vegetarian Society. She died on 23rd December 1959.
In 1937, Mrs Gasque had put 'The Phantom of Love' into storage. Barnett noted: 'The last time the car came to us for repainting, the interior fittings and the veneered panels were getting into rather a bad state due to the fact that the car had been kept in an unheated garage, and this did not seem to concern them when I pointed it out to them.'
In 1952, 'The Phantom of Love' was bought by well-known Rolls-Royce collector, Stanley Sears. Although quoted as saying he 'paid through the nose' for it, Sears nevertheless felt compelled to try to improve on J H Barnett's masterpiece. Concerned that the car's sober exterior did not match the interior's opulence, he had the rear flanks refinished in simulated cane-work, considerably lightening its appearance. He also had the wheels painted in a straw colour and had coach lines applied to the bonnet.
Sears subsequently moved to Spain and in 1983 sold the bulk of his collection, though the Phantom was retained. In 1986, a Japanese collector named Takihana bought the Rolls-Royce from Stanley Sears, reputedly parting with £1,000,000 to secure it. The car passed through the hands of various Japanese collectors before Akira Takei sold it to dealer Edward Fallon of Cave Creek Classics in Phoenix, Arizona in December 2001. Swiftly sold on to prominent collector Jack Rich of Pennsylvania, 'The Phantom of Love' became a regular on the United States concours circuit and won many awards, including the Lucius Beebe Trophy at Pebble Beach in 2002. Rich then sold the car to the English dealer, Charles Howard.
In his autobiography, Howard recalled, 'I first saw and coveted (76TC) in June 1975 in Kensington Gardens at the 25th anniversary of the founding of the Twenty Ghost Club.
'At that time the car was owned by Stanley Sears who had a superb collection of Rolls-Royces and whose fortune came from multiple retailing.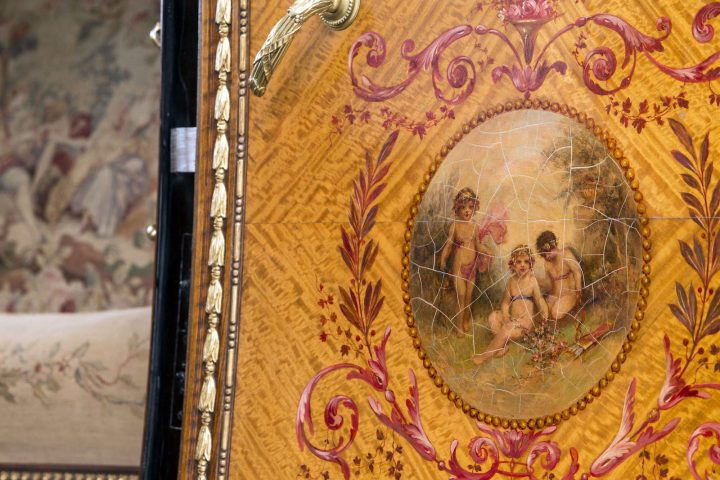 'I was most surprised in 2002 when the car resurfaced in America, having been discovered in a Japanese used car lot by an astute Japanese dealer with a Californian partner. I was able to buy the Phantom in one of my more complicated transactions and was thrilled when I got it home to England.'
Having refurbished the Phantom, including fitting black wheel discs, Howard sold it to Rolls-Royce specialists P&A Wood of Great Easton, Essex, who exhibited the car at Rétromobile, Paris in February 2004. The Rolls-Royce subsequently found a new owner: Penny Brook Ltd of Brook Street, London W1, which acquired it in October 2004. The present custodians purchased the Rolls-Royce in 2012 again via P&A Wood. The latter carried out a service and other works in January 2016 (see bills on file totalling circa £5,000), and the Rolls-Royce now runs and drives well.
Extensively illustrated and described in numerous books and magazine articles about the Rolls-Royce marque, 'The Phantom of Love' is, arguably, the most famous surviving Rolls-Royce after 'AX 201'.
---
2353 Total Views
1 Views Today