---
Porsche 911 GT2 – 1995
---
Marca : Porsche
Modello : 911
Versione : GT2
Anno : 1995
Telaio N. : WP0ZZZ99ZTS392064
Esemplari prodotti : 202 (57 nella versione stradale)
Motore : 6 cilindri Boxer
Cilindrata : 3.600 cc
Distribuzione : SOHC
Valvole Cilindro : 2
Alimentazione : Bosch Motronic M 5.2 + twin turbo
Potenza : 430 CV a 5.750 giri/min
Top speed Km/h : 295
---
Auction Result
2016 – Londra – RM Sotheby's  – £ 1.848.000

---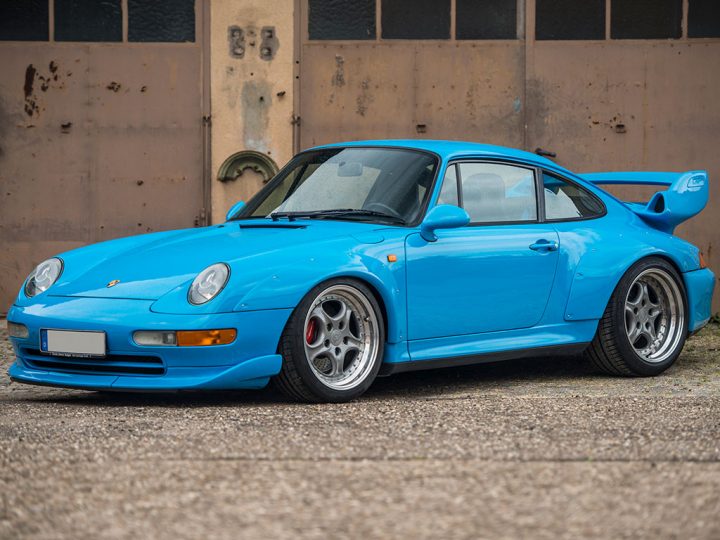 When Porsche introduced the new 993 for 1995, it was to be the last of the great air-cooled 911s. The new coupé retained only the roof and front deck lid from the preceding 964 model. New features included the redesigned bodywork, poly-ellipsoid low-beam and variable focus high-beam headlights, and a six-speed transmission. A new multi-link rear suspension carried upper and lower A-arms with transverse links. Both the front and rear sub-frames were now so strong that if they were bent in a crash they had to be replaced, as they could not be straightened. There were new wheels as well, and the brake discs and pads were enlarged for greater stopping power.
Porsche's success with the four-wheel drive 961, along with Audi's rally wins with the Quattro and the later track success of the Nissan Skyline, led to all-wheel-drive being banned by most sanctioning bodies by the mid-1990s. This presented a problem for Porsche, whose Turbo was driven by all four wheels; the solution was the GT2, which was to be rear-wheel-drive. A side benefit turned out to be significant weight savings, and the GT2 was instantly competitive.
Examples include Dave Maraj, of Champion Porsche in Pompano Beach, Florida, who Porsche proved to be a constant threat in IMSA in the hands of Hans Stuck Jr., Derek Bell, Thierry Boutsen, and Bill Adam. The car finished 2nd in class at the 1995 Sebring 12 Hours, 2nd again at Watkins Glen, won its class at the 1996 Sebring 12 Hours, and placed 2nd at 1997 Daytona 24 Hours.
A side effect of all this competition success was that Porsche had to build a number of street GT2s in order to homologate the model for racing. At about 430 horsepower, the GT2s ran higher boost than the standard Turbo model and developed almost as much horsepower as their racing counterparts. They shared cutaway fenders with the Carrera RS and had removable and replaceable bolt-on flares in order to fit wider wheels for racing and also for quick replacement in the event of any race-related damage. The GT, as it was initially dubbed, is highly prized by Porsche collectors.
This exceptional GT2 was purchased new by the current owner, an avid collector of Porsche's greatest limited-production modern supercars. Ordered in October 1994, this car was acquired new in February the following year from Porsche Zentrum Ludwigsburg in Germany. Copies of the original purchase order from Porsche are included on file. Only 194 GT2s were built over three years, of which approximately 57 were completed to road-going specification. This stunning example was finished in eye-catching Riviera Blue with its interior trimmed in black carpeting with subtle black and grey leather seats. The seat backs, seat belts, door pulls, and "GT" stitching are in matching blue. Having been driven 12,730 kilometres at the time of cataloguing, the race-inspired GT2 presents in exceptional condition throughout, with only minor signs of being enjoyed by its enthusiast owner. The engine bay, including the original engine, is exceptionally clean, as is the front storage compartment. The Porsche also includes its original owners' manuals and service booklet, in their original leather pouch, which note the car's regular and fastidious maintenance by Porsche Zentrum Flughafen Stuttgart.
---
3243 Total Views
1 Views Today