---
Peugeot 402 Darlmat Légère "Special Sport" Roadster – 1938
---
Marca : Peugeot
Modello : 402
Versione : Darl'mat Légère "Special Sport"
Anno : 1938
Telaio N. : 705516
Esemplari prodotti : 54
Carrozzeria : Pourtout
Motore : 4 cilindri in linea
Cilindrata : 1.991 cc
Distribuzione : OHV
Valvole Cilindro : 2
Alimentazione : 2 carburatori
Potenza : 70 CV a 4.250 giri/min
Top speed Km/h :
---
Auction Results
2011 – Amelia Island – RM Sotheby's – $ 522.500
---
By the early 1930s, Emile Darl'mat was a Parisian Peugeot dealer and one of the world's largest, with a flair for adventure. Well-known and highly regarded in racing circles, Darl'mat tirelessly sought to return Peugeot to the motorsports dominance it enjoyed immediately before and after World War I by creating special Peugeot-based automobiles with leading-edge performance and styling. In fact, Darl'mat was so well respected that he enjoyed access to Peugeot's considerable factory resources.
To fulfill his mission, Darl'mat also formed close working relationships with Paris coachbuilder Marcel Pourtout and gifted designer Georges Paulin. Darl'mat first collaborated with Pourtout on a car for the 1927 Salon de l'Automobile, and with Paulin, a Peugeot 301 with streamlined bodywork was created for display at the 1933 Chicago World's Fair.
While Paulin's early profession was dentistry, automobile design was his true passion. He gained prominence by developing and patenting an automatic retractable metal roof mechanism, predating the Ford Skyliner of the late 1950s. Paulin and Pourtout planned to build it on a Peugeot 301 chassis, but Peugeot initially considered the roof mechanism to be overly complicated. Undaunted, Paulin and Pourtout purchased bare chassis from Darl'mat and constructed the cars, christened "Eclipse," on their own. Pourtout's customers were enthusiastic, and a companion model based on the larger 601 chassis was also offered. Their popularity was such that Peugeot licensed the design from Paulin and produced 430 retractable-hardtop 402 models, dubbed the 402 BL Eclipse Décapotable between 1935 and 1939.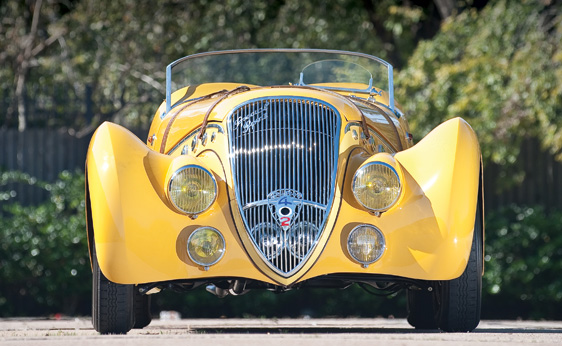 Next, Darl'mat conceived a light sporting model of Peugeot's 302 that would be easily serviced by Peugeot's dealer network. Putting the two-liter engine of the 402 into the lighter 302 chassis, Darl'mat naturally chose sporting bodywork from Pourtout. This, in turn, involved Georges Paulin, who penned a flowing, teardrop-winged body with a vestigial boat-tail that endures today as a benchmark of inter-war French design. Other unique design cues included a flowing grille, medallion-shaped hood side vents and a heart-shaped rear license-plate housing. These lightweight bodies were constructed from thin aluminum sheets, hand-formed over wooden bucks, and their sleek lines were perfected in the wind tunnel.
Combined with a tuned two-liter, overhead-valve four-cylinder engine with dual carburetors and a stout Cotal four-speed pre-selector gearbox, the Darl'mat 302/402 was a remarkable performer on the road and track alike. Competition versions, remarkably similar to their road-going stable-mates, were very successful. They competed at Le Mans in both 1937 and 1938, achieving a sterling class victory in the latter year. Slightly more than 100 Darl'mat 302/402 Peugeots were ultimately built from 1936 to 1938, initially using a modified 302 chassis and later that of the 402. Estimates place the number produced at 105 to 106 such cars in all, including six for competition. Among them were 53 roadsters, 20 coupes and 32 cabriolets. All sold quickly and in addition to their wonderful driving dynamics, numerous examples graced the era's finest Concours d'Elegance. Only the onset of World War II dampened enthusiasm for the cars.
Paulin continued to design bodies for Pourtout, and in fact he penned many more automotive creations than those for which he received credit. Among these were bodies for the famous Embiricos Bentley, the very first Delage D-8 120 of 1937 Paris Auto Show fame, and a four-car series of Talbot T150C-SS coupes, in addition to the striking, low-volume Darl'mat Peugeot 302/402.
This stunning 1938 Darl'mat roadster, based on the Peugeot 402 Légère (light) chassis, numbered 705516 and powered by engine number 445597, has known history dating back to the 1960s. At that time, it was owned by noted collector Henri Mallatre and formed part of his private collection based in Lyons, France. The Mallatre Collection continues to exist today as a museum open to the public. Toward the end of the 1960s, 705516 was sold to a collector in Switzerland, who commissioned its first known restoration, which was completed during the early 1970s. After this owner's death, the Darl'mat passed through another Swiss owner, before the car was sold to an unknown person in the United States. This Darl'mat is also reported to have participated in the 2000 edition of the prestigious Monterey Historic Races.
Next, Chuck Swimmer of the San Diego Collection, who commissioned a restoration by the noted Alan Taylor Company of Escondido, California, acquired 705516. In 2004, the rare Darl'mat was displayed at the Pebble Beach Concours d'Elegance, as part of a special class devoted exclusively to the cars of Pourtout and Peugeot. Under Mr. Swimmer, the Darl'mat was shown at a number of other venues as well, including Amelia Island, Meadow Brook and the Concours on Rodeo Drive.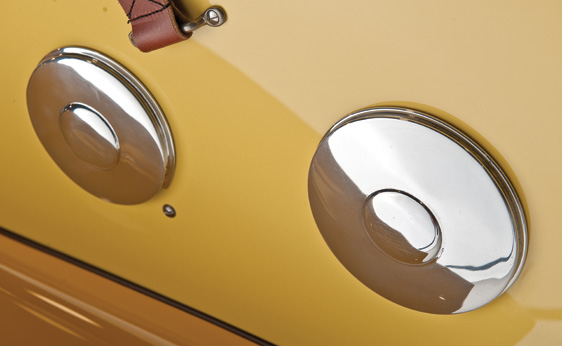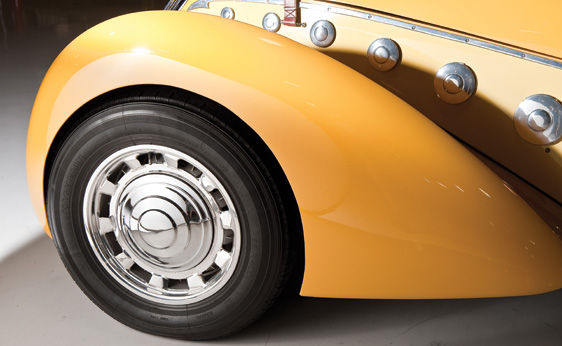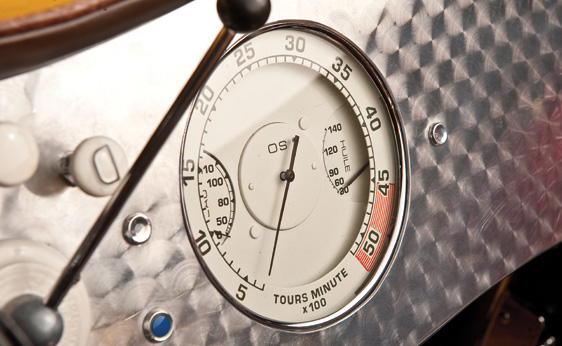 ---
4207 Total Views
7 Views Today