---
Marca : Packard
Modello : Panther-Daytona
Versione : Roadster
Anno : 1954
Telaio N. : M600127
Motore N. : —
Esemplari prodotti : 4
Designer : dick teague
Motore : 8 cilindri in linea
Cilindrata : 5.883 cc
Distribuzione : L-Head
Valvole Cilindro : 2
Alimentazione : 1 Carb.
Potenza : 212 HP
Top speed Km/h : —
---
Auction Result
2009 – Amelia Island – RM Sotheby's – $ 700,000

---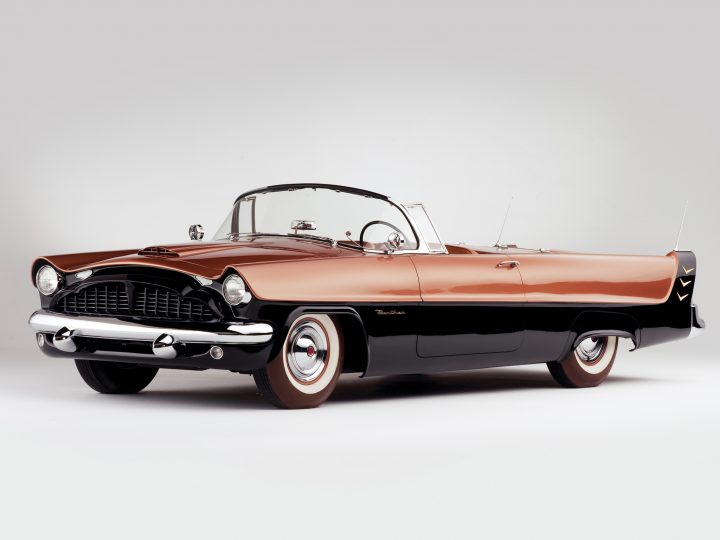 Packard's valiant efforts to restore its position at the pinnacle of American luxury cars were beset on all sides by adversity in 1954. Yet, the vitality and influence of this storied marque continued to be demonstrated with a series of developments that should have brought it success.
The venerable Packard straight eight line was augmented by an entirely new nine-main bearing engine, its 359 cubic inches breathing through a four barrel carburetor and giving an impressive 212 horsepower with an 8.7:1 high compression aluminum cylinder head. Packard's stylish and luxurious concept cars attracted favorable attention and Packard's engineering staff and production facilities were able to translate these charismatic image cars into production models quickly and effectively, taking advantage of the publicity and visibility they created to draw both traffic and buyers into Packard dealers' showrooms.
On the other hand, Chrysler Corporation bought Briggs Manufacturing, Packard's longtime body supplier, forcing Packard to tool up and manufacture its own bodies for the first time. The disruption not only siphoned off capital from engineering and marketing but also disrupted production, even though the Conner Avenue plant was converted to body manufacturing and assembly in the miraculous time of only 62 days in late 1954.
Furthermore, there was of course the acquisition of Studebaker. Motivated by prospects of economies of scale in both manufacturing and distribution, Studebaker proved to be anything but a sound decision, weighing Packard down with debt and high cost, low productivity facilities and distracting management from all-important operations and marketing. There was some prospect that Studebaker-Packard could merge with Nash and Hudson to create an entity large enough to compete with Ford, General Motors and Chrysler, but the leader of Nash and Hudson, George Mason, died suddenly before it could be realized. Later joined by Willys, those two historic marques went their own way as American Motors under George Romney.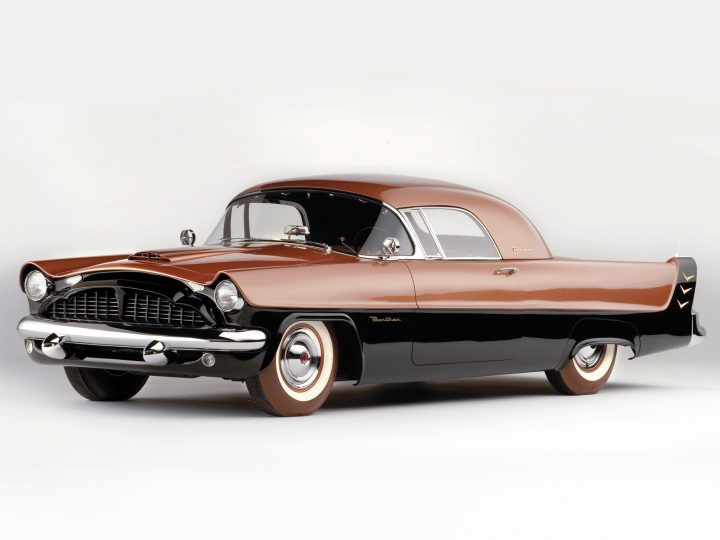 Beset as it was, Packard still employed its resources and the creativity of its designers, vendors and engineers to generate exciting new cars. Concept cars created to attract attention and gauge prospective buyers' receptiveness to new designs and models were relatively new to Packard. The first, the Pan American convertible designed by Richard Arbib at Packard's professional car body supplier, Henney, had been introduced only in 1952. It was succeeded in 1953 by the Caribbean, a prototype show car that was put into production almost instantly to take advantage of its highly favorable reception. Caribbean production was entrusted to an outside vendor, the mitchell-Bentley Corporation of Ionia, Michigan and some 750 cars were delivered in the 1953 model year. Later in 1953 Packard introduced the Balboa, a Caribbean-based two door hardtop with reverse slope rear window. The success of the Pan American, Caribbean and Balboa led Packard in 1954 to create another concept, this time even more special and innovative.
Initially called the Grey Wolf II, after the legendary Packard racer of 1903-04, Packard ultimately chose the alliterative name "Panther" for its 1954 concept car and backed up its dramatic styling and design with serious performance muscle under the hood.
The Panther's body was an innovative one-piece fiberglass molding, a daring move for a full-size car that measured some 200 inches long. Created by the Mitchell-Bentley Corporation, it was designed by Dick Teague who had designed the Balboa, working with Packard's chief styling engineer Edward Macauley and engineering Vice President William Graves. Macauley and Graves had long been staunch advocates of modern design and styling to help bolster Packard's image and visibility. The success of Packard's concept cars, and polishing of Packard's image for innovation and creativity, is largely attributable to the low-key, behind-the-scenes vision and persistence of these two Packard stalwarts.
The Packard Panther was based on the standard 122-inch wheelbase Cavalier chassis and its design is a remarkable accomplishment. A two seat roadster, its body is so low that it becomes a sleek, aerodynamic package. Lowered over the wheels, the top of the front wheel wells were flattened over the top of the tires to further the low profile appearance while the rear wheels are covered with slightly scalloped skirts. At the front Teague managed to integrate a low, full width grille with the classic Packard radiator shape, picking up the dual tier intake feature of the Pan American, continuing it to integrate the headlight nacelles and then extending in an accent down the Panther's sides to give perfect visual separation between its two-tone paint scheme. The Panther was the first Packard to employ a wrap-around windshield, foreshadowing this important detail in the 1955 Packard line.
James Nance, Packard's President since 1952, gave the Grey Wolf II/Panther the go-ahead on a fast track in mid-1953 with a target for its completion in time to appear at the increasingly important and well-publicized Daytona Speed Week in early 1954 – a nearly impossible schedule for any new vehicle and one that challenged everyone with the requirement that it be a complete, running, high performance car ready to be timed at the Daytona Beach speed trials. Teague created a 3/8 scale model in under two weeks and turned it over to Mitchell-Bentley to create the body, which because of the size of its one-piece design, utilized fiberglass up to one inch thick for stiffness and durability. In an astounding feat of workmanship, the Panther was ready in time.
Powered by Packard's 359 cubic inch eight driving through Packard's Ultramatic automatic transmission and driven by Dick Rathmann, one of the multi-talented drivers of the era who drove everything and would win the Indianapolis 500 in 1960, the Panther turned in a speed of 110.9 miles per hour through the official Daytona Beach time clocks. Since it later turned an unofficial 131.1 miles per hour after sanctioned and officially observed timing was completed, its early performance is likely to have been due to insufficient time for shakedown and development – no surprise considering its telescoped design and construction schedule. Its performance induced Packard to rename the concept car the Panther-Daytona.
Packard and Mitchell-Bentley built another three Panthers that toured the country along with the Daytona Beach car generating publicity for Packard. Eventually all four were brought back to Mitchell-Bentley for updating. Two of them received only cosmetic attention with updated paint and trim. The other two were more extensively modified with new rear quarters incorporating Packard's 1955 style cathedral taillights, a rear deck with dual accent ribs and updated paint colors.
The example offered here was further modified for the personal use of Mitchell-Bentley executive William Mitchell, Sr. In addition to the 1955 style quarters, taillights and rear deck, it received individualized trim including specific "Mitchell Panther" identification and triple v-emblems on the rear quarters. Most importantly, it is the only Panther with a removable hard top.
Mitchell drove his Panther for the next few years before selling it to noted Duesenberg collector Homer Fitterling. Fitterling lent it to the Studebaker National Museum where it was displayed for nearly 30 years until it was acquired by the famous Bortz collection of Detroit concepts, dream cars and prototypes in 1988 where it was carefully preserved until 2006 in time-warp original condition. It had never been modified from its original configuration and even retained its original brown-tinted show car tires.
Following its acquisition by the current owner, however, the striking Packard was treated to restoration work, which included a professional paint job and new interior and wiring harness as well as extensive mechanical work, including an engine inspection and rebuilding of the transmission, rear axle, brakes.
Few concept cars are actually designed to be used on the highway as the Packard Panther is. Most manage a few careful drives onto show display stands and slow staged passes before film and television cameras. The Packard Panther offered here, however, was not only designed to be fully functional but also has proven its strength in several thousand miles of regular use by Bill Mitchell, Sr. As a demonstration of the talents of Dick Teague, one of the most important designers of the fifties and sixties, the Panther represents not only a rare milestone in Packard's evolution but also in the history of the American car as a whole.
---
3531 Total Views
1 Views Today