---
Oakland Model 30 Touring – 1912
---
Marca : Oakland Motor Car Company
Modello : Model 30
Versione : Touring
Anno : 1912
Telaio N. : —
Motore N. : —
Esemplari prodotti : —
Motore : 4 cilindri in linea
Cilindrata : 201.1 cu. in.
Distribuzione : L-head
Valvole Cilindro : 2
Alimentazione : 1 carb.
Potenza : 30 HP
Top speed Km/h : —
---
Auction Result
2016 – Hersey – RM Sotheby's – $ 44.000

---
Oakland Motor Car Company is largely remembered today as one of the founding names of General Motors, and it is also the company that created the car from which the Pontiac was born. It is easily forgotten that the company was around for 24 successful years, that, in its day, it was a household name, and that it made its mark on the American automobile scene with its stylish yet powerful cars.
Edward Murphy and Alanson Brush had run the Pontiac Buggy Company in the Michigan town of the same name. They desired to enter the automotive age, and they used Brush's small two-cylinder car, the design for which Cadillac had rejected, as a platform in which to enter this growing fast-paced world. Slow sales of the early models in 1908 must have convinced Murphy that Cadillac had the right idea, as the company soon switched to four-cylinder models that became highly regarded for their performance and durability.
The four-cylinder Model 30 Touring presented here, an elegant offering from 1912, represents the Brass Era Oakland that America came to know and love. It was formerly owned by the well-known and very active AACA member Marty Roth, and it has been lovingly prepared for reliable touring by talented, knowledgeable specialists. The transmission was rebuilt by Bud Jonas of Belden, Michigan, an Oakland expert, while the overdrive was installed by Lloyd Young of Winchester, Ohio. The brass radiator was rebuilt by the noted Dick Runion. The magneto has been upgraded for easier starts and better running, and while the original head and taillights have been converted to electric power, the original brass acetylene tank still remains. A locomotive-style exhaust whistle may not improve roadability, but it is surely a fun thing to have around.
Mr. Roth and the previous owner both toured in this car, which is a veteran of many long-distance treks with the Horseless Carriage Club of America. It has also completed the famous Glidden Tour, which is regarded as one of the most strenuous tests that any early automobile can undertake. It is complete with front and rear tonneau covers, in addition to a correct top, side curtains, and light covers, which are all appropriate for a car that is expected to run in all kinds of conditions. The current owner installed an electric starter on the car, further improving its usability for long-distance driving, and also serviced the cylinder jugs with new pistons.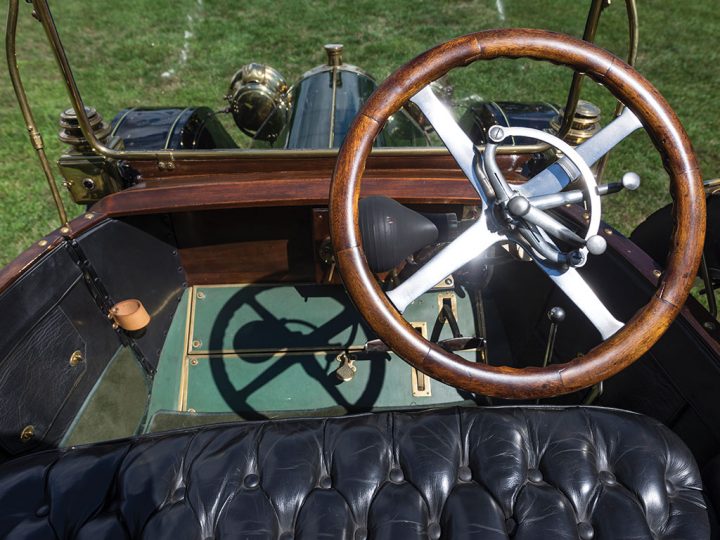 ---
925 Total Views
1 Views Today