---
Isotta Fraschini Tipo PM Roadster – 1911
---
Marca : Isotta Fraschini
Modello : Tipo PM
Versione : Roadster
Anno : 1911
Telaio N. : 3614
Motore N. : 3614
Esemplari prodotti : 60 Chassis
Carrozzeria : Pavesi & Crespi
Motore : 4 cilindri in linea
Cilindrata : 6.082 cc
Distribuzione : SV
Valvole Cilindro : 2
Alimentazione : Carb.
Potenza : 52 CV a 1.600 giri/min
Top speed Km/h : —
---
Auction Result
2015 – Goodwood – Bonhams – £ 348.700

---
The isotta-fraschini was Italy's prestige car, just as Rolls-Royce was Britain's and the Hispano-Suiza France's. All were rivals and each claimed the title of 'best car in the world'. Founded in Milan in 1898 by partners Cesare Isotta and Vincenzo Fraschini, Isotta-Fraschini started out as Renault agents and exhibited the first car of its own, a single-cylinder, 5hp voiturette, at the 1901 Milan Expo. A twin-cylinder model was on offer in 1902, which was quickly followed by a range of four-cylinder cars built along Mercedes lines. Designer Giustino Cattaneo arrived in 1905 and over the next three years introduced nine new models as the 'old' Isottas were phased out. He would be responsible for all of the company's cars up to 1933. Cattaneo's first designs were all four-cylinder models, one of which would form the basis of Robert Bamford and Lionel Martin's first 'Aston Martin' special of 1914. Production expanded and by 1906 Isotta-Fraschini was second only to FIAT among Italian manufacturers, albeit a long way behind with 300 cars built compared to the 1,800 of its Turin-based rival.
In collaboration with Vincenzo's brother, Oreste Fraschini, Cattaneo devised an ingenious mechanism that enabled drum brakes to be mounted on the front axle, which was first shown at the Paris Salon in 1910. Despite the scepticism of many, Isotta introduced front-wheel brakes on some of its production cars for 1911 and by 1914 they were standard on its larger models, making Isotta-Fraschini the first motor manufacturer to produce a commercially viable front-wheel braking system. A bewildering variety of models numbering almost 40 was produced up the World War I, including some limited-edition racers powered by overhead-camshaft 16-valve engines.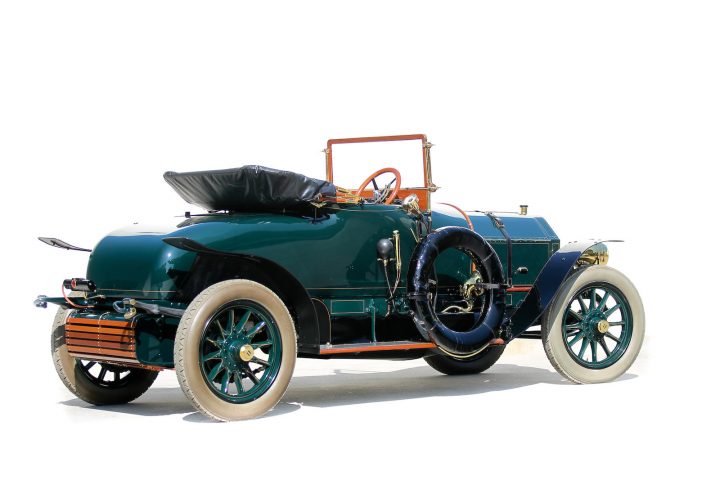 The company was soon making a name for itself in competition and would continue to enjoy success for many years. In June 1902 Oreste Fraschini had taken 2nd place in the Sassi-Superga hill climb while five years later the marque scored a resounding victory in the tough Coppa Florio race and also won the Briarcliff Trophy. In 1908 Isotta-Fraschini won the Briarcliff again and took 2nd place in the Vanderbilt Cup. Further victories were achieved at Lowell, Long Island and Savannah, and Isottas were the highest-placed four-cylinder racers in the Coupe des Voiturettes. In 1913 three Isotta-Fraschinis were entered in the Indianapolis 500 race, becoming the first cars with four-wheel brakes to compete in that event. Records show that among the Isotta-Fraschini drivers in 1920 was a young Italian named Enzo ferrari.
Isotta-Fraschini built many fine cars prior to WWI but is best remembered today for the Cattaneo-designed Tipo 8 and its derivatives. Introduced in August 1919 as the result of Isotta's switch to a one-model policy, the massively built Tipo 8 was the world's first series production straight eight. Its magnificent engine was a 5.9-litre, overhead-valve unit producing 80bhp at a lowly 2,200rpm; a nine-bearing crankshaft, alloy cylinder block, and magneto ignition were features. Chassis details included a three-speed gearbox, multi-plate clutch, semi-elliptic springing and coupled four-wheel brakes. By contrast, Rolls-Royce did not fit four-wheel brakes until 1925.
Conceived as a chauffeur-driven luxury conveyance, the Tipo 8 was aimed at the United States market where it was the choice of such world-famous film stars as Rudolph Valentino and 'It Girl' Clara Bow. Other Isotta owners in the United States included press baron William Randolph Hearst (Orson Wells' real-life model for 'Citizen Kane') and world heavyweight champion Jack Dempsey. Customers closer to home included the Queen of Rumania, the King of Italy, Pope Pius XI, Benito Mussolini and a host of European princes, while King Fuad of Egypt, King Faissal of Iraq, the Aga Khan and various Indian maharajahs all bought Isottas. The company's claim that it produced 'The Aristocrat of Automobiles' was no idle boast.
The car Show here is one of the Tipo 8's illustrious ancestors – the Tipo PM – a 6.0-litre four-cylinder sidevalve model equipped with chain final drive. Reliable, stylish and quick, like all its maker's creations, Tipo PM was produced from 1911 through 1912 with only 60 chassis being built, of which it is estimated that only three survive. Chassis number '3614' carries two-seat roadster coachwork by Carrozzeria Pavesi & Crespi of Milan, an established carriage-maker that bodied its first automobile around 1900. The firm only existed for a dozen more years and examples of its work are extremely rare.
This Tipo PM was purchased in December 1986 from one Edward Lucas Ferris II by Roger J 'Joe' Locey of Chardon, Ohio. In 2001 Locey sold '3614' to noted 'brass car' collector, Richard King. Documents relating to these changes of ownership are on file together with a State of California Certificate of Title. An extensive restoration was carried out circa 2011/2012, returning the original coachwork to the chassis. Upon the restoration's completion this beautiful Isotta-Fraschini took 2nd in class at the 2012 Pebble Beach Concours d'Elegance.
---
5375 Total Views
1 Views Today