---
HRG Airline Coupe – 1938
---
Marca : HRG Engineering Company
Modello : Airline Coupe
Anno : 1938
Telaio N. : WT68
Esemplari prodotti : 1
Carrozzeria : Crofts
Motore : 4 cilindri in linea
Cilindrata : 1.496 cc
Distribuzione : OHV
Valvole Cilindro : 2
Alimentazione : 2 carb. SU
Potenza : 55 bhp
Top speed Km/h : —
---
Auction Result
2017 – Amelia Islan – RM Sotheby's – $176,000

---
H.R.G. automobiles are scarce enough in North America, but surely the prize for any connoisseur of "Hurgs" would be this car, the only one-off coupe ever produced by the factory. It was commissioned by co-founder Major E.A. Halford in 1938, and it combined the 1½-liter engine of a Triumph Gloria and its accompanying four-speed gearbox with the widened chassis frame of one of his Halford Special racing cars. The body was attractively stitched together using the rear end of an MG PA Airline coupe and new front end sheetmetal by the firm of A. Crofts, with exceptionally long open front fenders and classic free-standing headlamps giving it a gorgeous and elegant appearance – unusual for an H.R.G., a company known for the purposefulness of its bare-bones racers.
It was the car's elegance and, dare we say it, comfort that limited its appeal to Halford's partners at H.R.G., who were aghast at this betrayal of the company's performance ethos. The coupe proved a source of major discord within the executive ranks, and Major Halford departed the firm later in 1938. Almost immediately thereafter, the prototype coupe was sold to a private owner, who apparently enjoyed it, as he reportedly used it as his daily driver for 23 years. It subsequently passed in 1963 to a student at Sheffield University, who sold it to a friend three years later.
The new owner, Bob Affleck, would maintain the H.R.G. Airline coupe for a remarkable 48 years. During the long-term enthusiast ownership, the unique car was immaculately restored between 2000 and 2010 by Hahn and Woodward Auto Restoration of Harmony, Pennsylvania, with bodywork by Steve Glazier of Houston, Ohio, a restoration described in two articles in the January and February 2013 issues of Hemmings Sports & Exotic Car. Finished to a concours standard of fit and finish in every regard, the coupe was a double award-winner at the 2011 Radnor Hunt Concours d'Elegance, and it received awards at the Amelia Island Concours d'Elegance and the Indianapolis Motor Speedway Celebration of Automobiles in 2012, among many other honors. It completed that successful show year with an appearance at the Pebble Beach Concours d'Elegance, and it joined the Smith Collection the following March.
Maintained in the same superb condition as during Mr. Affleck's ownership, this most important H.R.G. was recently exhibited at the landmark Petersen Automotive Museum in Los Angeles, as part of their Rolling Sculpture exhibit of streamlined, state-of-the-art Classic Era coachwork. Recently freshened by Vantage Motorworks of Miami, it comes to sale in spectacular order, as one of the most dramatic and beautiful automobiles produced by a great British performance name. It is the only one – and the more's the pity!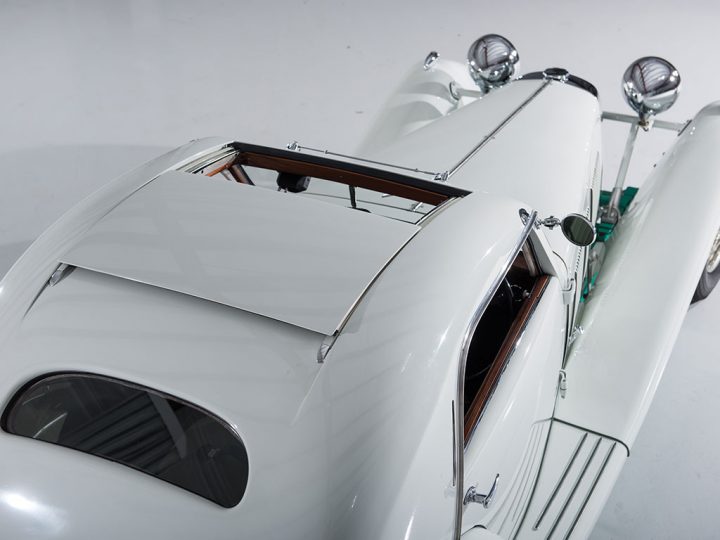 ---
2346 Total Views
1 Views Today