---
Fiat 1500 Cabriolet – 1966
---
Marca : Fiat
Modello : 1500
Versione : Cabriolet
Anno : 1966
Telaio N. : —
Motore N. : —
Esemplari prodotti : —
Carrozzeria : pininfarina
Motore : 4 cilindri in linea
Cilindrata : 1.481 cc
Distribuzione : SOHC
Valvole Cilindro : 2
Alimentazione : 1 carb. Weber 34 DCHD4
Potenza : 55 kW / 75 PS / 74 hp (DIN) / 5400
Top speed Km/h : 160
---
---
The booming sports car market of the 1950s and early 1960s sent many manufacturers scrambling to the drawing boards to come up with cars that could appeal to young buyers, especially those in the red-hot American market. The British seemed to have the formula figured out with their simple and robust little sporting cars that looked great, didn't cost much but perhaps lacked a bit of refinement. The Germans had their own ideas, though the Porsche 356 was still seen as a bit of an oddity with its air-cooled engine slung out behind the rear axle. Italian cars were seen as fragile, exotic jewels meant for wealthy, daredevil racers or suave playboys. Even the Alfa Romeo Giulia/Giulietta was considered a bit too exotic with its twin-cam, all-alloy engine. Though Fiat was a major player in Europe, they were all but left out of the sports car market in North America. They had a successful relationship with Fiat tuner and racing legend Abarth, but offered little in the way of a comfortable, affordable grand-touring sports car that could appeal to the average consumer. Thanks to the arrival of the 1500-cc overhead valve four-cylinder engine in 1962, Fiat's sports car drought was about to end.
Based on the new 80 horsepower engine (83-hp from 1966), the Fiat 1500 Cabriolet was a conventional sports car with its engine laid out longitudinally, driving the rear wheels, with disc brakes on the front axle. The standard Fiat 1500 was a basic, mid-market saloon car, but the Coupe and Cabriolet variants were treated to elegant Pininfarina coachwork. The styling seemed to borrow heavily from the ferrari 250GT – which is certainly not a bad thing. Clean, crisp lines were complimented by a roomy cabin, generous boot and an easily folded cabriolet top. The fully-trimmed cabin featured roll up windows, courtesy lights, finely detailed instrumentation, adjustable bucket seats, locking steering column, clock, cigarette lighter and many other features gave the little Fiat a distinct upmarket feel when compared to its British competition. In spite of its advantages, Fiat was late to the show and sales weren't as brisk as they hoped, the 1500 being replaced by the twin-cam 124 in 1967.
We are very pleased to present such a wonderful example of this rare and unusual sporting Fiat. This genuine and true California black-plate 1500 Cabriolet has survived remarkably well when so many others succumbed to rust in harsher climates. A car built in small numbers to begin with, only a handful of them survive today, and fewer still are as fine as this. This 1966 model features the upgraded 83 horsepower engine mated to a smooth-shifting five-speed manual transmission, good for 100 mph performance. It is presented in delightfully fine condition inside and out, in a gorgeous color scheme of medium gray over red leather with a striking red convertible top, a color scheme ideally suited to the crisp Pininfarina styling. The exterior is very well detailed with headlamp stoneguards, very good chrome and stainless trim, proper polished wheel covers on correct steel wheels and correct Pirelli rubber.
In the luxurious cabin, the leather and carpet are in very fine condition, wonderfully restored and well balanced against excellent original instruments and switchgear. From behind the wood-rimmed Nardi wheel, it is easy to get lost in the fantasy that this may somehow be a baby 250 PF Cabriolet – the egg crate grille and subtle PF badges on the flanks just add to the daydream.
Under the forward-hinged bonnet lies the robust 1500-cc overhead valve engine. This engine powered Fiats and their variants all over Europe and proved to be a tough little unit that delivered good performance, easy servicing and buckets of character. Breathing through a Weber carburetor and with a sports exhaust, it takes on a mild sporting edge and delivers very respectable performance. The engine bay is tidy and very well presented, with some original surfaces still intact and displaying a charming, no-fuss feel.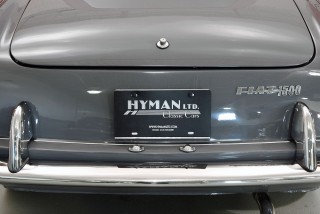 ---
7396 Total Views
2 Views Today