---
Ferrari 750 Monza – 1954
---
Marca : Ferrari
Modello : 750 Monza
Anno : 1954
Telaio N. : 0462M – Type 501
Motore N. : —
Esemplari prodotti : 31
Carrozzeria : Scaglietti
Motore : 4 cilindri in linea
Cilindrata : 2.999 cc
Distribuzione : DOHC
Valvole Cilindro : 2
Alimentazione : 2 carb. Weber 58 DCOA/3
Potenza : 240 Cv a 7.200 giri/min
Top speed Km/h : 250
---
Auction Result
2012 – Monterey – Mecum – $ 3.200.000
2013 – Monterey – Mecum – $ 3.700.000
---
During the early 1950s Ferrari ranked among the world's most competitive manufactures in international formula and sports car racing. Alberto Ascari had clinched the Formula One World Championship title two years running, and did so the second year using Ferrari's new Lampredi-designed four cylinder twin overhead cam power plant. This confirmed the superior low-speed torque characteristics offered an advantage, particularly on twisty circuits, and the decision was made for the 1953 season to equip Ferrari's sports racing cars, the Mondial and Monza, with the now-proven Lampredi inline four cylinder platforms.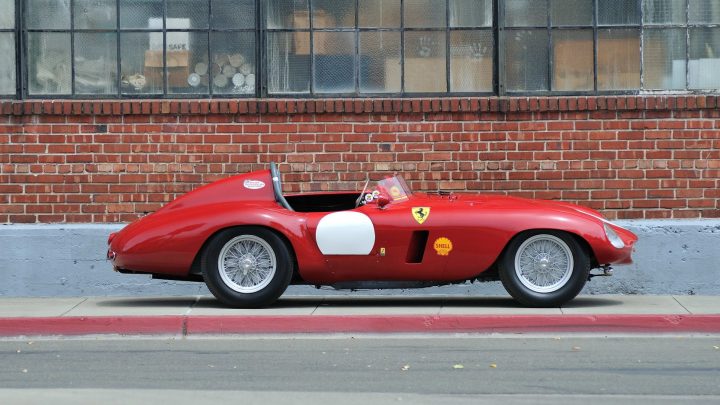 In addition to the new power plant, Ferrari's design innovation and mechanical sophistication extended to the drive train. In Monza form, a 5-speed transaxle was fitted in conjunction with a de Dion independent rear axel assembly. This both improved weight distribution over the standard mounted transmissions used by other manufacturers, as well as improved traction over road imperfections which defined many of the difficult road circuits of the era. Their innovation was so impressive in fact, that this particular chassis, s/n 0462MD, was acquired in period by Jaguar Cars, who commenced a complete disassembly and analysis to determine why Ferrari was able to continually out-pace the English entries!
Among the first Monzas built; this example was sold new to Irish racer Joe Kelly of Dublin in September of 1954. Immediately, Kelly campaigned the car at the Dundrod and Leinster Trophy races. For Goodwood of the same year, future Formula 1 World Champion Mike Hawthorn would be entered as the driver, unfortunately retiring with rear axle troubles.
After being acquired by Jaguar Works for performance evaluation against their venerable D-Type,w the car was sold onward to Jaguar team driver and 1951 Le Mans winner Peter Whitehead. Sir Jack Brabham imported the car to Australia in 1955, where it was actively campaigned by Stan Coffey, Arnold Glass, Jack Neal and Oliver Steel through the 1959 season.
After passing through a documented series of known and respected collectors, s/n 0462MD began its Historic Competition career with the 1987 Mille Miglia retrospective, entered by owner at the time, Pietro Brigato of Vicenza, Italy. Other European owners included Engelbert Stieger of Switzerland, who ultimately sold the car via a respected Southern California dealer to Pat Smiekel, of Montecito, California, in 1996. With the assistance of noted Ferrari collector Brandon Wang, ownership passed to Roberto Crippa, who proved to be an avid participant in various historic racing venues throughout mainland Europe before selling the car to fellow Italian Andrea Burani.
Andrea Burani, and his Father Walter were perhaps the most active historic owners of s/n 0462MD, competing in a myriad of events between 2000 and 2009 including the Mille Miglia no less than seven times, as well as Le Mans Classic (2004), and Spa, Goodwood Revival, Mugello, Monza, among other races. GTO Engineering fielded s/n 0462MD during Andrea's custodianship, passing to Walter in 2005, who contracted Ferrari Clienti to service and support this wonderful Monza until 2009.
Restored at di Diena in Modena in 1998 under Roberto Crippa's ownership, and maintained by GTO Engineering and Ferrari Clienti while vigorously campaigned by the Burani Family, this 750 Monza is best described as an exceptionally strong running example mechanically, with a wonderful and uniform patina cosmetically.
The body, paint, and interior all display good racing cosmetics which serves as a testament to its extensive racing career. The engine bay and underside show the normal signs of charismatic use, and regular upkeep.
This 750 Monza starts easily and revs freely making excellent horsepower and ample torque. The transaxle shifts well, and the brakes are effective. The steering is light and nimble, as would be expected of a car fitted with a comparatively light-weight inline four cylinder engine.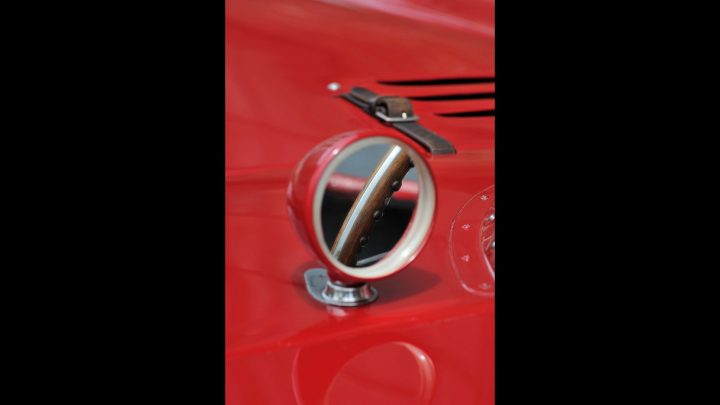 Perhaps the most appealing characteristic of all is s/n 0462MD's exceptionally clean and clear history. The ownership chain is known from new and currently carries an Illinois title and all U.S. duties have been paid. This example has avoided the substitute installation of an American V8 power plant, major racing incidents requiring the repairs of replacement of chassis members, and so far as we are aware, any significant body section replacement. Included with the sale of this wonderful 750 Monza is the numbers matching engine (number 0462MD), and a rebuilt spare gearbox (number MD 44). Currently fitted is a racing prepared 3.0 litre engine by Hall and Hall, which has seen years of conscientious maintenance by GTO Engineering in the United Kingdom.
Ferrari's excursion into sports car competition with inline four and six cylinder engines occurred at the height of his experimental period. Sports cars of this era, Ferraris in particular, are commonly viewed by experts and collectors alike as the most beautiful cars ever designed. Today, they are highly eligible and welcome entrants for virtually every prestigious historic motorsports venue around the globe. Approximately thirty 750 Monzas were built in total, several of which boast this beautiful Scaglietti coachwork designed by Ferrari's son Dino. Previously part of the Steiger, Wang, Burani, and Crippa collections, s/n 0462MD has been the subject of admiration by several of the world's most astute Ferrari custodians.
---
2582 Total Views
1 Views Today