---
Ferrari 250 GT SWB Berlinetta Competizione – 1960
---
Marca : Ferrari
Modello : 250 GT SWB
Versione : Competizione
Anno : 1960
Telaio N. : 1759 GT
Motore N. : 1759 GT
Esemplari prodotti : 45
Designer : Pininfarina
Carrozzeria : Scaglietti
Motore : 12 Cilindri a V di 60°
Cilindrata : 2.953 cc
Distribuzione : SOHC
Valvole Cilindro : 2
Aspirazione : 3 Carburatori Weber
Potenza : 280 CV a 7.000 giri/min
Top speed Km/h : 250
---
Auction Result
2016 – Pebble Beach – Gooding & co. – $ 13.500.000
---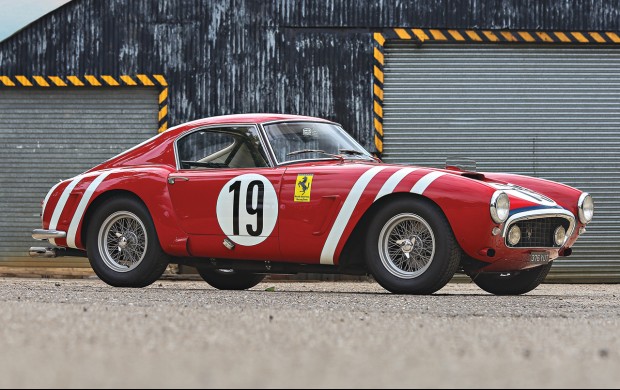 At the Paris Auto Salon, held at the Grand Palais in October 1959, Ferrari unveiled an all-new 250 GT Berlinetta, creating excitement among enthusiasts around the world.
Now known as the short-wheelbase (SWB) berlinetta, the new Ferrari featured a revised 250 GT chassis that had been carefully developed by three talented young engineers – Giotto Bizzarrini, Carlo Chiti, and Mauro Forghieri. Distinguished from its predecessor by its shorter wheelbase (2,400 mm versus 2,600 mm) and disc brakes, the new berlinetta featured attractive coachwork designed by Pinin Farina in Torino and executed by Carrozzeria Scaglietti in Modena.
The 250 GT SWB Berlinetta was available in road-going form, with a steel body or, in competition specification, with lightweight aluminum coachwork. The alloy-bodied cars were typically tailored to the demands of their first owner, who, depending on the type of races he planned to enter, could request a variety of special equipment.
The 250 GT SWB Berlinetta presented here, chassis no. 1759 GT, is the sixth example built and among the very first competition cars completed for the 1960 model year, which are now referred to simply as the Comp/60s. As noted on Ferrari build sheets for 1759 GT, this car was purpose-built to compete in the 24 Hours of Le Mans, the most famous and challenging endurance race. Built between January and March 1960, this SWB Berlinetta was equipped with the latest Tipo 168 outside-plug V-12 engine, featuring Testa Rossa cylinder heads, Weber 40 DCL6 carburetors, velocity stacks, and 9.9:1 compression – possibly the highest ratio ever specified on a 250 GT Ferrari. No. 1759 GT may have also been the first Ferrari fitted with the famous SNAP exhaust extractors.
On April 27, 1960, the Berlinetta Competizione was tested at Monza, a high-speed track ideal for simulating the conditions at Le Mans. There, a team of factory drivers, including Phil Hill, Richie Ginther, and Wolfgang von Trips, test-drove 1759 GT, which can be easily identified in photos by its distinctive rear brake cooling scoops on the rocker panels just ahead of the rear wheels.
On June 18, 1960, Ferrari sold 1759 GT to US distributor Luigi Chinetti Motors in New York, who sold the car to Dr. Harvey Schur, a long-term client and financial backer. The Ferrari was then registered on Italian export license plates "EE 02016," and final preparations were made for its racing debut.
At Le Mans, Chinetti's North American Racing Team operation was responsible for four Ferraris – a TR59, two Competition Berlinettas, and a Competition California Spider – all sequentially numbered from 17 to 20. Chassis 1759 GT, which wore no. 19, was decorated with NART insignias, a white and blue noseband, and bold white stripes running diagonally along the passenger's side. In addition to these distinctive markings, the SWB Berlinetta had its front bumperettes removed for the race, a Plexiglas bug deflector placed on the hood, and an aluminum roll bar installed. Ed Hugus and Augie Pabst, who had just come from an impressive 4th Place finish at the 12 Hours of Sebring, drove 1759 GT, battling day and night against the competition while being pounded by a rainstorm.
---
4434 Total Views
1 Views Today