---
Duesenberg Model J Disappearing Top Convertible Coupe – 1929
---
Marca : Duesenberg
Modello : J
Versione : Disappearing Top Convertible Coupe
Anno : 1929
Telaio N. : 2551
Motore N. : J-119
Esemplari prodotti : 25
Carrozzeria : Murphy
Motore : 8 Cilindri in linea
Distribuzione : DOHC
Valvole Cilindro : 2
Cilindrata : 420 cu
Potenza : 265 CV
---
Auction Result
2016 – Motorcity – RM Sotheby's – $ 1.540.000
---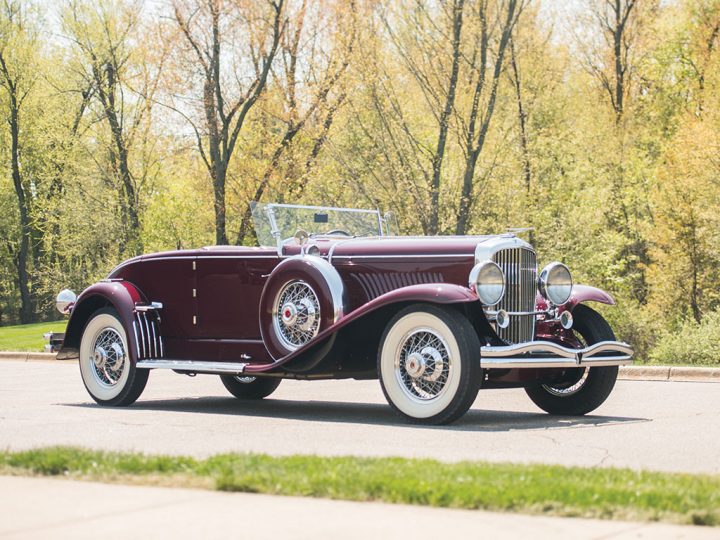 The story of this particular Convertible Coupe is one of enthusiasts and drivers, a story that begins in Chicago in 1934 with one of the earliest Model Js built, engine number J-119 and chassis number 2144. The car had been sent back to the Duesenberg Factory Branch in that city by its original owner, O.W. Hunke, to have its Derham Sedan body dressed up with updated styling and mounted on a new supercharged chassis. This left Duesenberg with a gently used chassis and engine needing new coachwork. To make the car sell more quickly, the Los Angeles Factory Branch was called upon to supply a Murphy 'Disappearing Top' Convertible Coupe body, number 922. This body, in stock at the time, had several unusual specially ordered features, most prominently a full trunk rather than a rumble seat, with the interior of the luggage compartment finished in polished woodwork! While the car has since been reconfigured with a rumble seat, this unusual original specification provides an interesting possibility for a new owner.
With its sporty Murphy body installed, the car was sold to P.P. Willis, the Chicago advertising man whose firm held the contract for Auburn Automobile Company and its marques, Duesenberg included. The Willis Family, a large Chicago clan, was prominent in several other industries as well, and its members were known for acquiring fine automobiles in the Classic Era. The Model J was right at home.
The car enjoyed several other Chicago-area owners, including being dealt by the well-known used Duesenberg dealer John Troka. In the late 1940s, it was purchased from James E. Hanger III of Leonardtown, Maryland, by the well-known West Virginia Duesenberg enthusiast Melvin Clemans. Mr. Clemans owned multiple Model Js over the years, which he drove for decades, believing that their engineering had been unequaled since. In need of restoration by the time of Mr. Clemans' acquisition, the Murphy Convertible Coupe was rebuilt with frame number 2551 and firewall number 2577.
In 1963, the Duesenberg passed into the ownership of Elmer DiPiero of Ohio, then through the hands of Allen Bittner and Dr. Patrick J. Frank in Pennsylvania. It then spent several years in New Jersey, including time in the renowned collection of Gifford Oborne, known for his ownership and preservation of some of the finest American Classics. Even today, Mr. Oborne's name is a byword for excellent, quality automobiles, with cars from his collection now treasured by some of the United States' foremost connoisseurs.
The Model J was eventually purchased from Mr. Oborne by Eric Bardeen of Deland, Florida, perhaps the most significant caretaker in its long history. Mr. Bardeen had owned Duesenbergs since the early 1950s and had been a member of the Auburn Cord Duesenberg Club since its earliest days. He drove his first Model J, a Judkins-bodied Coupe, over 20,000 miles, and while he sold that car later in the 1950s, he never lost his passion for the marque. Eventually he purchased this Convertible Coupe and enjoyed being behind its wheel for a quarter of a century.
In Mr. Bardeen's ownership, in fact, this Model J became one of the most-driven Duesenbergs of modern times. He used it regularly during the car show season in Florida, frequently participating in the ACD Club's annual Citrus Meet, where he was known for offering other enthusiasts the opportunity to "test drive" his beloved Model J at the speeds for which it had been intended.
In 2010, with the Club celebrating the Year of the Duesenberg at its Annual Reunion in Auburn, Indiana, Mr. Bardeen was invited to bring his car back to its home state. He did so in the only way he knew how, driving it from his home in the Sunshine State to Auburn, running the Duesenberg on modern highways over a period of several days with a young navigator at his side. His achievement was recognized with the Mayor's Trophy at the Reunion's award ceremony and was memorably described in the ACD Club Newsletter.
After the return trip to Florida, the Duesenberg was submitted for a well-deserved restoration effort, which included beautiful new maroon paintwork and a fresh leather interior. Nonetheless, even after its restoration, the car was no "trailer queen," and Mr. Bardeen kept on driving and enjoying it as he always had, until very recently.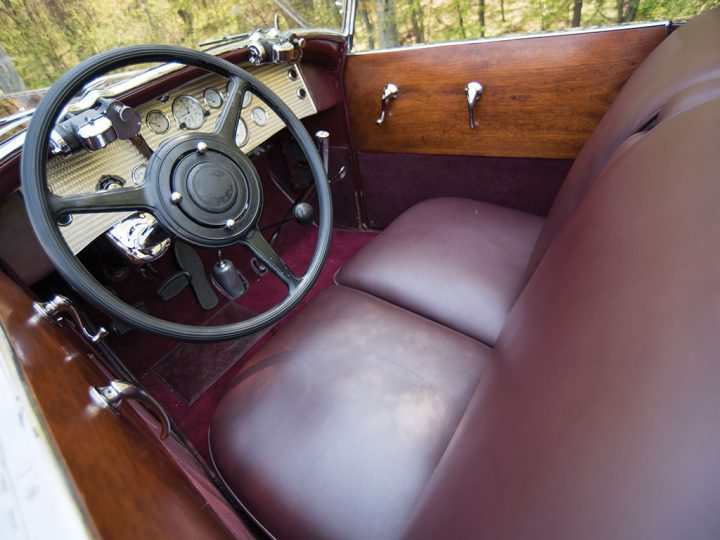 ---
2215 Total Views
2 Views Today