---
Duesenberg Model A Sport Phaeton – 1923
---
Marca : Duesenberg
Modello : Model A
Versione : Sport Phaeton
Anno : 1923
Telaio N. : 977
Motore N. : 1373
Esemplari prodotti : —
Motore : 8 cilindri in linea
Cilindrata : 260 cu in (4.3 L)
Distribuzione : SOHC
Valvole Cilindro : 2
Alimentazione : dual SU carburetors
Potenza : 110 bhp
Top speed Km/h : —
---
Auction Result
2015 – Hershey – RM Sotheby's – $374,000
2017 – Monterey – RM Sotheby's – $407,000
---
That Karl Killorin would come to own a Duesenberg was only kismet. He had driven them as an actual employee of Duesenberg Motors Corporation from May 1929 to June 1930, when he served as both a test-driver of completed Model Js and as a crew member for the Duesenberg race team. His love for the powerful cars from Indianapolis never abated, and he remained an active Auburn Cord Duesenberg Club member for over 35 years, often sharing his fascinating first-hand recollections from his time at the factory with readers of their newsletter and fellow attendees at the National Reunion. He preferred the Model A Duesenberg to the Model J, considering it every bit the equal of a sporting "W.O." Bentley.
In 1948, Mr. Killorin acquired a Duesenberg of his very own, Model A chassis number 977, as a complete car sans body, including its original frame, drivetrain, engine, suspension, radiator, front fenders, and splash apron. A Cadillac touring body of the 1920s was adapted to the chassis, after which the "rolling restoration" hit the road with the happy Killorin family on board. Numerous wonderful period photographs, which are on file, depict Karl Killorin enjoying the Duesenberg of his very own, in the company of his wife and their son, Eric. He eventually gave the car a cosmetic restoration in 1974, at about the same time that Eric began driving the Duesenberg himself.
At Karl Killorin's passing in 1989, the Model A was passed down to Eric, who then began a fresh restoration that took 20 years to complete, as it was worked on in his spare time while maintaining a successful career. As would be expected of a family heirloom, the car received only the best of workmanship, by the best specialists, with the goal of aiming for authenticity while still preserving the car's unique touches. For instance, the engine was rebuilt by John Cislak and Holman Engineering with high-compression pistons, and it uses reliable era-correct SU carburetors and an improved exhaust manifold. The brakes are durable cast-iron drums. Sheet metal and a structural restoration were completed by Steve Babinsky, while the beautiful paintwork was applied by Chris Charlton and the upholstery and top was by Mike Lemire—all known for being Pebble Beach-winning craftsmen.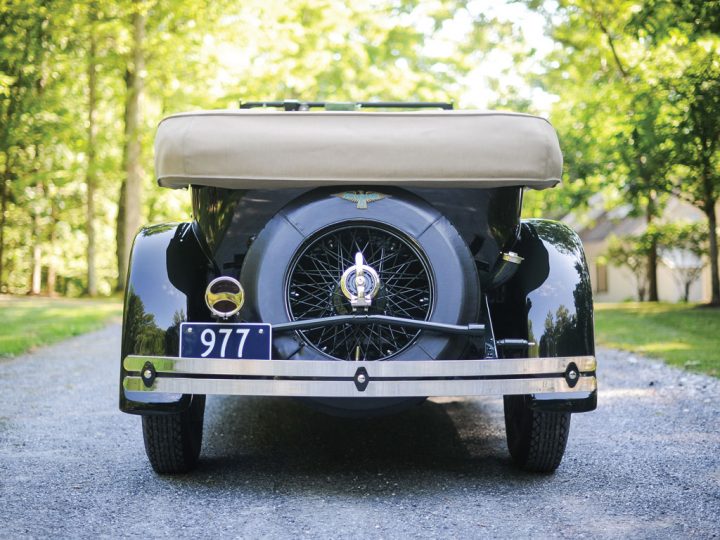 This Duesenberg is finished in a rich, very deep velvet green, with a concours-level oak green leather interior, and it presents beautifully in every regard. Among its show honors have been Best in Class, against a field of 14 Model As, at the 2011 Concours d'Elegance of America; First Junior at the ACD Club Reunion the same year; an AACA National Senior First Prize; and a 100-point score in CCCA National competition at Rockport, Massachusetts, in 2012.
Yet, the car is not just a showpiece; it is also proudly a well-maintained, fine runner and driver, one that the third generation of Killorins has continued to enjoy on the road, as featured in an article in the June 11, 2014, Wall Street Journal, and cover stories in the ACD Club Newsletter (No. 4 2015) and The Classic Car (Vol. LXIII No. 2). The car has been accorded CCCA Full Classic status, as documented by a letter on file, and is therefore eligible both for National Level judging and CCCA CARavans. It is accompanied by a collection of documentation, as well as rare original sales, promotional, and ownership materials.
---
2647 Total Views
7 Views Today