---
Chrysler CL Imperial Dual-Windshield Phaeton – 1933
---
Marca : Chrysler
Modello : CL
Versione : Imperial Dual-Windshield Phaeton
Anno : 1933
Telaio N. : CL 1357
Motore N. : CL 1357
Esemplari prodotti : one-off
Carrozzeria : lebaron
Motore : 8 cilindri in linea
Cilindrata : 6.308,85 cm³
Distribuzione : L-Head
Valvole Cilindro : 2
Potenza : 135 CV
Top speed Km/h :
---
Auction Results
2017 – Arizona – RM Sotheby's – $1,300,000
---
Shortly after the formation of coachbuilder LeBaron by Raymond dietrich and Thomas Hibbard in 1920, the pair took in recent Dartmouth graduate Ralph Roberts as a partner. LeBaron was soon supplying bodies for all of the great Classic Era chassis, supplied by New York dealers. Roberts and LeBaron prospered, and in 1927, Walter Briggs, of Detroit's vast Briggs Body Company, approached Roberts with a generous buyout offer. Roberts wisely accepted, and LeBaron and its chief moved, lock, stock, and barrel, to Detroit.
LeBaron became Briggs' in-house design studio and its most prestigious nameplate, as Briggs was a major body supplier to the fledgling Chrysler Corporation, also Chrysler's de facto "Art and Color Studio." In an era when Ford had Bob Gregorie, drawing Edsel Ford special speedsters and the original Continental, and General Motors had harley earl, breaking the styling mold with the advanced Cadillac V-16 Aero-Dynamic Coupe and Buick Y-Job, Chrysler had Ralph Roberts.
Roberts' definitive design statement—his Continental, his Y-Job—was the car offered here. Based upon the last of 36 CL Imperial Dual-Windshield Phaetons built by LeBaron for Chrysler in 1933, it was drawn to Roberts' own special design, with the intention of being a gift to his wife. As Chrysler's design considerations were, frankly, not considered on this "one off," Roberts was able to make his personal Imperial look as he wanted it to, as he told author Dennis Adler in a 1985 interview.
There were a number of unusual or experimental ideas tried on this car. One was the extended fender skirt and fender skirts on the rear. The radiator was painted, instead of chromed, the headlights were also different from those on the standard CL series bodies, and instead of having the spare wheels in the fender well, I had them moved to the back of the car.
It is worth expounding upon Roberts' comments. The headlights were relocated much lower, between the crowns of the fenders and the radiator shell—a very modern position. The reworked fenders with the full "skirts" over the rear wheels clearly look toward the future Chrysler Airflow and Chrysler Airstream. A mounted bracket from an old Locomobile was used to mount the dual spares on the rear, clearing the fenders and increasing the clean visual length of the car.
The result was a long, sleek greyhound of a car, accentuated by its unique Moon Glow Blue polychromatic finish. More than beautiful, it looked a decade ahead of its time and foretold future Chryslers, created both with and without Roberts' influence.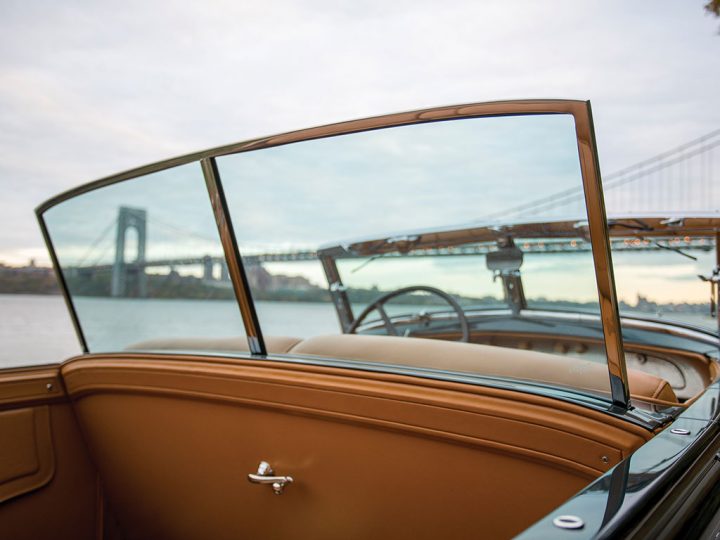 ---
3951 Total Views
1 Views Today