---
Chalmers Model 24 touring – 1914
---
Marca : Chalmers
Modello : Model 24
Versione : Touring
Anno : 1914
Telaio N. : —
Motore N. : —
Esemplari prodotti : —
Motore : 6 cilindri in linea
Cilindrata : 3.353 cc
Distribuzione : L-Head
Valvole Cilindro : 2
Alimentazione : 1 Carb.
Potenza : 60 CV
Top speed Km/h : xxx
---
Images Courtesy of Nostalgic Motoring Ltd
---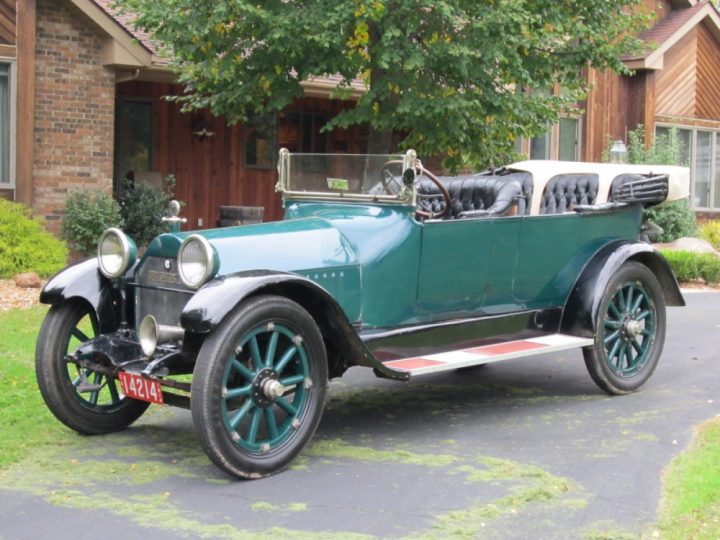 The Chalmers automobile was the delightful, if unlikely, product of a union between two early Detroit automotive industry veterans, Roy Chapin and Howard Coffin, and Hugh Chalmers, vice-president of the National Cash Register Company. Chapin and Coffin had been working with Buffalo, New York, automaker E.R. Thomas in the building of a car in Detroit, dubbed, aptly, the Thomas-Detroit. Chalmers was brought on, bought out Thomas, and together the three remaining executives built the aptly renamed Chalmers-Detroit – soon to become simply Chalmers, after Chapin and Coffin departed to form Hudson in 1909.
Until the company foundered in 1922, the Chalmers firm enjoyed tremendous success in American racing. A pair of Chalmers-Detroits managed a one-two win of the Jericho Sweepstakes on Long Island in 1908; the following year, a three-car team, the Chalmers Bluebirds, achieved four overall wins, three seconds, and three thirds in seven races.
A pair of the new cars, now called Chalmers-Detroit, managed a one-two win of the Jericho Sweepstakes race on Long Island in 1908, and the following year a three-car team called the "Chalmers Bluebirds" achieved four wins, three seconds, and three thirds in seven races. The cars earned a trophy on the 1909 Glidden Tour and won the event, the most prestigious in early automaking, outright in 1910. Even the promoter, Chalmers famously presented cars to the baseball player in each major league with the highest batting average, as well as to the most valuable player as chosen by sportswriters.
The 1914 Chalmers offered here was born of that power, and features an L-head inline six-cylinder engine that can only be described as "mighty," with 50 horsepower on tap. These cars were renowned in their time for their solid construction and power, and this high-horsepower six-cylinder model sports very attractive close-coupled Touring bodywork. It is almost completely original and unrestored, wearing its original paint, upholstery, and equipment, including a Delco starter/generator system, a miniature four-cylinder air compressor, and dual rear-mounted spares. Having been toured extensively in the 1950s and 1960s, it proudly wears the badges from those tours on its footboard, testifying to decades of loving enthusiast care and ownership.
The condition is amazing, with original leather and carpet, original finish on the brightwork, and mostly original paint on the body, though the fenders have been repainted as they often were. Their location almost guaranteed that they provided bumper services while parking!
---
3605 Total Views
2 Views Today