---
Austin Gipsy 4×4 – 1964
---
Marca : Austin
Modello : Gipsy 4×4
Anno : 1964
Telaio N. : —
Motore N. : —
Esemplari prodotti : 21.208
Motore : 4 cilindri in linea
Cilindrata : 2.199 cc
Distribuzione : OHV
Valvole Cilindro : 2
Alimentazione : 1 carb. Zenith
Potenza : 72 CV a 3.900 giri/min
Top speed Km/h : 105
---
---
In the 1940s, Austin threw their hat into the ring for a small military 4×4 utility vehicle, so they set to work to design a Jeep-like vehicle of their own to compete for lucrative government contracts. The Austin Champ, as it became known (though early prototypes bore the impossibly British "Wolseley Mudlark" name), was a small, light and sophisticated vehicle that, while certainly very capable in its own right, did not find particular favor with British troops. In comparison with the beloved Land Rover, the Champ was smaller; it also lacked the Land Rover's closed cab, and was more complex to service. Ultimately, the Land Rover won out and took over all military duty from the Champ.
But Austin was not finished with the idea of a 4×4. In the years following WWII, they had witnessed the popularity of the civilian-version Land Rover. So in February of 1958, they announced a civilian-focused spiritual successor to the Champ, which would be called the Gipsy. The Austin Gipsy was a cleverly designed vehicle that was far more advanced than the somewhat agricultural (albeit effective) Land Rover. For starters, the chassis featured a unique four-wheel trailing-arm system with rubber torsion-type suspension called "Flexitor". The system proved relatively inexpensive to produce and performed admirably, though later models reverted to conventional leaf springs as an option. The body of the Gipsy was very much Land-Roverish; a textbook rugged look with slab sides and protruding front fenders with inboard headlamps and exposed hinges and hardware. The Gipsy bore no slight resemblance to both the Jeep and the Landie, which is not a bad thing considering the success of the competition. Unlike the Rover which featured an aluminum body, the Gipsy was built entirely of steel, from the chassis up. Power came courtesy of an A70 derived 2.2 liter gasoline engine making 55 horsepower. An optional diesel engine was also available. In all, 21,208 Austin Gipsys were built before the creation British Leyland in 1968 killed the project. BMC (of which Austin part) and Leyland (which included Rover) had merged, and execs saw the slower selling Gipsy as redundant when compared to Land Rover. Today, the Austin Gipsy is a relative rarity, and a fun alternative to the more obvious Jeeps and Landies.
This particular Austin Gipsy is a later production, leaf-sprung G4M10 model from 1965. It was previously owned and restored by Robert Pass, the founder of Passport Transport. A rare left-hand-drive version, this fabulous Gipsy presents in excellent condition, painted in Mr. Pass' signature Passport green. The quality of the restoration is well beyond what is typical for this type of vehicle, and while it may not be concours correct in every aspect, it is finished to a standard that is far better than new. Body and paint quality are excellent, and there is plenty of nice chrome detailing on the bumpers, door hinges and exterior hardware. A beautiful new canvas black top has been recently fitted, which can be configured in a variety of positions. Much like a Jeep, the top and frame are fully removable along with the side windows for a full open-air experience. It rides on brand new Toyo off-road tires on black-painted steel wheels giving a great period look.
The engine bay is wonderfully presented and extremely clean and tidy. The engine is painted in the correct shade of Austin green, and all accessories and fittings are finished to a similar high quality. Power goes through a four-speed manual gearbox and a two-speed transfer case for off-road duty. Heavy texture black paint has been applied to the firewall and inner engine bay to quell noise and provide protection from rock chips. That material carries over to the floors of the sparse but purposeful interior. The front seats have been reupholstered and appear to be in nearly new condition. Three abreast seating up front is supplanted by rudimentary side-facing benches in the rear, with the cargo compartment dominated by the full size spare. More chip guard paint protects the cargo area, allowing you to toss in your gear without worry.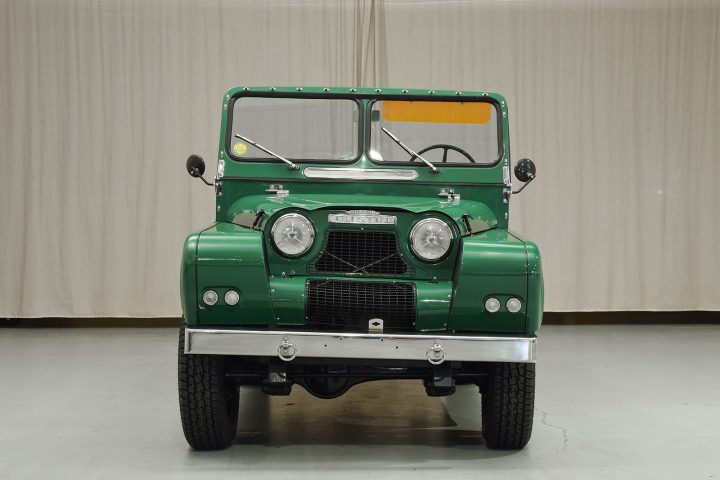 ---
5809 Total Views
3 Views Today