---
Aston Martin DB Team Car – 1949
---
Marca : Aston Martin
Modello : DB
Versione : Team Car
Anno : 1949
Telaio N. : LMA/49/2
Motore N. : SPA4/49/2
Esemplari prodotti : —
Motore : 4 cilindri in linea
Cilindrata : 1970 cc
Distribuzione : OHV
Valvole Cilindro : 2
Alimentazione : 2 carb. SU
Potenza : 90 CV a 4.750 giri/min
Top speed Km/h : —
---
Auction Result
2016 – Goodwood – Bonhams – £ 679.100

---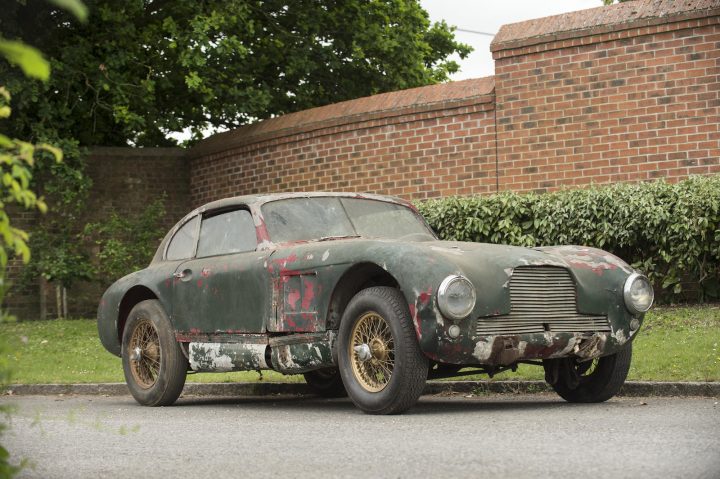 Here we are delighted to bring to the market this extremely significant Aston Martin 'Grand Touring' Coupe. It is none other than a Le Mans 24-Hour race finisher, having been driven into seventh place (third in class) in the first postwar Grand Prix d'Endurance – run on June 25-26, 1949 – at the legendary Sarthe circuit. Its co-drivers were Arthur Jones and Nick Haines, and they endured numerous problems before bringing their car to the chequered flag as the only one of that year's pioneering David Brown-owned Aston Martin factory team cars to finish, of the three originally entered.
What then adds still greater significance to this individual Aston Martin Fixed-Head Le Mans Coupe, is its even better performance two weeks later, on July 10-11, 1949, when it was driven into a fine fifth place finish overall in the equally gruelling Spa 24-Hour race on the daunting Francorchamps road circuit in Belgium. It was co-driven there by Le Mans veteran Nick Haines and the youthful Lance Macklin, dashing son of Sir Noel Macklin of pre-war Invicta sports car marque, and wartime Fairmile naval coastal craft construction, fame.
In the June 24, 1949 issue of 'The Autocar' magazine, that year's postwar revival edition of the Le Mans 24-Hour race was previewed under the headline 'Le Plus Grand Prix – France's great 24-Hour race starts at Le Mans tomorrow'.
Reviewing British prospects, the article's author 'Casque' – who was actually none other than 'Sammy' Davis, former Bentley Boy and himself co-winner of the Le Mans 24-Hours for Bentley in 1927 – wrote: "Of the British teams…the…Aston, in particular, should be very fast and it has experienced drivers, which is a great factor in the battle".
The Aston Martin company at that time was being re-established during that difficult period of the late-1940s when economic, supply and rationing difficulties within Great Britain were more difficult and stringently applied than at any time during the recent war itself.
Back in 1931, upon the death of his uncle Percy, 27-year-old David Brown had become head of the Yorkshire-based family enterprise, the eponymously-named David Brown Gear Company Limited. During the war, in addition to core high-grade gear manufacturing, his company had become a very successful farm tractor manufacturer, and by 1946 David Brown himself was one of the country's most wealthy industrialists.
By his own account: "It was late in 1946 that I read an advertisement in 'The Times' offering a sports car company for sale. I replied to the advert and, rather to my surprise, learned that the company was Aston Martin, which was quite a name, even in those days. I went to see Gordon Sutherland, who had this little place in Feltham, and a prototype of tubular construction, the famous Atom. I tried the car and found it had very good roadholding, but was very much under-powered. Nevertheless, I thought it would be fun to have and play around with, so I bought Aston Martin myself – completely outside the David Brown company – for £20,000. That was a lot of money in those days and for it I got the prototype, a few rusty old machine tools and the services of the Atom's designer, Claude Hill, who was very good….".
Within months, David Brown added the Lagonda company to his motor manufacturing portfolio, and it was then that he acquired some hangars from the old Hanworth Flying Club at Feltham, Middlesex, the five Lagonda prototypes and the machinery from that marque's former Staines factory were moved in.
Early in 1948 Aston Martin Lagonda's test and development driver St John 'Jock' Horsfall drove a brand-new, hastily-built Aston Martin with Claude Hill's 2-litre 4-cylinder engine installed, in the Spa 24-Hour race. In storybook fashion, Jock Horsfall and co-driver Leslie Johnson won the demanding race outright…a tremendous boost to Aston Martin's postwar re-establishment under its enthusiastic new ownership.
Meanwhile, former Lagonda stylist Frank Feeley had also transferred to Feltham upon the company's acquisition by David Brown, and for 1949 the sporting-minded industrialist sanctioned a new programme to build and run a works team of three Fixed-head Coupe cars – whose strikingly advanced body form would be designed and styled by Feeley – in the Le Mans 24-Hour race which was being revived in France that June.
The Atom project had by that time evolved into what became known as the Aston Martin DB – for 'David Brown' – Mark I or 'DB1', and the new works Le Mans Coupes would become the prototypes for the forthcoming Aston Martin DB2 production Grand Touring model.
Ted Cutting, future designer of the DBR sports-racing cars which ultimately won for David Brown Aston Martin the Sports Car World Championship in 1959, had just joined the Feltham company from Allard…being paid £4 per week for the privilege. He would recall on audio tape: "When I went to Aston Martin I spent about three months doing normal drafting work and then we built the very first three DB2 cars, they were all then road registered as 'UMC64/65/66′. They were prototype sports cars designed by Claude Hill – he was a very good engineer – he'd done the chassis frame and it was made out of 3 inch by 1 inch steel tubing and 2 inch by 1 inch rectangular sections or 1 inch by 1 inch square, and there were various different thicknesses, the 3 inch deep was a good wall thickness about an eighth of an inch thick – or something like that – so a good strong steel – and it (consisted of) two rails that ran forward with a front suspension bolt on (sic), and raised up over the back for the live axle coil-spring suspension. There we had a four link parallel arrangement to locate the rear axle, with a rod across – called a Panhard rod – which located the live axle sideways. Independent front suspension was by trailing links with a big cast aluminium cross member that bolted direct on to the chassis frame… And this was all designed by Claude Hill, while working with the original Aston Martin company that Gordon Sutherland sold to David Brown. Claude Hill came with the company and Roy Lunn was Claude's assistant…" – Lunn subsequently moving to Ford in the USA and becoming chief engineer in charge of the ultimately Le Mans-winning Ford GT programme in the mid-1960s.
Frank Feeley continued: "David Brown – having bought the Lagonda company and got the new twin-overhead camshaft Lagonda engine, decided that was the engine he wanted for Aston Martin and Claude Hill was unhappy about this, one thing led to another and Claude left….over technical policy. The three new cars had all been built" – one was fitted with the new Lagonda six-cylinder engine in 2.6-litre form while the other two used the Claude Hill 2-litre 4-cylinder engine.
The hybrid Lagonda-engined Le Mans Aston Martin Fixed-Head Coupe – or 'DB2' prototype – was entrusted to the experienced and capable driver pairing of Charles Brackenbury/ Leslie Johnson, while the two sister 2-litre four-cylinder engined cars were in the hands of Arthur Jones/Nick Haines ('UMC 65′ now offered here) and Pierre Maréchal/'TASO' Mathieson. John Eason-Gibson served as Team Manager for the Le Mans foray.
The race began inauspiciously for David Brown's daring venture, as the Lagonda-engined Brackenbury/Johnson car survived only six laps before losing all its water due to a defective water pump and the car had to be withdrawn. The Pierre Maréchal/Mathieson car went well, and occupied 7th place overall, 4th on the Index of Performance, when a brake line fractured, causing a brake fluid leak. The 33-year-old Franco-British engineer/driver – son of a Titanic survivor – drove on fearlessly and continued to climb the leader board, to occupy fourth place overall on the Sunday, with barely three hours remaining.
Tragically, as 'Motor Sport' magazine reported: "…just as we hoped to see Maréchal press for his third place, it was reported at 1.05pm that the Aston Martin saloon had overturned at White House corner, Pierre being seriously hurt. His brakes had, it seems, been absent for many laps". The impact had been so severe that the car's engine was torn from its mountings and the roof had collapsed onto the driver, trapped inside. Maréchal was taken to the nearby Delagenière clinic, where he succumbed to his injuries the following day. His widow, Brigid, would subsequently marry Aston Martin, Jaguar and ERA driver Leslie Johnson. Pierre Marechal's accident would prove to be the only fatality sustained by any of the Aston Martin works team drivers in fifteen years of motor racing at the top level.
Meanwhile, despite numerous niggling problems along the way, 'UMC 65'
co-driven by Arthur Jones/Nick Haines roared on to complete the full 24-Hours race duration, and finish in seventh position overall.
The Spa 24-Hour race then followed in Belgium, where the Johnson/Brackenbury Lagonda-engined 'DB2 prototype' finished a fine third overall, and the Nick Haines/Lance Macklin 2-litre 'DB2' 'UMC 65' offered here finished fifth.
Flushed with this considerable success, David Brown decreed both that the Aston Martin DB2 proper should be put into production for customer sale, and that for 1950 Aston Martin should embark upon a proper racing programme to promote and publicize the brand. David Brown knew of former Monaco Engineering company manager John Wyer's growing reputation as an efficient and conscientious team manager – with Dudley Folland's famous pre-War 'Red Dragon' Aston Martin- and early in 1950 he invited John Wyer to perform that role for Aston Martin – initially for just that single season. It was to be the start of a long and extremely fruitful relationship which would see John Wyer eventually serving as General Manager of the company.
After its endeavours as a works entry at Le Mans and Spa-Francorchamps in 1949, 'UMC 65' passed into the hands of well known racer Bill Whitehouse. The car reappeared with him in at the 1951 Gamston aerodrome race meeting, driven to a third place finish. An outing in the BRDC Silverstone meeting saw the car confronted by far more powerful and lighter-weight opposition, finishing 16th. A trip to the Isle of Man for the year's BRDC British Empire Trophy race then proved abortive as the clutch failed after 22 laps of the Douglas circuit, this was followed by a further continental foray to Chimay in Belgium. Whitehouse then won his class in the car at Turnberry aerodrome in Scotland, before taking a second in class at the Waterloo & District Motor Club's Altcar Sprint meeting.
In 1954 'UMC 65' reappeared in modest-level club competition in the hands of a driver named Barrow winning its class in the Tunbridge Wells MC Brands Hatch meeting, the Circle Car Club Rally, and at AMOC Silverstone. Mr Barrow also took a third place in the Rushmoor Sprints on military land at Aldershot in Hampshire. It is thought at some point in Barrow's hands it's original cylinder block was changed.
He reappeared in the ageing car at Brands Hatch in 1957 – when 'UMC 65' again proved sufficiently spritely to win its class – before this most significant Aston Martin was finally acquired by leading-light AMOC personality Christopher Angell in 1965. In his hands the car featured in a Le Mans demonstration parade prior to the 24-Hour race in 1971, but subsequently – as Mr Angell's health failed – it saw decreasing use, eventually being laid up in his garden in Hertfordshire, with the intention of long-term restoration being undertaken "some day…".
Unfortunately, this restoration never took place in Mr Angell's long ownership and the car languished there – falling into a dilapidated condition – until eventually it was stolen from the garden in 2002. Christopher Angell passed away in 2003, while 'UMC 65' – which had been entered in a minor auction Sale – was actually withdrawn from that event when the story of its theft emerged. The present vendors are related to the late Mr Angell, and after inheriting the car they then had to retrieve it via litigation, resolved this year with the car's final delivery to them and the issue of a Swansea V5C in their name.
Now it is offered here in need of restoration, but crucially – aside from having lost its enormous 48-gallon long distance fuel tank and having a modified radiator grille – still in essentially un-spoilt condition. For example it still retains the regulation Le Mans seals on the radiator cap and oil filler. With the added benefit of a spares package including an engine, 3 cylinder heads, a set of brake drums, the original SU carburetor set-up and the later Weber conversion. It is an outstanding survivor from not just one 1949 24-Hour race – but two – both of which it finished in significant positions, 7th at Le Mans and 5th at Spa. As a surviving progenitor of the Aston Martin DB2 production model – and as one of the very first David Brown Aston Martin works team cars ever built – its stature as a landmark in the Feltham marque's glittering history becomes even more evident. We would also draw attention to our highly successful sale of the similarly long-term ownership, never-fully-restored Jaguar C-Type in Monaco this May. Its premium value demonstrated the special connoisseurial appeal of the world's fast-diminishing treasury of such 'time machine' survivors. This purchase opportunity may never – ever – recur…
ong-time owner of 'UMC 65′, Christopher Angel was a Life Member of the Aston Martin Owners' Club who joined in 1950, and, although less active in his declining years, he retained his deep love of life and of 'proper 'cars until his death in 2003.
He had been an early radio pioneer with the Pye company and later worked for Western Electric before joining BBC Engineering. He was for many years head of BBC Radio Outside Broadcast Engineering, which at the time was considered as being absolutely second-to-none within that industry. In Bradford in 1936, Christopher Angell had his interest in Aston Martin cars sparked by C. R. Rhodes, who owned several. He promptly bought a 1½-litre saloon, in which he and his brother competed in the 1938 Scottish Rally. That year also saw his saloon replaced by an Aston Martin Ulster which in turn was replaced in 1939 by the 2-litre prototype 'EX600'. A car that met its end in a colossal prang involving a lorry, as a result of which Christopher lost the top of one ear but was otherwise miraculously unscathed and his love of driving Aston Martins hard was not diminished one iota.
During BBC wartime service as an official War Correspondent, he was in the thick of action in Burma and even sailed on seaborne raids against mainland Europe. He was in Java, covered Indian Independence, and then the partition of Palestine where the radio car needed radiator repairs following damage from rifle fire. He had lost his eldest brother, David when the aircraft he was piloting crashed, while his younger brother, Alec, served in the Cambridgeshires, but was killed by a Japanese train just three days before the end of World War 2. His sister, Ruth, became a nun, and was headmistress of the Catholic School in Cambridge.
In 1950 Christopher Angell met Dudley Coram who was a pivotal figure in re-establishing the AMOC post-war, and quickly became a luminary of the Club, winning in 'Ex600' at AMOC Silverstone. He was deeply involved in AMOC support for the French Bol d'Or 24-Hour race in both 1950 and 1951 and in that latter year he won the second Horsfall Trophy Race – in memory of 'Jock' Horsfall, killed in an ERA at Silverstone in 1949 – in 'EX600'. In the mid 1950s he was inspired by seeing the new DB3S at the Motor Show to create his own Aston Martin engined special 'TON 190'.
In 1960 he re-purchased his old pre-war Ulster and restored it and in 1965 he bought 'UMC 65', the ex-Works Team Car 'LMA/49/2' now offered here. Christopher Angell remained with the BBC until compulsory age-based retirement which proved a traumatic experience for him. But he literally returned to the soil, grew produce and cooked jam in huge quantities for sale to benefit such charities as the British Legion and Burma Star Association.
Christopher Angell is recalled by his AMOC peers and friends – including his Club obituarist Alan Wheatley – "…as a deep thinker who had an effect on most people he spoke to, not least for his ready use of a wise saying like 'a kind word costs nothing'…". Mr Wheatley added of Mr Angell's love for his Aston Martins: "…although his inclination to use them declined he never lost his interest…".
---
2858 Total Views
6 Views Today