---
Amphicar 770 – 1966
---
Marca : Amphicar
Modello : 770
Anno : 1966
Telaio N. : 106523027
Esemplari prodotti : 3.878
Designer : Hans Trippel
Carrozzeria : Industrie-Werke Karlsruhe AG (IWK)
Progettista : Hans Trippel
Motore : 4 cilindri in linea
Cilindrata : 1.147 cc
Distribuzione : OHV
Valvole Cilindro : 2
Alimentazione : 1 carburatore
Potenza : 43 CV a 4.750 giri/min
Top speed Km/h : 120
---
Auction Result
2016 – Arizona – RM Sotheby's – $ 93.500

---
Developed over a period of 15 years at a cost of $25 million, the Amphicar was debuted at the 1961 New York Auto Show, as the first fully amphibious vehicle sold to the public. Resembling a combination of 1957 Thunderbird and Glasspar ski boat, it was motivated by a rear-mounted four-cylinder engine, borrowed from the Triumph Herald and driving the rear wheels. On land, it drove like any other small European automobile of its day.
Upon reaching a boat ramp, the doors' special watertight seals were locked into place, a bilge plug was installed, the front luggage lid was locked, and the car was driven—slowly—into the water. A lever then directed the engine's power to dual rear propellers, and off the Amphicar went. The "captain" would steer his craft using the front wheels, which served as rudders. Putting the car into reverse in the water would spin the propellers in reverse, serving as a brake, much as on conventional boats. For returning to shore, both the rear-wheel drive and the propeller drive could be operated at the same time.
About 3,878 Amphicars were built between 1961 and 1968. The majority, as planned, were exported to the United States, where they sold for $3,395, a price comparable to the Austin-Healey, to buyers that included President Lyndon Johnson. Surviving Amphicars are restored and enjoyed by enthusiastic owners' clubs worldwide.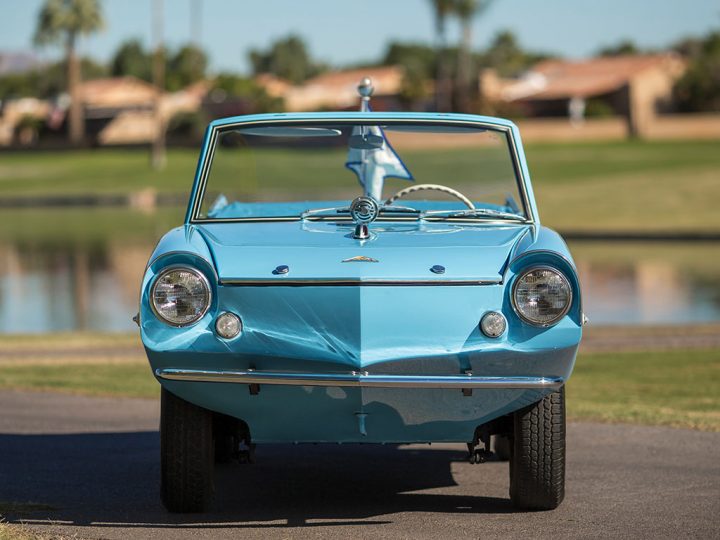 The car presented here was owned as early as 1972 by Sidney Armistead of Anchorage, Alaska, who obviously loved his Amphicar; he retained ownership of it until 2004, and along the way accumulated an exhaustive collection of materials devoted to keeping it running. In 2004 the car passed to another Alaskan owner, then, shortly thereafter, to Eugene "Gino" Francavilla of Jupiter, Florida. In Mr. Francavilla's ownership the Amphicar was painstakingly restored to its present condition, in the attractive factory color of Lagoon Blue. Correct parts for the authentic restoration were sourced from several Amphicar experts. The restoration was judged Most Unique at the Boca Raton Concours d'Elegance in 2009, and it won Best Amphicar at the Classic Boat Show in Mount Dora, Florida.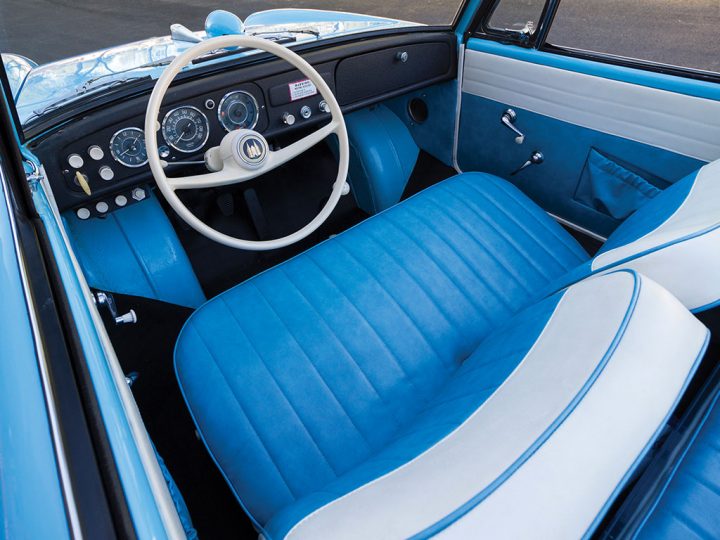 ---
2230 Total Views
1 Views Today