---
Alfa Romeo Giulia GTC – 1966
---
Marca : Alfa Romeo
Modello : Giulia
Versione : GTC
Anno : 1966
Esemplari prodotti : 1.008
Designer : Giorgetto Giugiaro
Carrozzeria : Touring
Motore : 4 cilindri in linea
Cilindrata : 1.570 cc
Distribuzione : DOHC
Valvole Cilindro : 2
Alimentazione : 2 carb. Weber DCOE4
Potenza : 106 CV DIN a 6000 giri/min
Top speed Km/h : 180
---
---
In the 1950s, Alfa Romeo was enjoying newfound success with the 750/101 Series Giulietta Coupes and Sedans. Prior to World War II, the Milanese firm was lacking in serious direction, building gorgeous and exclusive sporting cars at hefty price tags that kept sales down. Production of the pre-war machines carried on in the years immediately after WWII, but it was clear that bespoke, high-strung and exotic sports cars would not keep the company afloat. So in the early 1950s a drastic change was made and Alfa Romeo shifted its focus to building high quality, mass produced saloon cars and sports cars that were attainable to the ever growing middle class worker. The Giulietta Berlina, Coupe and Spyder were sweet, well-built cars with a sporting spirit in a practical package.
Following on the heels of the successful 101 platform was the 105 Series which debuted in 1963. The Berlina wore a cleverly designed body that appeared very boxy and upright, but was in fact quite aerodynamically efficient while the accompanying coupe rode on a shortened Berlina platform and wore beautifully detailed Bertone coachwork. All models were powered by Alfa Romeo's delectable light-alloy twin-cam four cylinder engines which ranged in size from 1290cc to 1962cc, depending on year and spec. The standard Coupe wore Bertone coachwork, while the two-seat, drop-top Duetto Spyder wore unique Pininfarina coachwork. A lesser known convertible was also built, based on the Bertone Coupe and featuring a full folding top and seating for four passengers. The Giulia GTC, as it became known, had a body designed by Bertone but specially built by Vignale, where they received extensive reinforcement in the rockers, floors and trunk to increase rigidity.
Just around 1000 of these beautiful cabriolets were built by Touring between 1964 and 1966, making them among the rarest of all 105-series variants. Power came from the sweet, revvy 1600cc version of the all-alloy twin cam four-cylinder, which fed power through a fantastic 5-speed gearbox. The GTC shares the same spirit and soul of the fixed roof cars, but with a somewhat more relaxed attitude. With its ties to the legendary Carrozzeria of Bertone and Touring, and extremely limited production, this is one of the most highly sought after and desirable Alfa Romeos of the period.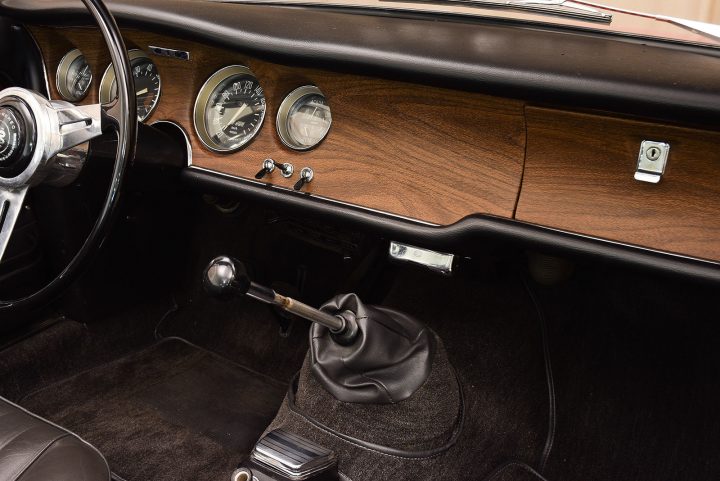 ---
4159 Total Views
2 Views Today