---
Alfa Romeo 6C 2300 Platé Special – 1949
---
Marca : Alfa Romeo
Modello : 6C 2300
Versione : Platé Special
Anno : 1949
Telaio N. : P-002
Motore N. : 700174
Esemplari prodotti : one-off
Motore : 6 cilindri in linea
Cilindrata : 2.309 cc
Distribuzione : DOHC
Valvole Cilindro : 2
Alimentazione : 3 carb. Weber
Potenza : 120 CV a 4.300 giri/min
Top speed Km/h : —
---
Auction Result
2016 – Quail Lodge – Bonhams – $ 291,500
2019 – Paris – Artcurial – Unsold
---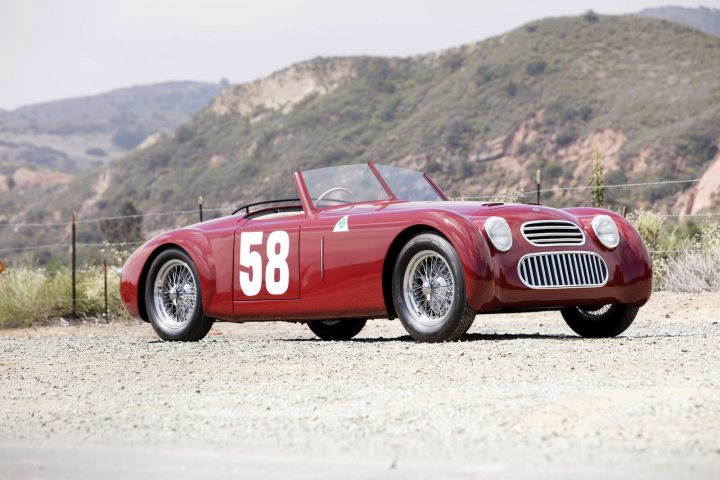 Luigi "Gigi" Platé was born on September 3, 1894 in Mennagio on Lake Como. A Speed demon from an early age, Platé entered a bicycle race at age 16, without his father's permission. The race was the "Milan-Pelligrino- Milan" 210KM distance, and riding a Frera, he finished 1st in class. Gigi's father was furious for his disobedience – and returned the bike – but was was not able to quench Gigi's passion for speed. Platé followed his passion for speed into motorcycle racing, on the odd coincidence riding a new post WW1 model Frera Grand Prix 2 cylinder 495cc motorcycle, taking part in many races. It was during this time that Platé became friends with Tazio Nuvolari.
Platé opened a motorsports garage for preparation and modifications in 1918, and continued racing motorcycles until about the time he was 27. About four years after opening his racing shop, Platé entered his first auto race, the 1922 race at the Circuito Sardo in Cagliari – Sardegna, piloting an Ansaldo 4CS to victory in his class and a 2nd place finish overall. The race at Sardo, was the start of passionate participation in auto racing, lasting for many years in nearly every part of Italy, and it is estimated that Plate' has participated in no fewer than 400 competitive events. In the 1920's Platé piloted various vehicles including an Ansaldo, Ceirano, FIAT, and a Chiribiri. His most notable finishes were class wins in the 1925 running of the Circuito di Savio, the Targa Florio, Circuito dei Monti Peloritani, and the Circuito di Tripoli, in 1926 Circuito del Garda and the Circuito di Tripoli, as well as the 1934 running of the Parma-Poggio di Berceto. At the 1938 Coppa Acerbo, in his Talbot, Platé set the fastest recorded speed over a km. of 230.7 km/hr. In the 1930s, Gigi and a younger cousin Enrico formed "Scuderia Plate", and began modifying cars for competition.
Marked with chassis number P-002, the 'Alfa Romeo' 6C Platé Special was built between 1948-49. Powered by a 1934 Alfa Romeo 6C 2300 GT engine, breathing through 3 Side draft Weber carbs, seated in a chassis made to Platés design, in which oil flows through the chassis tubes, using a dry sump system with an oil reservoir in the rear. The chassis was designed with an interestingly engineered semi independent torsion bar suspension, using a modified front axle and rear differential from a 1934 Alfa Romeo 6C 2300. The chassis also utilized the patented Platé 360 degree brake shoe design in hydraulic form. These 3 major implementations of Platés ideas, the tube chassis flowing oil or coolant, torsion bar independent suspension, and the 360 degree brake design, were first mentioned in a letter written by Plate' to Sig. G. Canestrini in October of 1937, where he states these ideas have been patented and implemented in a car he has built using a highly a modified Talbot 8C 1500 supercharged engine, covered in trapezoidal shaped body work.
On September 16, 1948, a certificate of origin for chassis P-002 was issued. Just over 6 months later on March 28, 1949 the sale of P-002 to Luigi Platé was recorded, and nearly 7 months more had passed before P-002 was issued its first registration certificate with the Milan plate number MI136938.
On July 22, 1951, P-002 was entered as #58 in the Susa-Moncenisio race, driven by Paolo Soprani. The result was a DNF, but there is a photo showing P-002 on the roadside during this race. On June 6, 1959 P-002 was sold to Nicholas Piccione of Brooklyn, NY. Piccione was issued insurance on June 18, 1959 at a cost of 34,000 Lire. According to a shipping document dated October 28, 1959, P-002 was scheduled to be shipped to Brooklyn, NY aboard the m/s Saturnia. The shipping document lists the car as an "Alfa Romeo Plate' 2500, Chassis 002, Engine number 700174, and a weight of 1170 Kg. with a value of $480. It would appear that Mr. Piccione enjoyed a few months of driving time in Italy, before sending P-002 home to Brooklyn.
On May 7, 1984, Mr. John murphy purchased P-002 from "Wheels of Time" in Florida, whom had acquired P-002 from an estate sale in Atlanta, Ga. Mr. Murphy's passion for Alfa Romeos had begun in the early 1980s, with the purchase of GTV-6 Balocco edition. You could say this was the start of what would become an exeptional collection of Alfa Romeo sports and racing cars, known as "Alfa Legends". With the advisement of Paul Spruell, John and his wife Betty began collecting special examples; 5 GTA's, a GTAM, a Guilietta Van once used as an Alfa U.S. factory service vehicle, a Tipo 33 Spider, 2 Montreals, a 2600SZ, a Sprint Speciale, and others. He carefully managed the restoration of his very special yellow TZ in preparation for its debut at the 1994 Pebble Beach Concours de Elegance, where it won its class, a very happy day for John, yet it seemed his greatest enjoyment came from sharing the honors with his wife Betty.
Mr. Murphy purchased P-002 identifying it as something rare and special, subsequently enlisting the help of many Alfa Romeo experts to research the history of P-002, in order to proceed with a proper restoration.
November of 1990 would be the start of over two decades worth of restoration work on P-002, with chassis and bodywork being performed by, Kleeves Co. of Kimball, Mi., and engine work beginning at R.A. Engel Co. of Goodells, Mi. It was deemed that the old aluminum bodywork was too fragile to restore, so a new one was constructed to match, but the old pieces were kept and remain with the car. In 2000, restoration work proceeded at Laidlaw Restorations of Angels Camp, Ca. In 2007, Symbolic Motor Cars continued the restoration, finishing in time for entry into the world-renowned 2011 Pebble Concours d' Elegance, receiving its green ribbon for completing the Thursday morning driving tour. In 2004, P-002 was awarded 1st in class at the La Jolla Concours. P-002 has since continued its tour of prominent show fields, and was most recently shown at the 2015 Amelia Island Concours, where it was equally well received and enjoyed by the crowds, and completed the Eight Flags Road Tour.
There has been much speculation as to the history of P-002 and its origins, and it is believed by some enthusiast that P-002 may actually be a lost Alfa "Corse" or " Ala Spessa", from the pre war era, bodied with a new look post war by Plate'. PROVA 1 is stamped on an inner fender, while 002 can be found stamped in other places on the frame and body structures. Steve Garland, who was involved early in the restoration process, states that the chassis appears to have been used with a different body previous to the current one, and remnants of the pre war 6C2300 cable brake system were left in place, including the rear cables tied up around the frame work.
---
5723 Total Views
1 Views Today