---
Alfa Romeo 6C 1750 GS Spider 4th Series – 1930
---
Marca : Alfa Romeo
Modello : 6C 1750
Versione : Gran Sport
Anno : 1930
Telaio n. : 8513001
Motore n. : 8513001
Esemplari prodotti : —
Carrozzeria : Sport S.A.
Progettista : Vittorio Jano
Motore : 6 Cilindri in linea
Distribuzione : DOHC
Valvole Cilindro : 2
Aspirazione : Compressore
Cilindrata : 1.752 cc
Potenza : 85 CV a 4.500 giri/min
Top speed Km/h : 170
---
Auction Result
2017 – Villa Erba – RM Sotheby's – Unsold
---

This extremely authentic Alfa Romeo 6C 1750 boasts a number of important distinctions, including a desirable early position in the model's chassis numbering, period competition history, 64 years of ownership by two fastidious caretakers, and a recent comprehensive refurbishment to concours standards. By virtue of its numerical sequence, chassis 8513001 is the first car built in the fourth series of 6C 1750 Gran Sport Spiders that entered production in 1930.
A lesser-known Milanese coachbuilder called Carrozzeria Sport S.A. clothed the Alfa in an alloy body in the spider body style generally associated with Zagato or Castagna. The handsome race car is believed to have been then sold to Baron Horst Von Waldthausen, a 23-year-old scion of a wealthy industrialist family originally from Essen, Germany. After the Von Waldthausens fled Germany during World War I, the young Baron grew up on the shores of Lake Geneva, Switzerland, where a budding interest in motorsports led him to construct his own private autodrome circuit (much to his neighbours' chagrin). 
In mid-1930, the Baron made a significant financial commitment to motorcycle and grand prix racing at the Meyrin circuit in Switzerland, and around the same time he purchased this 6C 1750, which was officially imported to his adoptive country on 10 June 1930. In 1932, Von Waldthausen formed a racing team, known as the Equipe Villars-Waldthausen, with fellow countryman Julio Villars, and the Baron then entered the Gran Sport at various Swiss Championship hill climbs, starting with the Grand Saconnex in March 1932 (wearing registration number 9221), where it captured 2nd in class. 
After Von Waldthausen acquired an Alfa Romeo 8C 2300 for racing in larger-displacement classes, the 6C 1750 was driven by Villars at several events. A 2nd-in-class finish at Klausenpass in Switzerland in early August was followed by a 3rd-place finish at Stelvio in Italy later that month. Villars again finished 2nd in class at Mont Ventoux in France in early September, where Waldthausen simultaneously finished 3rd in the 3-litre class in the 8C, trailing only the legendary Rudi Caracciola and Robert Benoist. The strong results fielded by the team's Alfa Romeos respectively propelled Waldthausen and Villars to 5th place and 6th place in the 1932 Swiss Championship (sports car class).
 
Tragedy marked the 1933 season for the Equipe Villars-Waldthausen when the Baron's 8C blew a tire at speed and flipped during the Grand Prix de Marseille in August, leaving him with insurmountable injuries. By this time, Villars had acquired an 8C Monza of his own, and the 6C 1750 was essentially retired from team use.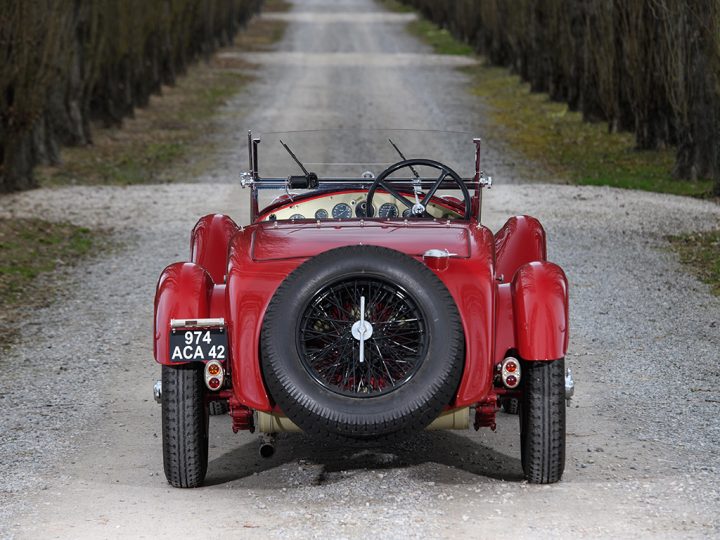 Although the racing career of 8513001 appears to have concluded at this point, the car remained in Switzerland for many years, first purchased in May 1949 by Swiss resident Jean Sayare (registration number VD 20441). The spider was sold about 18 months later to Frank Gilroy, who also registered the car with Swiss tags (VD 27635). In January 1953 the Alfa passed to Ernest Maibach of Switzerland (VD 23172), and he went on to retain possession for over 48 years, preserving the car in optimal original condition. In August 2001, Mr Maibach sold the Gran Sport to the consignor, a French collector who commissioned a complete restoration by the specialists at Auto Classique Touraine in Veigne, France. 
















---
3851 Total Views
2 Views Today